"Guard your heart above all else, for it determines
the course of your life." ~ Proverbs 4:23
"Matters of the Heart" is a weekly blog that deals with the deepest issues of the human heart, the issues we all face but sometimes don't want to talk about. The heart is the programming center of our lives. What is programmed into our heart will affect every area of our lives. Learn how to examine your heart and how to program your heart for success.
AN INVITATION TO YOU: To follow this blog, click here.
________________________________________________
By nature, I am an impatient person. I like things done yesterday, and the day before is even better. 🙂
Because God knew I needed to develop patience, He has generously given me countless opportunities to do so.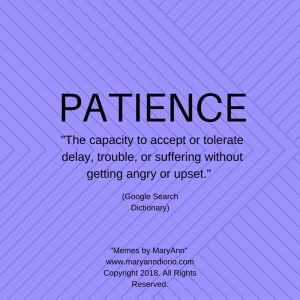 The Greek word for patience used in the Bible is hypomonē, meaning steadfastness, constancy, and endurance. The Hebrew word for patience, ὑπομονή, means to hold fast to one's faith, to persevere under trials; not to run away. We notice in Scripture that the word patience is sometimes translated as endurance and perseverance.
Strong's Concordance describes patience as the quality of a person "who is not swerved from his deliberate purpose and his loyalty to faith and piety by even the greatest trials and sufferings." A patient person endures under trials and keeps pushing forward despite all obstacles.
Perhaps you, too, struggle with impatience. If so, let's take a short walk together through some of the reasons that patience is so very important to our growth in Christ and to living the Christian life in all of its abundance.
Why do we need patience?
1–Patience plays a key role in our becoming spiritually mature. Without patience we will remain spiritual babies. The more spiritually mature we are, the more we can receive what we need from God. James says it like this: "Let perseverance [patience] finish its work so that you may be mature and complete, not lacking anything" (James 1: 4; brackets mine).

2–Patience undergirds faith and is essential to it. Strong's Concordance states that patience is "a steadfast waiting for." Scripture instructs us to "continue steadfastly in prayer…." (Colossians 4: 2). There are many times we must wait in faith for answers to prayer. We need patience to do so.
3–Patience builds the kind of character that results in hope, and hope is essential to faith. "And endurance produces character, and character produces hope" (Romans 5: 4). "Faith is the substance of things hoped for" (Hebrews 11: 1).
4–Patience is a fruit of love. "Love is patient" (1 Corinthians 13: 4). Patience grows out of love and depends on it. If we are not patient, we are not acting in love.
Being patient involves crucifying the flesh. It means dying to the temptation to be impatient. We cannot be patient in our own strength and power.
When a situation tempts us to be impatient, we must turn to Jesus and let Him be patient through us. This is how we live the Christian life in the face of every temptation. This is what it means to follow Christ.
My Prayer for You Today: Lord Jesus, as we face daily temptations to be impatient, let us remember that You live in us and that, as we turn to You, You will live out patience in us and through us. In Your Name we pray. Amen.
Now, it's YOUR turn: What have you learned about the consequences of being impatient? Please share your insights in the Comments box below. Thank you!
TWEETABLE: "THE PATIENCE PRINCIPLE" by Dr. MaryAnn Diorio @DrMaryAnnDiorio (CLICK TO TWEET).

To be sure you don't miss any of my future blog posts, you may wish to subscribe to Matters of the Heart. CLICK HERE.
____________________________________________
____________________________________________
Check out my You-Tube series, YOU WERE MADE FOR GREATNESS!, based on my popular book by the same title.
____________________________________________________________________
AVAILABLE FOR PRE-ORDER NOW!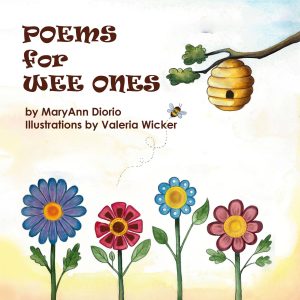 HARDCOVER
SOFTCOVER
____________________________________________________________________
Need a break? Read my latest short story, "Fire-Engine Love." Only $1.99!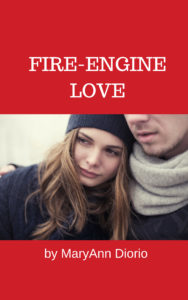 Tammie Burke is expecting her second child. But when her husband is suddenly taken from her, Tammie faces the fear of having to raise their two children alone. Will her faith in God help her to put her life back together?
____________________________________________________________________
THE ITALIAN CHRONICLES TRILOGY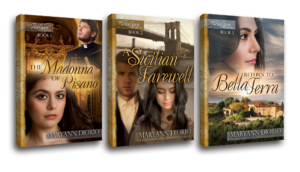 For additional encouragement, check out my podcasts at the following links:
___________________________________________
Copyright 2018 by Dr. MaryAnn Diorio. All Rights Reserved. This article may not be published or printed in any form whatsoever without the written permission of Dr. MaryAnn Diorio. You may contact her at info@maryanndiorio.com to request permission.
Amazon.com Required Disclosure: MaryAnn Diorio is a participant in the Amazon Services LLC Associates Program, an affiliate advertising program designed to provide a means for sites to earn advertising fees by advertising and linking to Amazon.com.
Disclaimer: This site uses cookies. Your continued use of this site constitutes your consent to our use of cookies.