"Guard your heart above all else, for it determines
the course of your life." ~ Proverbs 4:23
"Matters of the Heart" is a weekly blog that deals with the deepest issues of the human heart, the issues we all face but sometimes don't want to talk about. The heart is the programming center of our lives. What is programmed into our heart will affect every area of our lives. Learn how to examine your heart and how to program your heart for success.
AN INVITATION TO YOU: To follow this blog, click here.
________________________________________________
According to the Bible, there are two kinds of Christians: carnal and spiritual. Which one are you?
Perhaps you don't know the difference. No worries. 🙂 This post will explain them to you. Which kind of Christian you are–carnal or spiritual–will make all the difference in the world as to how life turns out for you. So, read on!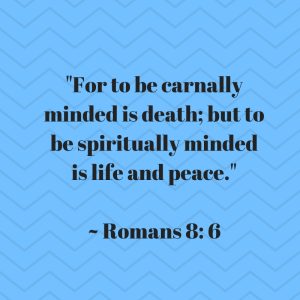 What does it mean to be carnal?
The word carnal comes from the Latin word carnem, which means pertaining to the flesh. According to God's Word, the flesh includes not only our bodies but also our souls. The Bible defines the flesh as our sin nature, our lower nature, our nature before we come to Christ and were born again. To be carnal is to think and act in accordance with the flesh, to think and act in accordance with our lower or sin nature.
When we think and act according to our lower nature, we will experience death, not necessarily physical death (although that is possible) but the death of success in our lives. In other words, if we think and act according to our lower nature, we will be sick, poor, in turmoil, and depressed.
But if we think and act according to our higher nature–our nature in Christ–we will experience health, peace, and prosperity in every area of our lives.
Now, wouldn't you like that? I think we all would.
Romans 8: 6-10 clearly describes the carnal mind:
"For to be carnally minded is death; but to be spiritually minded is life and peace. Because the carnal mind is enmity against God: for it is not subject to the law of God, neither indeed can be. So then they that are in the flesh cannot please God. But ye are not in the flesh, but in the Spirit, if so be that the Spirit of God dwell in you. Now if any man have not the Spirit of Christ, he is none of his. And if Christ be in you, the body is dead because of sin; but the Spirit is life because of righteousness."

What does it mean to be spiritual?
Contrary to popular opinion, to be spiritual does not mean to be holier than thou or to be flawless or perfect. According to the Bible, to be spiritual means to allow Christ in us to live through us. Plain and simple.
But, easier said than done.
You see, the spiritual Christian has chosen to live according to his higher nature, the nature of Christ that entered into him when he was born again. Scripture tells us in 2 Corinthians 5: 17 "anyone who belongs to Christ has become a new person. The old life is gone; a new life has begun!" To be a spiritual Christian is to allow Christ's life within us to flow through us, pouring out the fruit of His Holy Spirit: love, joy, peace, patience, kindness, goodness, faithfulness, gentleness, and self-control.
How to Determine Whether You are Carnal or Spiritual?
So, how can we tell if we are carnal Christians or spiritual Christians? Here are some questions to ask ourselves, based on 1 Corinthians 3: 3?
___Am I still controlled by my sinful nature? Do I react to life situations according to my lower nature–in anger, impatience, complaining, revenge, hurtful words, gossip, etc.?
___Am I jealous of others? Do I compare myself with others instead of being thankful for who I am and for what God has given me?
___Do I quarrel with others? Do I always want to be right? Am I selfish?
___Am I living like the world? Do I respond to life's situations as do those who do not know Christ? Do I return evil for evil, tit for tat? Am I rude and unkind? Do I lack compassion? Do I withhold mercy and forgiveness?
___Is my attitude hostile to the things of God? Do I refuse to obey what God is telling me to do? Do I want to go my own way, do my own thing?
___Do I indulge in the passions of the flesh: sexual sin, gluttony, anger, gossip, addictions?
If we answered yes to any of the above questions, we need to repent and to begin renewing our minds according to God's Word.
The way to become a spiritual Christian is to begin thinking as God thinks. In Romans 12: 2, the Apostle Paul taught us how to become a spiritual Christian. Pay close attention to what he wrote: "Don't copy the behavior and customs of this world, but let God transform you into a new person by changing the way you think. Then you will learn to know God's will for you, which is good and pleasing and perfect."
Do you see it? Paul said that as we change the way we think to align with God's way of thinking, then—and only then–will we experience God's good and pleasing and perfect will for our lives. This is what it means to be a spiritual Christian: to think the way God thinks and to act accordingly.
How can we know the way God thinks? By studying His Word. In HIs Word, He reveals to us the way He thinks. As we learn the way He thinks, we can change our thinking to agree with His thinking. When we do, we will become spiritual Christians.
Then and only then will life turn out well for us, meaning then and only then will we know the love, joy, and peace that Jesus wants to give us—no matter what the circumstances.
My Prayer for You Today: Lord Jesus, I ask that You would give my brother and sister a deep desire to renew their minds according to Your Word. Teach them how You think so that they can change their thinking to agree with Yours, In Jesus' Name I pray. Amen.
Now, it's YOUR turn: Have you learned anything new from this post? Please share your insights in the Comments box below. Thank you!
TWEETABLE: "Are You a Carnal Christian?" by Dr. MaryAnn Diorio @DrMaryAnnDiorio (CLICK TO TWEET).

To be sure you don't miss any of my future blog posts, you may wish to subscribe to Matters of the Heart. CLICK HERE.
____________________________________________
____________________________________________
Check out my You-Tube series, YOU WERE MADE FOR GREATNESS!, based on my popular book by the same title.
____________________________________________________________________
AVAILABLE FOR ORDER NOW!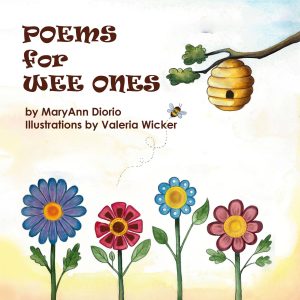 HARDCOVER
SOFTCOVER
E-BOOK
____________________________________________________________________
NOW AVAILABLE!
THE ITALIAN CHRONICLES: The Complete Trilogy
in a single e-book!
Save almost $4.00 over the purchase price
of the three individual novels.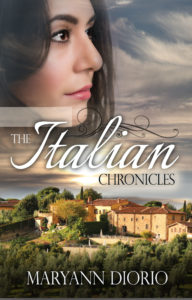 _______________________________________________
Need a break? Read my latest short story, "Fire-Engine Love." Only $1.99!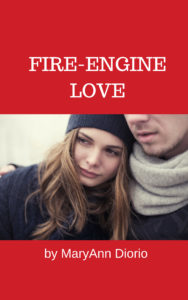 Tammie Burke is expecting her second child. But when her husband is suddenly taken from her, Tammie faces the fear of having to raise their two children alone. Will her faith in God help her to put her life back together?
____________________________________________________________________
THE ITALIAN CHRONICLES TRILOGY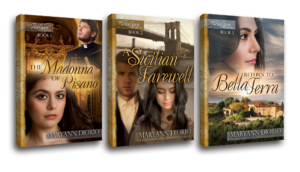 For additional encouragement, check out my podcasts at the following links:
___________________________________________
Copyright 2018 by Dr. MaryAnn Diorio. All Rights Reserved. This article may not be published or printed in any form whatsoever without the written permission of Dr. MaryAnn Diorio. You may contact her at info@maryanndiorio.com to request permission.
Amazon.com Required Disclosure: MaryAnn Diorio is a participant in the Amazon Services LLC Associates Program, an affiliate advertising program designed to provide a means for sites to earn advertising fees by advertising and linking to Amazon.com.
Disclaimer: This site uses cookies. Your continued use of this site constitutes your consent to our use of cookies.
SaveSave
SaveSave
SaveSave
SaveSave
SaveSave
SaveSave
SaveSave
SaveSave
SaveSave
SaveSave
SaveSaveSaveSave
SaveSave
SaveSaveSaveSave
SaveSaveSaveSave
SaveSave
SaveSave
SaveSave