"Guard your heart above all else, for it determines
the course of your life." ~ Proverbs 4:23
"Matters of the Heart" is a weekly blog that deals with the deepest issues of the human heart, the issues we all face but sometimes don't want to talk about. The heart is the programming center of our lives. What is programmed into our heart will affect every area of our lives. Learn how to examine your heart and how to program your heart for success.
AN INVITATION TO YOU: To follow this blog, click here.
________________________________________________
Are you ready for the Rapture?
You may be hearing this question more frequently than usual lately. Why so?
First, let's talk about what the Rapture is. The English word "rapture" as used in this instance comes from the Latin word "rapio" which means "to seize, snatch, or carry off; to be caught up or taken out of; to remove in spirit and/or in body from one place to another." The Rapture of the Church means the removal of the church from earth to Heaven. In other words, the Rapture is the rescue of the Church from the realm of earth–where the wrath of God will be poured out during the Tribulation
–to the realm of Heaven where the Church will be safe and secure.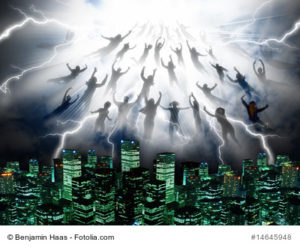 The Greek translation of the Latin word for rapture is harpazo, which means to snatch away or to take away. The Apostle Paul uses the word harpazo in 1 Thessalonians 4: 17 where he writes: "After that, we who are still alive and are left will be caught up together with them in the clouds to meet the Lord in the air. And so we will be with the Lord forever."
This same word harpazo is used in other places of the Bible as well. For example, in Acts 8: 39 when Holy Spirit "caught up" Philip near Gaza and brought him to Caesarea or in Paul's recounting of his experience in "being caught tup to the third heaven" in 2 Corinthians 12: 2-4. So, in the case of 1 Thessalonians 4: 17, we can be sure that the word harpazo means the actual removal of born-again Christians from the earth to Heaven.
So, we are settled that when the Lord returns for His Church, if we are still on the earth, we who are born again will be removed from the earth and taken to Heaven.
That said, we need to ask ourselves why we must be ready to be removed and what we need to do to get ready.
The answer to the reason we must be ready to be removed from the earth at the time of the Rapture is simple: in order to escape the wrath to come. Paul describes this reason in 1 Thessalonians 1: 10: "…to wait for his Son from heaven, whom he raised from the dead, Jesus who delivers us from the wrath to come."
There is a time of wrath coming upon the earth. It will be a time of the worst terror, suffering, persecution, and hardship the world has ever seen. It will occur under the brutal rule of the AntiChrist. Only those who have accepted Christ as their Savior and Lord will be spared from this wrath by being taken out of the earth by God Himself. All others will be left behind to experience this most horrific of times.
What about you? Are you ready for the Rapture? If not, you need to get ready right now. How do you get ready? By repenting of your sins and acknowledging that Jesus Christ is the Only One Who can save you. Receive Him now as Your Savior and Lord by praying this simple prayer:
Lord Jesus, I acknowledge that I am a sinner in need of Your mercy and grace. I choose to turn from my sin and to receive You now as my Savior and Lord. I want to live with You forever. Amen.
If you sincerely prayed this prayer from your heart, you are now born again and will be raptured with the rest of us who are born again. Now, tell others about what you have done and encourage them to do the same.
In my next few posts, I will be discussing more about the end-times and what we, as Christ-Followers, can expect. Meanwhile, I refer you to two videos recorded at the recent "Understanding the Times Prophecy Conference" hosted by Jan Markell of Olive Tree Ministries. These videos are not pleasant to watch, but we need to know the signs of the times as prophesied in the Scriptures in order to live and to minister in these last days. So, I urge you to watch them. WARNING: They are not for children!
Here are the links to the two videos:
"Home Invasion: The Rise of the Surveillance Society" by Eric Barger
https://www.youtube.com/watch?v=rE5lvqAujnQ
"Artificial Intelligence and the Coming Apocalypse" by Pastor Billy Crone
https://www.youtube.com/watch?v=RUN8DJJAKJY
Prayer for Today: Lord God, we thank You that through Christ, we can have eternal life. We praise You for the gift of salvation through Christ. Guide us as we share this truth with those whom You bring across our paths. In Jesus' Name we pray. Amen.
Now, it's YOUR turn: Please share your questions and insights in the Comments box below. Thank you!
TWEETABLE: "Why Should You Be Ready for the Rapture?" by Dr. MaryAnn Diorio @DrMaryAnnDiorio (CLICK TO TWEET).

To be sure you don't miss any of my future blog posts, you may wish to subscribe to Matters of the Heart. CLICK HERE.
____________________________________________
____________________________________________
Check out my You-Tube series, YOU WERE MADE FOR GREATNESS!, based on my popular book by the same title.
____________________________________________________________________
NOW AVAILABLE!
THE ITALIAN CHRONICLES: The Complete Trilogy
in a single e-book or print format.
Save almost $4.00 over the purchase price
of the three individual novels.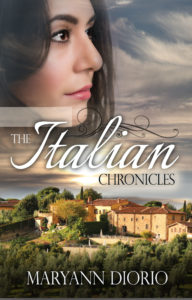 BUY PRINT BOOK NOW!
_______________________________________________
AVAILABLE FOR ORDER NOW!
_______________________________________________
Need a break? Read my latest short story, "Fire-Engine Love." Only $1.99!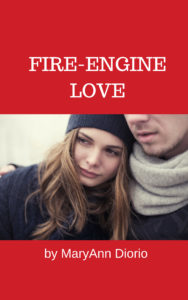 Tammie Burke is expecting her second child. But when her husband is suddenly taken from her, Tammie faces the fear of having to raise their two children alone. Will her faith in God help her to put her life back together?
____________________________________________________________________
THE ITALIAN CHRONICLES TRILOGY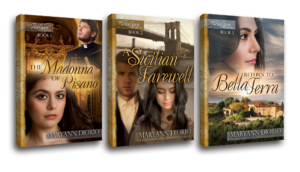 For additional encouragement, check out my podcasts at the following links:
___________________________________________
Copyright 2018 by Dr. MaryAnn Diorio. All Rights Reserved. This article may not be published or printed in any form whatsoever without the written permission of Dr. MaryAnn Diorio. You may contact her at info@maryanndiorio.com to request permission.
Amazon.com Required Disclosure: MaryAnn Diorio is a participant in the Amazon Services LLC Associates Program, an affiliate advertising program designed to provide a means for sites to earn advertising fees by advertising and linking to Amazon.com.
Disclaimer: This site uses cookies. Your continued use of this site constitutes your consent to our use of cookies.