"Guard your heart above all else, for it determines
the course of your life." ~ Proverbs 4:23
"Matters of the Heart" is a weekly blog that deals with the deepest issues of the human heart, the issues we all face but sometimes don't want to talk about. The heart is the programming center of our lives. What is programmed into our heart will affect every area of our lives. Learn how to examine your heart and how to program your heart for success.
AN INVITATION TO YOU: To follow this blog, click here.
________________________________________________
Witchcraft is on the rise in the United States and in the world.
And you need to be aware of its dangerous and destructive plans for you and your family!
As the approach of our Lord and Savior Jesus Christ draws near in the amazing event called the Rapture, Satan and his demons are hard at work to deceive people everywhere and to draw them away from the truth. One such deception is the current craze and interest in witchcraft, a deception that particularly abounds during this month of October with its celebration and glorification of Halloween.
Jesus prophesied that such deception would occur in the last days before His return: "'TAKE HEED, lest any man deceive you … For false christs and false prophets shall arise and shall show signs and wonders to seduce, if possible, even the elect" – Mark 13:5,22 (Emphasis mine).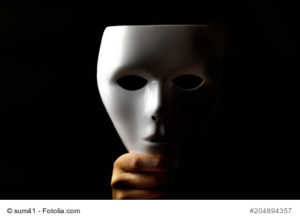 We are seeing this take place before our very eyes today. Occult practices abound in the form of astrology (horoscopes, tarot cards, palmistry), yoga, and the martial arts. Shockingly, even Christians are participating in them, unaware that such participation gives demons and other seducing spirits access to their lives.
Occult "religions"–such as Wicca, Satanism, Kaballah, and Goddess Worship–are on the rise as well and have their roots in the very pit of hell. We Christians need to be aware of these deceptions and warn others about them. Many in the Church are being led astray by practices such as so-called "Christian yoga" and "Christian Martial Arts." These practices are not Christian at all. They have their roots in Satan and are dangerous!
"The root determines the fruit." – Dr. MaryAnn Diorio
It is important to understand that Satan presents evil as good. The Bible tells us that "Satan himself masquerades as an angel of light" ( 2 Corinthians 11: 14). To masquerade–or wear a mask–means that one is pretending to be what one is not.
Satan wears a mask of light to pretend he is light when, in truth, he is the essence of darkness itself.
Satan's goal is to counterfeit Truth. He presents as truth, that which is false, and as false, that which is true. He does this by presenting evil as good. By presenting darkness as light. By presenting wrong as right.
Consider this: For every counterfeit, there is a genuine. For every counterfeit $50 bill, there is a genuine $50 bill. Have you ever seen a counterfeit $70 bill? No. Why not? Because there is no such thing as a $70 bill.
Likewise, for every truth in the Bible, there is a counterfeit. So, when we see a counterfeit gospel–one that is rooted in anything other than Jesus Christ–know that this is a false gospel counterfeiting the genuine Gospel. It doesn't matter if this counterfeit gospel produces miracles, signs, and wonders. Remember: Satan still has supernatural power, although his power has no teeth since Jesus defeated him by His death and resurrection. But, unless one is aware of Satan's deception, one can easily think that Satanic power is the greatest power when, in truth, it is not.
Satan's only power is the lie. And even the power of the lie has no effect on us if we don't believe his lies. For this reason, we must saturate our minds and hearts with the Word of God. Only the Word of God will enable us to discern between the truth and the lie.
A huge lie of our day is the lie of the occult. This Satanic movement seeks to demonstrate supernatural power in order to deceive and to draw people into death and destruction. It is an alluring movement, and unless one is born again and grounded in the Word of God, one will easily be deceived into believing that the power of the occult is the only supernatural power there is.
But the power of God is far greater than the power of Satan (See 1 John 4: 4).
Remember: Satan is a created being. He was created by God as Lucifer, the Chief Worship Angel in Heaven. He fell from great heights when Jesus Christ defeated him on Calvary. But Satan has not given up on his desire to be God. Of course, he never can be nor ever will be God. But because of his intense anger at God, Satan is still trying to steal people from God in order to destroy those whom God loves.
If you are finding it difficult to discern truth from evil, I urge you to do two things:
1–Dig into God's Word daily. Memorize it. Meditate on it. Make it your final authority.
2–Examine the root of popular practices, such as yoga, the martial arts, etc. Is the root Jesus Christ, or is the root something outside of Jesus Christ? Remember this: the root will determine the fruit. You cannot have an unholy root and expect holy fruit.
The Word of God gives us this warning about the last days: "But evil people and impostors will flourish. They will deceive others and will themselves be deceived." – 2 Timothy 3: 13
Do not allow yourself to be deceived. Stay close to Jesus and be continually in His Word. Pray in the Spirit, and be aware of what is going on around you.
Prayer for Today: Lord God, we ask that You would keep us from all deception in these last days. As we seek Your Face, we trust that You will protect our minds and hearts from the lies of the enemy. We thank You for the gift of discernment. In Jesus' Name we pray and receive by faith. Amen.
Now, it's YOUR turn: Please share your questions and insights in the Comments box below. Thank you!
TWEETABLE: "The Rise of Wicca, Witches, and Warlocks " by Dr. MaryAnn Diorio @DrMaryAnnDiorio (CLICK TO TWEET).

For further study, you may wish to read this article "Growing Number Of Witches & The Upcoming Hex On Justice Kavanaugh" at http://prophecynewswatch.com/article.cfm?recent_news_id=2644#ywYDxLgkPItfM7k8.99 http://prophecynewswatch.com/article.cfm?recent_news_id=2644.
To be sure you don't miss any of my future blog posts, you may wish to subscribe to Matters of the Heart. CLICK HERE.
____________________________________________
____________________________________________
Check out my You-Tube series, YOU WERE MADE FOR GREATNESS!, based on my popular book by the same title.
_______________________________________________
NOW AVAILABLE!
THE ITALIAN CHRONICLES: The Complete Trilogy
in a single e-book or print format.
Save almost $4.00 over the purchase price
of the three individual novels.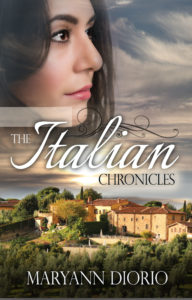 _______________________________________________
AVAILABLE FOR ORDER NOW!
_______________________________________________
Need a break? Read my latest short story, "Fire-Engine Love." Only $1.99!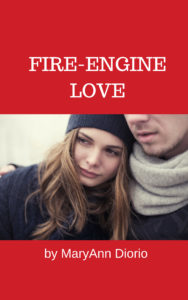 Tammie Burke is expecting her second child. But when her husband is suddenly taken from her, Tammie faces the fear of having to raise their two children alone. Will her faith in God help her to put her life back together?
_______________________________________________
THE ITALIAN CHRONICLES TRILOGY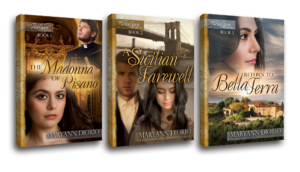 _______________________________________________
If you found this post helpful, please forward it to a friend. Thank you! You may also be interested in reading the following popular posts:
"Don't Let Satan Play Your Pipes!"
"How to Recognize a Controlling Spirit"
Please check our archives in the right sidebar for older posts on a variety of topics. You may also search for a particular topic in the search box at the top right.
For additional encouragement, check out my podcasts at the following links:
___________________________________________
Copyright 2018 by Dr. MaryAnn Diorio. All Rights Reserved. This article may not be published or printed in any form whatsoever without the written permission of Dr. MaryAnn Diorio. You may contact her at info@maryanndiorio.com to request permission.
Amazon.com Required Disclosure: MaryAnn Diorio is a participant in the Amazon Services LLC Associates Program, an affiliate advertising program designed to provide a means for sites to earn advertising fees by advertising and linking to Amazon.com.
Disclaimer: This site uses cookies. Your continued use of this site constitutes your consent to our use of cookies.