"Guard your heart above all else, for it determines
the course of your life." ~ Proverbs 4:23
"Matters of the Heart" is a weekly blog that deals with the deepest issues of the human heart, the issues we all face but sometimes don't want to talk about. The heart is the programming center of our lives. What is programmed into our heart will affect every area of our lives. Learn how to examine your heart and how to program your heart for success.
AN INVITATION TO YOU: To follow this blog, click here.
________________________________________________
Convergence! What is it, and why is it a clear sign of the end times? Most of all, why should I care?
When Jesus walked the earth, He had much to say about the days we are living in today. One of His most significant statements occurs in Mark 13: 29 where He speaks of Himself and His return at the Rapture: "…when you see all these things taking place, you can know that His return is very near, right at the door."
What things?



In this passage, the things to which Jesus is referring are what we call the "signs of the end times." These signs include earthquakes, horrific storms, pestilence, apostasy, depravity of mind, rebellion, and lawlessness, among others. Not only will these horrors increase in frequency, but they will also increase in intensity.
"Well," you may protest, "there have always been earthquakes, storms, disease, rebellion, and lawlessness. What's so different now?"
The difference is that all of these evils are now converging—or occurring and coming together–at the same time.
Until now, we would hear of an occasional earthquake, a hurricane once or twice a year, a few outbreaks of disease here and there, a modicum of crimes, etc. But today we are witnessing these things happening one after another, with seeming no respite in between. If we are honest, we have to admit that the world has gone crazy, calling evil good and good evil.
So, what are some of the signs that are converging? Here are ten of the most significant ones:
1–The Jews have returned to Israel, their homeland. In the seventh century B.C., the prophet Jeremiah prophesied this: "'So then, the days are coming,' declares the Lord, 'when people will no longer say, "As surely as the Lord lives, who brought the Israelites up out of Egypt," but they will say, "As surely as the Lord lives, who brought the descendants of Israel up out of the land of the north and out of all the countries where he had banished them." Then they will live in their own land.'" Other Scriptural references of the return of the Jews to Israel are found in Isaiah 11: 12, Ezekiel 39: 28, and Psalm 107.3.
We have been witnessing this return of the Jews to Israel for at least the last 70 years. Thousands continue to return from all parts of the globe.
2–The Jews have resumed control of Jerusalem. In 1967, during the "Six-Day War," the Jews regained control of Jerusalem, and last year, they celebrated the 50th anniversary of their resumption of control. In Luke 21, Jesus prophesied that when the Jews regained control of Jerusalem, His return would soon follow (Luke 21: 24-28).

3–There has been and continues to be a great increase in world travel and growth of information. In Daniel 12: 4, the prophet Daniel, who lived from 620-538 B.C., wrote this about the last days: "Many shall run to and fro, and knowledge shall increase." How could Daniel have known this except by the Spirit of God?
4–Israel will be surrounded by her enemies. This is happening before our very eyes. Russia, Turkey, and Iran have established military posts in close proximity to Israel. Enemy nations continue to call Israel the "occupier" and are claiming that the land of Israel does not belong to Israel. The goal of these enemies is Israel's oil and gas. They will attack Israel for these spoils in the war prophesied in Psalm 83: "Come, let us wipe away the nation of Israel. Let's destroy the memory of its existence" (Psalm 83:4) and "Let us take for ourselves these pasturelands of God" (Psalm 83:12).
5–Israel will have a mighty army. She does. The prophet Zechariah prophesied that in the end times, "even the weakest Israeli soldier will be like David" (Zechariah 12:8).
6–Europe will be united. Daniel prophesied the formation of the European Union and the resurgence of the Roman Empire through that union. See Daniel 7. The Book of Revelation, chapter 17, also prophesies the establishment of the EU.
7–A military alliance called the "Gog-Magog Alliance" will be formed and will include Russia, Iran, Turkey, and a few other Muslim nations. This alliance is being formed as I write and will eventually attack Israel, as prophesied in Ezekiel 38 and 39.
8–Jerusalem will become a "stumbling block." This was prophesied by the prophet Zechariah in Zechariah 12: 2 and is now coming to pass. Just watch the daily news and view some of the proceedings at the United Nations. Jerusalem is a major point of contention and confusion to the nations.
9–The convergence of signs will increase in frequency and intensity, like the contractions of a woman in labor. How often are we hearing terms like "unprecedented" regarding storms, illnesses, etc.? Are we not witnessing more frequent and more intense hurricanes and earthquakes?
10–The Gospel will be preached throughout the entire world. This is happening via the Internet and Social Media, among other venues. Modern technology has made the preaching of the Gospel to all four corners of the earth not only possible but actual.
Significantly, our generation is the generation that is witnessing this rapid convergence of signs. This tells us that the return of Christ is very, very near.

So, what does this convergence mean for you? For me? Why should we care?
"Convergence is the most significant prophetic sign of our day."
The reason we should care is that our eternal destiny depends on what we do with these signs of the times. Will we take them seriously and allow them to cause us to repent of our sins and turn to God? Or we will simply ignore them and go on our merry way, oblivious to the fact that, if we do not repent, we will spend eternity in hell, separated from God?
Convergence is considered by many authoritative prophecy experts as "the number one prophetic sign" of our day.* More than any other sign, convergence points to the imminent return of Jesus Christ to remove His true followers from earth in the stunning event called the Rapture so that they will escape the "wrath to come"–the horrific seven-year time period called the "Great Tribulation."
Will you be among those who will escape?
How can you know?
You can know by making a decision right now to accept Jesus Christ as the Only One Who can save you. Will you do that now?
No person can save himself. We all need a Savior. Jesus Christ alone is that Savior. He is extending to you now, as you read this, His loving invitation to accept the gift of eternal life that He died to give you. Will you accept it? Or will you remain in your rebellion and sin and suffer the eternal consequences of your sin?
Yes, we are all sinners. Not one of us is without sin. All of us need a Savior. Jesus is that Savior. Receive Him now before it is too late.
How?
Repent of your sins. Call on His Name to save you. Invite Him into your life. Embrace Him as Your Savior and Lord. Then follow in His ways. Obey His teachings as found in the Holy Bible. Find a good church where you can be taught the truth from God's Word. Study the Bible for yourself. Talk to God regularly, and expect Him to lead you into all truth. Then, tell others about Jesus.
Do not be among the many scoffers who continue to mock and make light of these signs. Be among those who recognize them as God's loving warning to repent and be saved.
And remember the words of Jesus in Luke 21: 28: "So when all these things begin to happen, stand and look up, for your salvation is near!"
Prayer for Today: Lord God, I ask that You would touch the hearts of all those who read this post. If they do not know Jesus, move upon their hearts to receive Him now. If they already know Jesus, move upon their hearts with a renewed fire to tell others about Him. In Jesus' Name I pray. Amen.
Now, it's YOUR turn: Please share your questions and insights in the Comments box below. Thank you!
TWEETABLE: "Convergence: Clear Sign of the End Times" by Dr. MaryAnn Diorio @DrMaryAnnDiorio (CLICK TO TWEET).

____________________________________________
*Source cited: "The Number One Prophetic Sign: Convergence" http://www.prophecynewswatch.com/article.cfm?recent_news_id=1164
Additional information on Convergence: https://www.youtube.com/watch?v=kleISPhwawY
To be sure you don't miss any of my future blog posts, you may wish to subscribe to Matters of the Heart. CLICK HERE.
____________________________________________
____________________________________________
Check out my You-Tube series, YOU WERE MADE FOR GREATNESS!, based on my popular book by the same title.
_______________________________________________
NOW AVAILABLE!
THE ITALIAN CHRONICLES: The Complete Trilogy
in a single e-book or print format.
Save almost $4.00 over the purchase price
of the three individual novels.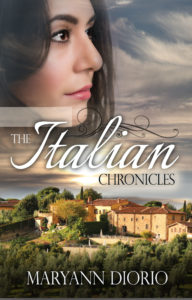 _______________________________________________
AVAILABLE FOR ORDER NOW!
_______________________________________________
Need a break? Read my latest short story, "Fire-Engine Love." Only $1.99!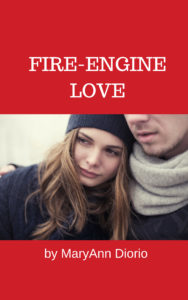 Tammie Burke is expecting her second child. But when her husband is suddenly taken from her, Tammie faces the fear of having to raise their two children alone. Will her faith in God help her to put her life back together?
_______________________________________________
THE ITALIAN CHRONICLES TRILOGY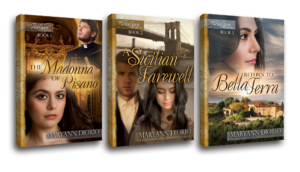 _______________________________________________
For additional encouragement, check out my podcasts at the following links:
___________________________________________
Copyright 2018 by Dr. MaryAnn Diorio. All Rights Reserved. This article may not be published or printed in any form whatsoever without the written permission of Dr. MaryAnn Diorio. You may contact her at info@maryanndiorio.com to request permission.
Amazon.com Required Disclosure: MaryAnn Diorio is a participant in the Amazon Services LLC Associates Program, an affiliate advertising program designed to provide a means for sites to earn advertising fees by advertising and linking to Amazon.com.
Disclaimer: This site uses cookies. Your continued use of this site constitutes your consent to our use of cookies.