Check out my 2018 Christmas Catalogue to Simply Your Christmas Shopping
"Guard your heart above all else, for it determines
the course of your life." ~ Proverbs 4:23
"Matters of the Heart" is a weekly blog that deals with the deepest issues of the human heart, the issues we all face but sometimes don't want to talk about. The heart is the programming center of our lives. What is programmed into our heart will affect every area of our lives. Learn how to examine your heart and how to program your heart for success.
AN INVITATION TO YOU: To follow this blog, click here.
If this blog has blessed you, please encourage your family and friends to subscribe as well. Thank you!

________________________________________________
In case you haven't noticed, there's been a major shift in the direction of the Church in recent years. The Body of Christ as a whole has moved from the original church founded by Christ to a "seeker-sensitive" church founded by man. The result is a spiritual and cultural phenomenon known as the "Emergent Church" — a phenomenon fraught with deception and heresy and jeopardizing the spiritual destiny of Christians throughout the world.

So, what is all the ruckus about, and why should we be concerned?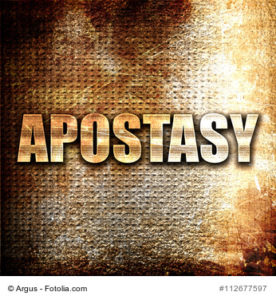 We should be concerned for a number of reasons, not the least of which is that the emergent church is fast turning into the Apostate Church that will lead to the one-world religion of the end days. We are already witnessing the formation of this one-world religion.
How can we know, then, if our church is an apostate church and not an apostolic one? First of all, let's define our terms. An apostolic church is a church that adheres to the doctrines of the early, first-century Church as founded by the Apostles. These doctrines are explained in the New Testament, and their application is found primarily in the Book of Acts.
The Apostate Church, on the other hand, has moved away from these foundational doctrines to an experience-based theology that deifies feelings. This new way of "doing church" promotes experience over truth by shifting the focus of its members from the Cross of Christ to personal experience.
"What fellowship has light with darkness?" ~ 2 Corinthians 6: 14 NASB
So, what questions should you ask to determine if you are in an apostate church or an apostolic church? (By the way, it is critically important to ask these questions). Here are some extremely important ones:
1__Does your church teach that Absolute Truth exists, or does your church teach that everyone has his own truth? The Apostate Church teaches relativism: what's true for you doesn't necessarily have to be true for me, and vice versa. The true Church teaches that there is such a thing as Absolute Truth and that relativism is a doctrine of devils.
2__Does your Church teach that the Bible is the final authority in life, or does it teach that Scripture evolves with the times? The Apostate Church teaches that the Church must adapt to today's culture. It attempts to build the Church according to the world's ways, hiring consultants from corporate America to build the Church like a corporation. We now have offices like Executive Pastor, Pastor of Communications, Pastor of Church Growth, etc. Moreover, we now see churches employing worldly methods of growth that utilize marketing gimmicks instead of teaching its members how to receive the power available through the Baptism of the Holy Spirit–the power that ignited the stunning growth of the early Church.
3__Does your church minimize sin, repentance, and hell and talk instead of love and peace? Does it teach that a good God would not send people to Hell?
4__Does your church use the methods of the world to draw people? For example, does your church use gimmicks like strobe lights, darkened sanctuaries, artificial smoke, and other worldly means to attract the younger generation? To my utter surprise, churches are now offering ear plugs to older folks who complain about the loud music. In my opinion, this is ridiculous and a terrible waste of God's money when all they would have to do is turn down the volume button. My physician husband mentioned to me that many young people have partial hearing loss because of their frequent attendance at blaring rock concerts. So now church music must blare to accommodate their hearing loss.
5__Does your church approve of yoga, contemplative prayer, and walking the labyrinth as methods of drawing closer to God? Does your church teach goddess worship and adoration of the Queen of Heaven? These are practices associated with Eastern Mysticism, a philosophy that has infiltrated the Apostate Church.
6__Does your church teach "dominionism," the false doctrine that man can make the world a better place through promoting a social Gospel? Does your church place more emphasis on social injustice than on issues like the imminent return of Christ in the Rapture, the Great Tribulation, and the final judgment of Christ?
7__Does your church teach that people are born homosexual and that homosexuality is an acceptable lifestyle? That transgenderism is acceptable? These teachings are in direct contradiction to God's Word.
8__Does your church teach that there are many ways to Heaven besides Jesus? That all religions lead to God? Yes, all people will eventually face God, but only Christians will face His mercy. The rest will face His wrath.
9__Does your church teach that abortion is all right in some cases, like rape or incest? Or does it teach that abortion is murder in every case? Shockingly, some churches today are calling abortion "sacred!"
10__Does your church teach that the Church has replaced Israel? This false teaching is called "replacement theology" and has also infiltrated the Church. Beware of teachers who say that Israel has now been replaced by the Church.
We must ask these hard questions if we do not want to be sucked in by the Apostate Church. Pastors, in particular, must carefully examine the messages they are preaching to be certain they align with God's Word. Also, pastors must review the videos they show to their congregations. Many of these videos are taught by prominent pastors and teachers who call themselves "evangelicals" but who are preaching a false doctrine to congregations all over the country. In reality, they are promoting apostate teachings that are undermining the Church.
The Bible teaches that each person must work out his own salvation in fear and trembling. This means that each of us is responsible for the teaching we listen to and the teaching we make our own. Measure everything—and I mean EVERYTHING–you hear and read by the standard of the Word of God. If it agrees with God's Word, it is truth. If it does not agree with God's Word, then reject it.
Jesus warned us that deception would run rampant in the last days. It is now upon us, so we must guard our hearts against it. It will only get worse until the return of our Lord at the Rapture. If you are in an apostate church, get out of it as fast as you can. To remain is to open yourself up to the possibility of losing your salvation.
Now, it's YOUR turn: Please share your questions and insights in the Comments box below. Thank you!
TWEETABLE: "Is Your Church Apostate or Apostolic?" by Dr. MaryAnn Diorio @DrMaryAnnDiorio (Click to Tweet)


____________________________________________
To be sure you don't miss any of my future blog posts, you may wish to subscribe to Matters of the Heart. CLICK HERE.
____________________________________________
____________________________________________
Check out my You-Tube series, YOU WERE MADE FOR GREATNESS!, based on my popular book by the same title.
_______________________________________________
NOW AVAILABLE!
THE ITALIAN CHRONICLES: The Complete Trilogy
in a single e-book or print format.
Save almost $4.00 over the purchase price
of the three individual novels.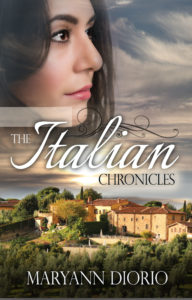 _______________________________________________
AVAILABLE FOR ORDER NOW!
_______________________________________________
Need a break? Read my latest short story, "Fire-Engine Love." Only $1.99!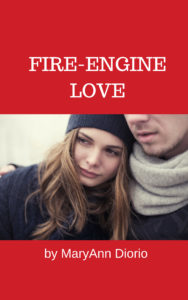 Tammie Burke is expecting her second child. But when her husband is suddenly taken from her, Tammie faces the fear of having to raise their two children alone. Will her faith in God help her to put her life back together?
_______________________________________________
THE ITALIAN CHRONICLES TRILOGY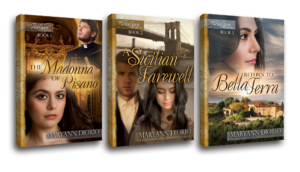 _______________________________________________
For additional encouragement, check out my podcasts at the following links:
___________________________________________
Copyright 2018 by Dr. MaryAnn Diorio. All Rights Reserved. This article may not be published or printed in any form whatsoever without the written permission of Dr. MaryAnn Diorio. You may contact her at info@maryanndiorio.com to request permission.
Amazon.com Required Disclosure: MaryAnn Diorio is a participant in the Amazon Services LLC Associates Program, an affiliate advertising program designed to provide a means for sites to earn advertising fees by advertising and linking to Amazon.com.
Disclaimer: This site uses cookies. Your continued use of this site constitutes your consent to our use of cookies.