BACK BY POPULAR DEMAND!
Check out my 2019 Book Catalogue
"Guard your heart above all else, for it determines
the course of your life." ~ Proverbs 4:23
"Matters of the Heart" is a weekly blog that deals with the deepest issues of the human heart, the issues we all face but sometimes don't want to talk about. The heart is the programming center of our lives. What is programmed into our heart will affect every area of our lives. Learn how to examine your heart and how to program your heart for success.
AN INVITATION TO YOU: To follow this blog, click here.
If this blog has blessed you, please encourage your family and friends to subscribe as well. Thank you!
______________________________________
The recent devastation in the Bahamas resulting from Hurricane Dorian has been described as apocalyptic. Other words used to describe this, and other recent catastrophes, have been unprecedented, unrecorded, breaking all records. Do you not find it strange, as I do, that certain events are occurring in ways that have never occurred before? That, while there have always been terrible storms, earthquakes, and pestilence, these things are occurring with more frequency and with greater intensity?
Although the world wonders why, the reason is clear in the Holy Scriptures. The prophets of old, including Daniel, Isaiah, and Ezekiel, predicted the very events that we are witnessing in our world today. How can this be?
The answer is simple. The Bible is God's Word and everything contained within its pages is absolutely true. In fact, most of the prophecies in the Bible have already happened, and they have happened with the precision with which they were first written.
So, what does all of this mean for you and me?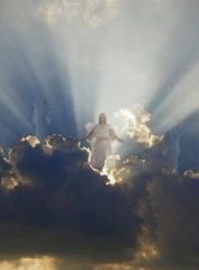 It means that Jesus Christ will soon be returning to remove His followers from this world, just as He said He would. This will occur in a cataclysmic event called the Rapture. It also means that we need to get ready if we want to be among those who will be removed. Why? Because those who are left behind will find themselves living during the most horrific time in human history–the time the Bible refers to as the Great Tribulation.
During this time, the world will come under the rulership of an absolute dictator the Bible calls the "AntiChrist." He will rule with terror and will eventually call himself God. But he will be Satan personified.
Perhaps all of this is new to you. If so, take heart. You are reading this because God has led you to this post. He loves you and wants you to escape the wrath to come.
But how?
There is only one way. That way is to accept Jesus Christ as your Savior and Lord. If you have never done so, I strongly urge you to do so now. Here is a simple prayer you can pray:
Lord Jesus, I need You. I come to You just as I am. I desire a personal relationship with You, so I repent of my sin and receive You now as my Savior and Lord. Preserve me from the wrath to come. Make of me what You created me to be. I pray this in Your Name. Amen.
Once you pray this prayer, begin reading your Bible daily. Pray that God will lead you to a good church that preaches and teaches the Bible without compromise. And please let me know in the comment box that you have been born again! I will send you a booklet that will help you get started in your walk with Christ.
Now, it's YOUR turn: What about you? Are you preparing yourself for the Rapture? Please share your questions and insights in the Comments box below. Thank you!
TWEETABLE: "Is the Apocalypse Near?" by Dr. MaryAnn Diorio @DrMaryAnnDiorio (Click to Tweet)

____________________________________________
To be sure you don't miss any of my future blog posts, please subscribe to Matters of the Heart. CLICK HERE.
____________________________________________

JOIN MY TEAM and get my monthly newsletter delivered to your inbox. Each month you will an update about my writing ministry and my family plus an opportunity to win a free e-book. You will also receive a special family recipe straight from my kitchen to your. So, don't delay! Sign up now by clicking here.
____________________________________________
Check out my You-Tube series, YOU WERE MADE FOR GREATNESS!, based on my popular book by the same title.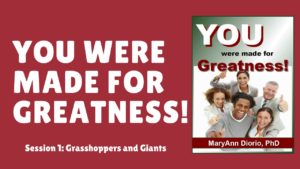 _______________________________________________
Soon-to-be-released: In Black and White: A Novel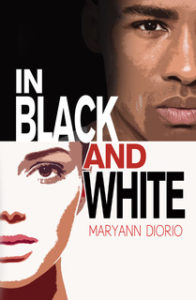 "Can endurance and faith sustain the love between a white woman and a black man as they are threatened by rejection, violence, and racial injustice? Can love alone reconcile their starkly different worlds, lighting the way to a bright future together? Find out in MaryAnn Diorio's forthcoming novel, IN BLACK AND WHITE, soon to be released. Stay tuned!"
Available soon in print and ebook formats. Stay tuned!
_______________________________________________
For additional encouragement, check out my podcasts at the following links:
___________________________________________
Copyright 20111-2019 by Dr. MaryAnn Diorio. All Rights Reserved. This article may not be published or printed in any form whatsoever without the written permission of Dr. MaryAnn Diorio. You may contact her at info@maryanndiorio.com to request permission.
Amazon.com Required Disclosure: MaryAnn Diorio is a participant in the Amazon Services LLC Associates Program, an affiliate advertising program designed to provide a means for sites to earn advertising fees by advertising and linking to Amazon.com.
Disclaimer: This site uses cookies. Your continued use of this site constitutes your consent to our use of cookies.