WINNING WITH THE WORD
"Winning with the Word" is a weekly blog that will help you to be a winner in life by applying God's principles for living the abundant life as found in the Bible, God's manual for life.
AN INVITATION TO YOU: To follow this blog, click here.
If this blog has blessed you, please encourage your family and friends to subscribe as well. Thank you!
______________________________________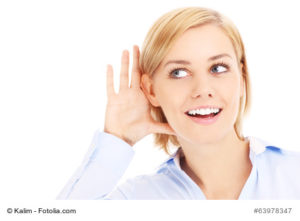 Do you prefer listening instead of reading? Then click below to listen to today's blog post:
_______________________________________________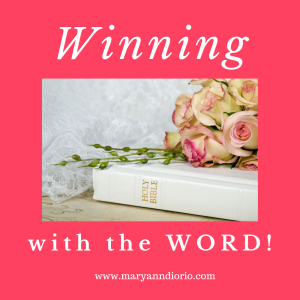 Hello and Happy Day! This is Dr. MaryAnn Diorio, your Virtual Life Coach, welcoming you to another episode of Winning with the Word. Today is Monday, March 9, 2020. Today's Podcast is Episode #10 in Series 2020 and is titled "Not Will Power, but Word Power."
Over my lifetime, I've struggled to overcome the bad habit of speaking before thinking. I can't tell you how many times I've put my foot in my mouth only to take it out and put the other foot in.
I am a communicator by nature and by calling, and I love to communicate. This is the reason Satan fights me in the area of my tongue. Of one thing we can be sure, the enemy will always focus his attacks on our areas of strength by targeting the weaknesses that go along with those strengths.
For example, those of us who communicate well are susceptible to talking before thinking or talking too much. But the Bible warns that if we talk before we think or if we talk too much, we will eventually sin (Proverbs 10: 19).
Well, as always, the Bible is true. When I speak before I think or when I talk too much, I inevitably get myself into trouble. And getting out of trouble is much more difficult than getting into it, I can assure you.
As always, I went to the Lord with my problem. I told Him that no matter how hard I tried, I kept engaging my mouth before engaging my brain. The harder I tried not to talk before thinking, the more I talked before thinking. I felt just like the Apostle Paul who wrote in Romans 7: 15-24: "I don't do what I want to do. Instead, I do what I hate. . . Although I have the desire to do what is right, I don't do it. I don't do the good I want to do. Instead, I do the evil that I don't want to do. What a miserable person I am! Who will rescue me…?"
Have you ever felt this way? Have you ever wanted desperately to stop doing something–like, perhaps, to stop smoking, or to stop taking drugs, or to stop viewing pornography, or to stop overeating, or to stop spending too much money, or to stop yelling at your kids–but, no matter how hard you tried, you just kept messing up? If so, you are not alone.
One of the biggest reasons that bad habits are hard to break is that we try to overcome them in our own strength. And that, my friend, is impossible. We as humans have no power in ourselves to overcome the flesh. We need Jesus Christ in our lives to live the overcoming life through us.

So, the first step to overcoming a bad habit once and for all is to be born again–to accept Jesus Christ as our Savior. Why? Because only Jesus Christ can set us free. Nothing else or no one else can set us permanently free. Yes, we may have some success using will power alone, but that success will eventually fizzle out. What we need to overcome permanently is not will power, but Word power. The power of God's Word as found in the Holy Bible. Jesus is God's Word made flesh as we read in John 1: 1.
Jesus said in John 8: 32, "You shall know the truth, and the truth shall make you free." The truth is found in God's Word. As we learn the truth and apply it to our lives, we will become freer and freer. In fact, we will be free to the degree that we know and obey the Word of God.
Once we have Jesus living within us, we now have His power to overcome bad habits.
Sadly, however, some of us, even after we are born again, still try to overcome bad habits in our own strength. Whether out of ignorance or–excuse the pun–bad habit, we neglect to draw on the power of Christ Who is now living within us. It is only by allowing the life of Christ now within us to live through us that we can overcome bad habits.
So, what does this look like in practical life?
Well, here's a scenario. Let's say that a co-worker rubs you the wrong way. You find yourself growing impatient and annoyed with her whenever she asks you for help. How should you respond? First of all, give your negative feelings to Jesus. Then ask Him to love this person through you. These two steps–giving your negative thoughts and feelings to Jesus and asking Him to live His life through you– constitute what is called "crucifying the flesh." You are putting to death your own negative thoughts and feelings and allowing Christ's loving thoughts and feelings to flow through you toward your co-worker.
The key to overcoming bad habits is to focus on Christ in us. When we focus on the negative–our negative thoughts and feelings–we will magnify the negative. It will become paramount in our lives. But when we focus on Jesus living inside us, we will magnify Jesus and He will become paramount in our lives. In short, we cannot overcome bad habits by sheer will power, only by Word power. When we allow Christ to take our bad habits and give us His good ones in exchange, we will be living the life of Christ in us.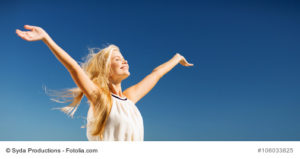 Just as we were born again and received Christ by faith, so must we also live the Christian life by faith. There is simply no other way to live it. It is His Holy Spirit living within us that gives us the power to crucify the flesh. When we yield our weakness to His strength, we begin resting in Him. And it is this resting in Him that causes us to experience victory over our tongues or over any other bad habit.
It took me a long time to grasp the concept of resting in the Lord. But it is the essential concept of living the Christian life. We live the Christian life by His power, not ours. As we yield our will to His will, we will be able to take hold of His power that is ever ready to help us not only to control our tongues but to overcome every bad habit and to live out every aspect of the Christian life according to His will.
If you have not yet accepted Jesus Christ as your personal Savior and Lord, I urge you to do so now.
Pray this simple prayer with me:
Lord Jesus, I'm struggling with a bad habit, and no matter how hard I try, I can't break it. I have come to realize that I cannot overcome this bad habit in my own strength. I need Your strength. And so I come to You now, asking You to come into my life. Save me and live Your life through me. I repent of my sins and ask You to forgive me. Thank You for giving me Your strength in exchange for my weakness. In Your Name I pray, believe, and receive. Amen.
If you prayed this simple prayer, please write to me at drmaryann@maryanndiorio.com. I would like to send you a little booklet that will help you get started in your relationship with Jesus Christ. I also encourage you to get yourself a Bible and read it every day, starting in the Gospel of John, which is in the second half of the Bible. Finally, ask the Lord to lead you to the church of His choice for you where you can learn about Him and find fellowship and encouragement with other Christ-Followers.
For those of you who may not know, I write fiction about some of the issues I deal with in this blog and podcast. I invite you to visit my website at https://maryanndiorio.com/book-table. There you will find a complete list of the novels, novellas, and short stories I have written about characters with problems like yours.
On my website, you will also find additional resources, articles, books, and podcasts to help you grow in your walk with Christ.
This podcast is found on Apple Podcasts, Blubrry, iHeart Radio, Spotify, Spreaker, Soundcloud, Castbox, Podbean, Podchaser, and Deezer, so I encourage you to subscribe and have it delivered right to your mailbox.
If you have been blessed by these messages, I also invite you to become a Winning with the Word patron on Patreon. As a patron you will enjoy special benefits only for my patrons. Just go to Patreon.com and search for Winning with the Word to join. This podcast is being sponsored by my wonderful husband and patron, Dominic A. Diorio. Thank you, Honey, for supporting the work of the Lord.
And to all of you wonderful people out there, thank you so much for listening. This is Dr. MaryAnn Diorio, your virtual life coach, reminding you that God loves you just as you are and just where you are, and that He will help you to keep on winning with the Word.
Listen to the podcast here:
________________________________________________
Now it's your turn: ? If so, which of the tips do you think will best help you to get through to God? Please leave your comment in the Comment Box below. Thank you!
PLEASE TWEET: "Now Will Power, but Word Power" by Dr. MaryAnn Diorio (CLICK TO TWEET)
Please tell your family and friends about "Winning with the Word," and please pass this post on to them. Thank you!
Check out these three popular Winning with the Word podcasts below. You may also search for a particular topic in the search box at the top of the sidebar on this page.
__Is Your Tongue Ruining Your Life?
Are you new to this blog? If so, what is the "Winning with the Word" blog and why will it bless you to read it?
"Winning with the Word" is a weekly blog that helps you to deal with the daily problems of life by using the Bible as your guide to solving them. The Word of God will make you a success in life!
AN INVITATION TO YOU: To subscribe to Winning with the Word, click here.
_____________________________________________________________
Copyright 2000-2020 by Dr. MaryAnn Diorio. All Rights Reserved. This article may not be published or printed in any form whatsoever without the written permission of Dr. MaryAnn Diorio. You may contact her at info@maryanndiorio.com to request permission.
Amazon.com Required Disclosure: MaryAnn Diorio is a participant in the Amazon Services LLC Associates Program, an affiliate advertising program designed to provide a means for sites to earn advertising fees by advertising and linking to Amazon.com.Disclaimer: This site uses cookies. Your continued use of this site constitutes your consent to our use of cookies.