WINNING WITH THE WORD
"Winning with the Word" is a weekly blog that will help you to be a winner in life by applying God's principles for living the abundant life as found in the Bible, God's manual for life.
AN INVITATION TO YOU:
To subscribe to this blog, click here.
To subscribe to this podcast, click here.
If this blog and podcast have blessed you, please encourage your family and friends to subscribe as well.
Thank you!
Be sure to check out our Featured Book of the Week at the end of this post.
______________________________________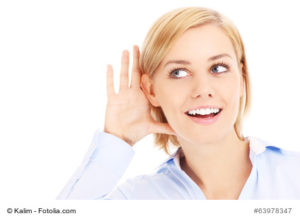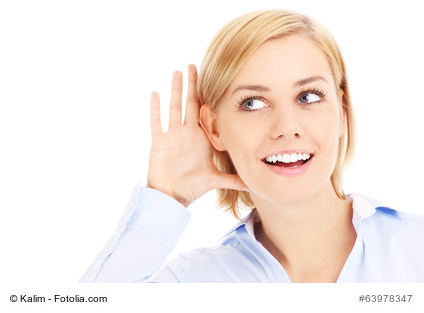 t
Do you prefer listening instead of reading? Then click below to listen to today's blog post on podcast.
______________________________________
Hello and Happy Day! This is Dr. MaryAnn Diorio, novelist and life coach, welcoming you to another episode of Winning with the Word. Today is Monday, July 5, 2021, and this is Episode #22 of Series 2021. This episode is titled "The Dangers of Distraction".
_______________________________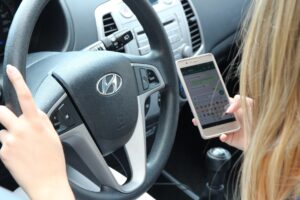 Never in my 75 years of life have I seen people so distracted as they are today. Wherever I turn, people's noses are in their cell phones, often to their own danger.
Recently, our town removed some tree limbs from a tree on the street behind our house. The limbs were hanging low and posing an obstacle to pedestrians.
As I watched the workmen cut down branches and throw them into a dumpster, a woman approached, staring at her cell phone. She was totally oblivious to what was going on a few feet ahead of her. Had one of the workmen not warned her of falling tree limbs, she could have been struck and seriously injured, if not killed. All because she wasn't paying attention but had her focus on her cell phone, not on her surroundings.
Focusing on the wrong thing in the natural can harm us, even to the point of natural death. But focusing on the wrong thing in the supernatural can harm us even more for all eternity.
Satan uses many tactics to steer our focus away from the things of God. One of the most subtle is distraction.
What is distraction? The Online Dictionary defines distraction as "a thing that prevents someone from giving full attention to something else." The word "distraction" comes from two Latin words: dis, meaning apart or away from, and trahere, meaning to drag. In the Greek language, the word distraction means to drag all around, especially mentally.
And that is exactly what a distraction does: it drags us around mentally from thought to thought or activity to activity, leaving us feeling out of control and at the mercy of whatever is going on around us.
So distraction signifies a dragging apart or a dragging away from one's assigned task. In the case of a believer–of a Christ-Follower–a distraction is something that takes us away from God's assigned task for us at that particular moment in time.
One of the chief dangers of distraction, then, is that it drags us away from God's will. And to be dragged away from God's will can only end up in harm, whether spiritual, physical, or both.
When we are distracted from the important things of life–like our relationship with God and our relationship with others–we suffer loss. Moreover, we also open ourselves up to attacks from Satan that hinder us from our God-given purpose in life.
The word distraction appears only a few times in the Bible. Let's take a look at those occurrences and the people who are involved in them.
A well-known example of the subject of distraction occurs in Luke 10: 40 NKJV, where Scripture describes Martha: "But Martha was distracted with much serving…" (Emphasis mine). We all know from this story that Martha was running around, trying to put a meal on the table for Jesus, her family, and the other people present. But Jesus told Martha that she was anxious for many things and that her sister Mary had chosen the better part, which was to sit at Jesus' feet.
It's not that what Martha was doing was not important. Cooking and preparing a meal for guests is certainly important. But the issue here is that what Mary was doing–sitting at the feet of Jesus–was more important.
Martha had her priorities wrong. She put serving Jesus above a relationship with Him. She needed first to pay attention to Jesus who, in reality, could have produced a meal for everyone out of nothing.
Don't we often do the same thing as Martha? We work, work, work for the Kingdom of God, all the while neglecting our relationship with the very Lord Whom we are serving. Above all, God does not want our service; He wants our heart.
Another instance of distraction in the Bible is King David. David allowed distraction to put him in the wrong place at the wrong time. This is one of the dangers of distraction. Because distraction drags us away from God's will–which includes where God wants us and when–distraction opens us up to the consequences of being out of God's will. In David's case, his distraction ended up in adultery with Bathsheba.
In 2 Samuel 11: 1, we read this: "In the spring, at the time when kings go off to war, David sent Joab out with the king's men and the whole Israelite army. They destroyed the Ammonites and besieged Rabbah. But David remained in Jerusalem."
David remained in Jerusalem. David wasn't supposed to remain in Jerusalem. He was the king and should have been out fighting with his men. But he got distracted. And the results were disastrous.
A third instance of distraction in the Bible is the case of Samson. We read about Samson in the Book of Judges. Samson allowed Delilah to distract him with her relentless challenges to his strength. Finally, in a moment of weakness–also known as a moment of distraction–he revealed to her the secret of his strength. Samson's distraction resulted in the severe consequences of blindness and death.
What about you? Are you struggling with distraction? Before I get into a few ways to overcome distraction, let's talk about three ways that Satan uses distraction to get us off course:
1. Challenging our identity in Christ. Satan will continually try to get us to doubt the authority and the power we have in Christ. This is a subtle distraction we must guard against with all of our might. When we doubt our authority and power in Christ, we open ourselves up to the devil's lies. And when we open ourselves up to the devil's lies, we fall out of faith into unbelief. When we are in unbelief, we cannot please God nor can we receive anything from Him.
2. The second way Satan uses distraction to get us off course is by tempting us to be impatient or to procrastinate. He does this by hiding a time trap on our path. What is a time trap? It is a trap, which, if we get caught in it, will either cause us to be impatient and run ahead of God's will for us, or the trap will cause us to delay in obeying an instruction God has given us.
3. A third way Satan uses to distract us is by presenting us with a counterfeit. This distraction is particularly subtle. It occurs when Satan appears in disguise as an angel of light, as he is described in 2 Corinthians 11: 13. For example, you may be on the verge of a breakthrough when Satan presents you with what looks like the perfect job, or the perfect relationship, or the perfect solution to a problem. If we give in to this counterfeit, we will always end up compromising.
For example, let's say that you have been praying for a spouse and what looks like the perfect person comes your way, but, that person is not a Christian. That fact alone should be a big red flag. But, instead of heeding the warning of the red flag, you plunge ahead, rationalizing that you will bring that person to Christ. In this case, you have fallen into Satan's counterfeit trap. Counterfeit traps are related to timing traps because we often fall into them out of impatience.
So, now that we've talked about ways Satan tries to distract us and get us off course from God's plan for our lives, let's look at some ways to overcome distraction.
The solutions to distraction are directly related to Satan's methods of distraction. To review briefly, Satan uses three weapons–identity, timing, and counterfeit--to distract us. So, let's look at the solution for each of Satan's weapons.
First, we'll consider identity. In order to resist Satan's trap of distraction, we must know who we are in Christ and we must be firm and unwavering in standing in that position. When Satan tempts us with distraction, we must take up the shield of faith and wield the Sword of the Spirit, which is the Word of God, against him. But if we don't know we have a shield of faith or a Sword of the Spirit, if we don't know that we are more than conquerors over Satan through Christ, then we will not resist Satan. Instead, we will fall into his trap of distraction.
Second, we need to stay close to the Lord and listen to the voice of His Holy Spirit regarding His timing for our lives. We must not allow impatience to take over and push us into something that is not God's right time nor right place. At the same time, we must not hold back when God is telling us to move. Knowing when to move and when to stay requires a listening heart and a listening ear. And a listening heart and a listening ear require a close relationship with Jesus.
Third, we must remember that old saying that "all that glitters isn't gold." Just because something looks perfect doesn't mean that it is. It could just as easily be a trap of the enemy. The more we study the Word of God, the more we will recognize a counterfeit.
A friend of mine who worked as a bank teller once told me that when bank tellers are trained to recognize counterfeit money, they never handle counterfeit money. They handle only real money, and they handle it so often and so well that they will instantly recognize a counterfeit bill when it passes through their hands.
So it is with the Word of God. We must be intentional about studying the Word of God. We must make it a priority in our lives. When we study the Word of God–which is Truth–often enough, we will instantly recognize Satan's lie when it crosses our path.
In his first letter to the Corinthians, the Apostle Paul is instructing the Church as to how to live as much as possible without care. He wrote this in chapter 7, verse 35: "And this I say for your own profit, not that I may put a leash on you, but for what is proper, and that you may serve the Lord without distraction."
Avoiding the trap of distraction results only from knowing Jesus Christ. Perhaps, as you've been listening to this podcast, you've been wondering about how you, too, can know Jesus. Let me show you. Just pray this simple prayer after me now:
Lord Jesus, I need You. I want my life to count for You. I want to be free from the distractions that keep me focused on the wrong things. I need Your help. So, I invite You into my life now. I receive You as my personal Savior and the Lord of my life. Thank You for forgiving me and bringing me into Your family. Thank You for saving me. Thank You for giving me eternal life. I pray this in Your Name. Amen.
If you sincerely prayed this prayer, please write to me at drmaryann@maryanndiorio.com. I would like to send you a free e-booklet that will help you get started in your walk with Christ. I also encourage you to get yourself a Bible and read it every single day. The Bible is God's love letter to you, His manual for your life. In the Bible, God reveals Who He is, and He teaches you how to live.
Finally, ask the Lord to lead you to the church of His choice for you where you can learn about Him and have fellowship and encouragement with other Christ-Followers. It is critically important in these last days to fellowship with other believers who are mature in Christ and who can guide you as you grow in Him.
If you are not yet a subscriber to the Winning with the Word blog and podcast, I urge you to click on the link below to subscribe now so you will not miss a single weekly episode:
https://landing.mailerlite.com/webforms/landing/w4q0z
Please tell your family and friends about "Winning with the Word," and please pass this post and podcast on to them. Thank you!
PLEASE TWEET: "The Dangers of Distraction" (CLICK TO TWEET)
Now it's your turn: How do you handle distraction? Please leave your comment in the Comment Box below. Thank you.
Photo Source: Boomie (Pixabay)
Source consulted: "Who in the Bible Got Distracted?"
https://15degreesne.com/who-in-the-bible-got-distracted/
___________________________________________
For those of you who may not know, I write fiction about many of the issues I deal with in this blog and podcast. My latest novel, Miracle in Milan, has just been released in both print and ebook formats and deals with the issue of unforgiveness. It is the story of a young, female auditor who discovers evidence that the man she loves is an embezzler. You will find Miracle in Milan to be a page-turner that will keep you on the edge of your seat. To order your copy, go to Amazon or to my website bookstore at maryanndiorio.com/book-table. You will also find Miracle in Milan on Apple Books, Barnes & Noble, and Kobo.
This podcast is funded by listeners like you. If you have been blessed by Winning with the Word, please consider becoming one of my special patrons on Patreon.com. For only $1.00, $3.00, or $5.00 a month, you can help me proclaim the Gospel of Jesus Christ throughout the world.
Winning with the Word now reaches 53 countries on six continents, by God's grace, because of your faithful support. So please help me to keep Winning with the Word on the air by becoming one of my valued patrons. Your patronage helps to cover the costs of producing, hosting, and distributing Winning with the Word to the four corners of the earth. Patrons receive special benefits, including free books, short stories, podcasts, and videos. So, join my wonderful team of Patrons and become a part of something great!
To become a patron, go to https://www.patreon.com/winningwiththeword
I would like to thank all of my patrons who are making this podcast possible. I could not do this without you!
Finally, be sure to check out my latest non-fiction book, The Iron Saint. This book, modeled after The Iron Man triathlon, talks about the coming persecution of the Church in America and how you can prepare for it. The Iron Saint is available on Amazon, Apple Books, Barnes & Noble, Kobo, and other major book purchasing venues. You may also find it on my website at maryanndiorio.com/book-table. Get a copy for your pastor as well.
Until next time, remember that God loves you just as you are and just where you are and that He will help you to keep on Winning with the Word!
To subscribe to Winning with the Word, click here.
To receive my monthly newsletter, click here.
To become a patron of Winning with the Word, click here.
________________________________________________________________________
Now Available for Purchase: Dr. MaryAnn's latest novel, Miracle in Milan.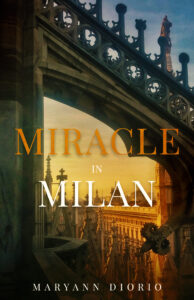 When a young, female auditor discovers evidence that the man she loves is an embezzler, she must choose between ruining him or ruining herself.
Amy Torelli, Chief Auditor for New York City-based Enson Pharmaceuticals, is assigned to audit the books of Enson's Italian branch in the enchanting city of Milan, Italy. Having made an inner vow never to trust a man again because of her father's betrayal, Amy finds herself falling in love with Enson Italia's American-born Vice-President, Ted Masters. Will Ted be the one to cause her to break her inner vow?
Ted McMasters is on the run. A run from rejection. From himself. From God. Having been wounded by a father who made him feel worthless, and having been dumped by the woman he wanted to marry, Ted is determined to keep all women at bay. But will Amy Torelli be the reason he changes his mind?
Miracle in Milan
PRINT FORMAT
THE IRON SAINT by MaryAnn Diorio, PhD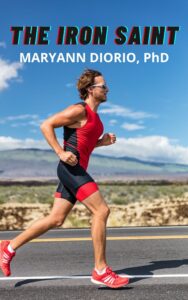 The Church in America is on the verge of a tremendous spiritual awakening, an awakening that will first be fueled by persecution unlike anything we have ever seen before in this land. Indeed, a prophetic word given in my home church during the month of November gave this warning to the Church: "Prepare for the fire of persecution!"
But the Church is not ready for this persecution. For the most part, the Church in America has been weak and lukewarm. Flabby and lazy. Consumed with the world and not with the things of God. As a result, the Church has been deceived and has subverted the divine order of things.
In THE IRON SAINT, Dr. MaryAnn Diorio seeks to help equip the saints for the work of true, integritous, and effective ministry. As a teacher in the Body of Christ, it is her burning desire to help correct this devastating error.
In THE IRON SAINT, Dr. Diorio has outlined a plan of action for strengthening the Church through uncompromising obedience to the Word of God. This plan of action is based on her own 50 years of walking with the Lord and being led by His Holy Spirit.
If you are a born-again believer and member of the Body of Christ, make this book a top reading priority.
_________________________________
Check out these popular Winning with the Word podcasts below. You may also search for a particular topic in the search box at the top of the sidebar on this page.
__How Close Are We to the End?
__When Your Prayers Don't Seem to Be Answered
__The Privilege of Persecution
__7 Signs That the Tribulation Is at Hand
Are you new to this blog? If so, what is the "Winning with the Word" blog and why will it bless you to read it?
"Winning with the Word" is a weekly blog that helps you to deal with the daily problems of life by using the Bible as your guide to solving them. The Word of God will make you a success in life!
AN INVITATION TO YOU: To subscribe to Winning with the Word, click here.
_____________________________________________________________
Copyright 2000-2021 by Dr. MaryAnn Diorio. All Rights Reserved. This article may not be published or printed in any form whatsoever without the written permission of Dr. MaryAnn Diorio. You may contact her at info@maryanndiorio.com to request permission.
Amazon.com Required Disclosure: MaryAnn Diorio is a participant in the Amazon Services LLC Associates Program, an affiliate advertising program designed to provide a means for sites to earn advertising fees by advertising and linking to Amazon.com.Disclaimer: This site uses cookies. Your continued use of this site constitutes your consent to our use of cookies.