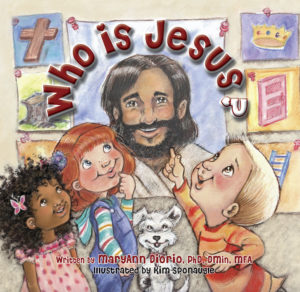 I am so excited to announce that my popular children's picture book, WHO IS JESUS?, is now available as an animated book!
Now your child can not only read but also watch this heartwarming story about the true nature of our precious Lord and Savior Jesus Christ come alive on your computer screen or electronic device.
WHO IS JESUS? presents a biblical picture of our Savior in a way that will help your child recognize Him as Love Personified. Little children will come to know Jesus as the essence of all that is good, holy, and true. As your children, grandchildren, nieces, nephews, or students watch this delightful animation, they will learn that Jesus Christ cares about them and loves them with a perfect love.
Watch this delightful book come to life on your computer screen or electronic device. Get your copy of the video now! Only $7.95! This is the launch price and will be good only until March 15th, so get your copy now. Afterward, the price will go up to $8.95.
To order your copy, click on the purchase link below. You will be taken to PayPal where you can make your payment. You will then receive a confirmation email with a link to download your animated version of Who Is Jesus?
P. S. Don't miss out on the launch price of $7.95. Good only until March 15th!