"Guard your heart above all else, for it determines
the course of your life." ~ Proverbs 4:23
_______________________________________
One of the most painful issues of the heart is loneliness. Why? Because God created us for relationship. Relationship with Him, first of all, and relationship with others.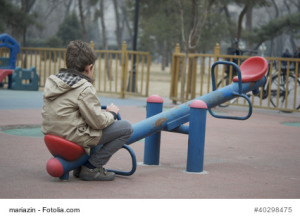 Photo Source: Fotolia.com File: #40298475 | Author: mariazin
Interestingly, loneliness is not usually related to the presence or absence of people. A person can feel lonely in the midst of a crowd, or he can be extremely happy when no one else is around.
Loneliness and aloneness are not the same thing. Loneliness implies a severance from meaningful relationships with other people. It is a psychological and emotional state rather than a physical one. Aloneness, on the other hand, is a physical state and implies being physically without the company of other human beings.
Why are people lonely? One of the chief reasons is that lonely people are often focused on themselves rather than on others. They are concentrating on meeting their own needs rather than on meeting the needs of others. Lonely people also usually suffer from self-pity. They feel sorry for themselves and consider themselves helpless victims of their circumstances.
But no one is really a victim of his circumstances. While we cannot always control what happens to us in life, we can always control our response to what happens.
If you are lonely, you can change your lonely life into a rich, full one by responding to your loneliness with the following antidotes to loneliness:
1) Reach out to those around you. Offer your time and talents to the many organizations that could use your help. Every community has volunteer, church, and civic programs that often are short-staffed and would warmly welcome your help.
For instance, you could become involved in your local literacy program and reap the joy of helping someone learn how to read. You could volunteer in a nursing home and spread sunshine among those who may be forgotten. You could work as a teacher's aide and impact a young life in a positive way. The possibilities are endless.
2) Remember the Law of Sowing and Reaping: You will get what you give. This law applies to everything in life, even to friendship. Proverbs 18:24 makes this very clear: "A man who has friends must himself be friendly…."
Are you a friendly person? Or are you mean-tempered and grouchy? If you were someone else, would you like to be around you? If you would not like to be around you, then change. Become a friendly person. Let the Law of Sowing and Reaping work for you in a positive way. Soon you will find that people are drawn to your warmth and friendliness.
3) Trust God to provide an answer to your loneliness. In the Book of Psalms, God makes a wonderful promise. The promise is this: "God sets the solitary in families" (Psalm 68:6). God is aware of your loneliness, and He has promised to put you in a community of people who will encourage you and uplift you.
But while God will do His part, you must do your part. Your part is to stop focusing on your own needs and start focusing on the needs of others. This is the quickest and surest antidote to loneliness.
As you get your eyes off yourself and on to someone else, you will discover an amazing thing. You will discover that, in the process of helping someone else satisfy his or her needs, you will no longer feel lonely. You will feel needed and alive.
4) Finally, remember that no matter how lonely you may feel, you are never truly alone. In that same verse in Proverbs where God says that He puts the solitary in families, He also says that "there is a friend who sticks closer than a brother" (Proverbs 18:24). That friend is Jesus Christ. Though others may leave you or abandon you, He never will (Hebrews 13:5). Reach out to Him and make Him Your Best Friend. If you do, I promise you that you'll never be lonely again.
_______________________________
Available in Kindle and print versions.
You may leave a comment by clicking here. To receive these blog posts in your emailbox, please click here.

If you found this post helpful, please pass it on to someone who can benefit from reading it. Thank you!
If you have any questions, you may contact me as follows:
Email: drmaryann@maryanndiorio.com
Snail Mail: PO Box 1185, Merchantville, NJ 08109
Tel. 856-488-3580
________________________________
Copyright 2015 by Dr. MaryAnn Diorio. All Rights Reserved. This article may not be published or printed in any form whatsoever without the written permission of Dr. MaryAnn Diorio. You may contact her at maryann@maryanndiorio.com to request permission.
Photo Source: Fotolia.com File: #40298475 | Author: mariazin
Amazon.com Required Disclosure:  MaryAnn Diorio is a participant in the Amazon Services LLC Associates Program, an affiliate advertising program designed to provide a means for sites to earn advertising fees by advertising and linking to Amazon.com.
Dr. Diorio is a Certified Life Coach, a Certified Biblical Counselor, and a Certified Behavioral Consultant. She is also an award-winning, widely published author of fiction for children and adults. You may reach her at maryann@maryanndiorio.com  or via one of her social media venues below: