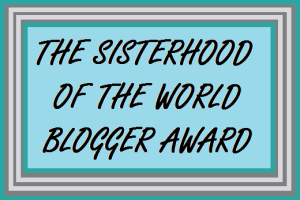 I am happy to announce that Matters of the Heart has won the Sisterhood of the World Bloggers Award. I want to thank fellow author, Debbie Piccurelli, for nominating my blog. Herself a winner of the award, Debbie's blog, Nuggets from God, is well worth your following it.
To qualify for the award, I was asked to do five things:
1) Thank the person who nominated me. Thank you, Deb Piccurelli!
2) Answer the 10 questions Deb sent me (See below).
3) Nominate 10 other bloggers (See my list below).
4) Create 10 questions to ask my nominees (See below).
As part of the judging, I was required to answer the following ten questions:
1) Did you reach any of the goals you set for yourself in 2014?
Yes, I reached the goal of publishing my children's picture book, WHO IS JESUS?
2) What do you hope to accomplish in 2015, whether in your writing, or life in general?
I hope to achieve new levels of intimacy with my Lord and Savior Jesus Christ.
3) What do you consider your biggest accomplishment ever?
My biggest accomplishment ever was the decision I made to receive Jesus Christ as my personal Savior and Lord 44 years ago.
4) What is your favorite Bible verse, and why?
My favorite Bible verse is John 8:32: "You shall know the truth and the truth shall make you free." I have experienced this verse personally over and over again in my life. Every problem I've had has resulted from not knowing the truth about the issue at hand. When I discovered the truth and applied it, I overcame the problem by God's grace.
5) Is there anyone in your life you consider a mentor?
I have had several mentors, but the one who has helped me the most is a long-time friend of mine who has always given me wise counsel. She has always helped me to see issues from fresh perspectives.
6) If you could travel anywhere in the world, where would you go and why?
I would go to a beach to spend time alone with God and to write.
7) What is your favorite season of the year?
Autumn is my favorite season of the year. I love the brisk, fresh air and the brilliant colors. I also am reminded of new beginnings, perhaps because the new school year starts in autumn.
8) Do you feel you are doing exactly what you thought you'd be doing at this point in your life?
When I was in my twenties, I thought I'd be a college professor of foreign languages at this point in my life. Although I did teach foreign languages at the university level for several years, God called me to write for Him at age thirty. So I am now writing full-time for King Jesus, exactly what I was meant to do. Scripture tells us that "we can make our plans, but the LORD determines our steps" (Proverbs 16:9).
9) If you knew there was one thing the world should be informed on, what would it be?
The world should be informed on how current events relate to Bible prophecy and the imminent return of Jesus Christ. Because of lack of knowledge, many will be stunned at His return. There is nothing more important than to be ready to meet our Maker, no matter when that day occurs.
10) Given the condition of the world, at this point, what would you tell brand new parents is the most important thing they should know?
The most important thing brand new parents—and any parents, for that matter—should know is how to hear and obey the voice of the Holy Spirit in their own personal lives and in the rearing of their children.
Now, here are my nominees followed by my questions for them:
1) Karen Lange, Write Now
2) Stacy Fleury, Anchor of Promise
3) Jan Heck, My Time to Write
4) Vicki Palaganas, Heartbinders
7) Patti J. Smith, Gridiron Granny Football Fanatic
8) Terri Gillespie, My Blog
MY QUESTIONS FOR NOMINEES:
1) Why do you write?
2) What single most important thing do you hope your readers will take away from your writing?
3) What is the first adjective that comes to mind first to describe your writing?
4) What, in your opinion, is our culture's most urgent need?
5) If you could start over again as a writer, what would you do differently? What would you do the same?
6) What is your greatest accomplishment as a writer?
7) Who has most influenced your writing?
8) Where do you see the publishing industry headed in the next five years?
9) What is the role of the writer who follows Christ?
10) What do you love most about the writing life?
___________________________________________________________________
Copyright 2015 by Dr. MaryAnn Diorio. All Rights Reserved.