"Guard your heart above all else, for it determines
the course of your life." ~ Proverbs 4:23
_______________________________________
My husband calls the coffee bean "the bean of life." Every morning, he sees to it that I have a cup of that bean in liquid form. As I take the first sip, I have to agree with my husband's assessment. 
That first sip of morning coffee rings, sings, and zings. 🙂  As it rushes through my veins, the residue of sleep fog in my brain suddenly vanishes, and I am imbued with physical and mental energy. I am ready to face the day.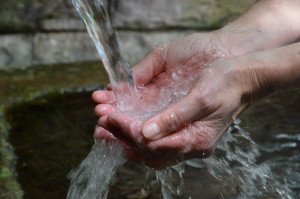 Photo Source: Lightstock.com Photo ID: 226690
While the coffee bean may ignite "life" in the physical body, there is another beverage that will ignite life in the spirit. This spiritual beverage is called "Living Water." It comes from the Well of the Holy Spirit that is found only in a relationship with Jesus Christ. 
One day, Jesus stopped at a well in Samaria. Jews were forbidden to interact with Samaritans, but, as usual, Jesus superseded man-made laws with a higher law, the Law of Love. 
A woman came to the well, and Jesus engaged her.  Here is their conversation found in John 4: 4-15:
"Now he [Jesus] had to go through Samaria. So he came to a town in Samaria called Sychar, near the plot of ground Jacob had given to his son Joseph. Jacob's well was there, and Jesus, tired as he was from the journey, sat down by the well. It was about noon.
When a Samaritan woman came to draw water, Jesus said to her, "Will you give me a drink?" (His disciples had gone into the town to buy food.)
The Samaritan woman said to him, "You are a Jew and I am a Samaritan woman. How can you ask me for a drink?" (For Jews do not associate with Samaritans.)
Jesus answered her, "If you knew the gift of God and who it is that asks you for a drink, you would have asked him and he would have given you living water."
"Sir," the woman said, "you have nothing to draw with and the well is deep. Where can you get this living water? Are you greater than our father Jacob, who gave us the well and drank from it himself, as did also his sons and his livestock?"
Jesus answered, "Everyone who drinks this water will be thirsty again, but whoever drinks the water I give them will never thirst. Indeed, the water I give them will become in them a spring of water welling up to eternal life."
A spring of water welling up to eternal life! What wonderful news!  Jesus wants to give you living water that will awaken your spirit!
The Living Water of Christ is available to all who are thirsty for it. And, once they drink of it, they will never thirst again!
Are you thirsty today? Do you need a drink of the Living Water of Christ? If so, it is yours for the asking. Just go to Jesus and tell Him you are thirsty for His Living Water. Then drink deeply, until you are satisfied. And go back for more when you are thirsty again. The Living Well will never run dry.
And now, in honor of my husband, I will close with a humorous poem he wrote about my morning cup of the liquid "Bean of Life":
The Bean of Life
by Dominic Diorio
I've been beckoned by the Bean of Life.
I feel compelled to go.
For I must fetch for my Beloved,
Her morning Cup of Joe! 
Who knows? My knight in shining armor of 45 years may be the next poet laureate! 🙂
_______________________________
In my newest work of fiction, SURRENDER TO LOVE, young widow and life coach, Dr. Teresa Lopez Gonzalez  regrets that she did not have more time with her dead husband. Join her as she struggles to overcome regret and move into the future God has ordained for her.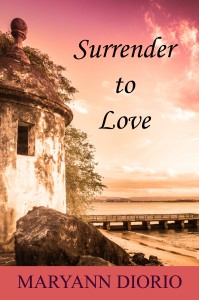 Available in Kindle and print versions.
You may leave a comment by clicking here. To receive these blog posts in your emailbox, please click here.
If you found this post helpful, please pass it on to someone who can benefit from reading it. Thank you!
If you have any questions, you may contact me as follows:
Email: drmaryann@maryanndiorio.com
Snail Mail: PO Box 1185, Merchantville, NJ 08109
Tel. 856-488-3580
________________________________
Copyright 2015 by Dr. MaryAnn Diorio. All Rights Reserved. This article may not be published or printed in any form whatsoever without the written permission of Dr. MaryAnn Diorio. You may contact her at drmaryann@maryanndiorio.com to request permission.
Photo Source: Lightstock.com Photo ID: 226690
Amazon.com Required Disclosure: MaryAnn Diorio is a participant in the Amazon Services LLC Associates Program, an affiliate advertising program designed to provide a means for sites to earn advertising fees by advertising and linking to Amazon.com.
Dr. Diorio is a Certified Life Coach, a Certified Biblical Counselor, and a Certified Behavioral Consultant. She is also an award-winning, widely published author of fiction for children and adults. You may reach her at maryann@maryanndiorio.com or via one of her social media venues below:
Website: www.maryanndiorio.com
Blog (Matters of the Heart): http://www.networkedblogs.com/blog/maryanndiorioblog
Amazon Author Central: http://www.amazon.com/author/maryanndiorio
Facebook: http://www.Facebook.com/DrMaryAnnDiorio
Twitter: https://Twitter.com/@DrMaryAnnDiorio
Goodreads: https://www.goodreads.com/author/show/6592603.MaryAnn_Diorio
LinkedIn: https://www.linkedin.com/profile/view?id=45380421
Pinterest: https://www.pinterest.com/drmaryanndiorio/
Google+: https://plus.google.com/u/0/+DrMaryAnnDiorio/posts
YouTube: https://www.youtube.com/user/drmaryanndiorio/