Guard your heart above all else, for it determines
the course of your life." ~ Proverbs 4:23
______________________________________
The heart is the seat of life.  Scripture tells us that from your heart flows the entire course of your life. Since this is so, it makes utmost sense to protect your heart.
One of the greatest dangers to your heart is what I call "double-heartedness." What is this danger and how can you avoid it?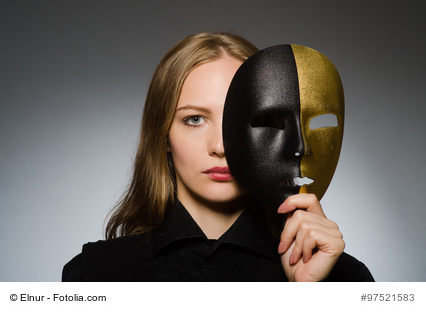 Double-heartedness is the state of being one person on the inside and another on the outside. Another way to describe double-heartedness would be to say being two-faced or wearing a mask. In essence, double-heartedness is hypocrisy.
Why is double-heartedness so dangerous? For one thing, it divides the self and causes conflict and disharmony in the soul. Moreover, double-heartedness creates instability in every area of your life. When you are of two hearts–or of two minds–you are pulled in opposite directions at the same time with the result that you are going nowhere.
Double-heartedness is living a lie. You are presenting to the world a persona different from who you really are. Worst of all, double-heartedness is lying to yourself and to God. 
What can you do to overcome double-heartedness? Here are some suggestions:
Get to know yourself.  Discover who you really are and be that person. It is far better to be the original that you are than an imitation of someone else.
Accept yourself. Most hypocrisy stems from the failure to accept oneself, flaws and all, because of the fear of rejection. When we accept ourselves as God made us, we go far in eliminating hypocrisy from our lives.
Do not compare yourself to others. In 2 Corinthians 10:12, Scripture warns us against comparing ourselves with others, describing such behavior as unwise.
God has made you unique. Rejoice in that truth and share your uniqueness with others. As you do, you will be giving the gift of your true self to those who need who you truly are. Anything less is double-heartedness.
____________________________________________
I welcome your comments. You may leave a comment by clicking here.
To receive these blog posts in your mailbox, please click here.
If you found this post helpful, please forward it to a friend. Thank you!
____________________________________________
____________________________________________
____________________________________________
If you have any questions, you may contact me as follows:
Email: drmaryann@maryanndiorio.com
Snail Mail: PO Box 1185, Merchantville, NJ 08109
Tel. 856-488-3580
________________________________
Copyright 2015 by Dr. MaryAnn Diorio. All Rights Reserved. This article may not be published or printed in any form whatsoever without the written permission of Dr. MaryAnn Diorio. You may contact her at drmaryann@maryanndiorio.com to request permission.
Amazon.com Required Disclosure: MaryAnn Diorio is a participant in the Amazon Services LLC Associates Program, an affiliate advertising program designed to provide a means for sites to earn advertising fees by advertising and linking to Amazon.com.
Dr. Diorio is a Certified Life Coach, a Certified Biblical Counselor, and a Certified Behavioral Consultant. She is also an award-winning, widely published author of fiction for children and adults. You may reach her at maryann@maryanndiorio.com or via one of her social media venues below:
Website: www.maryanndiorio.com
Blog (Matters of the Heart): http://www.networkedblogs.com/blog/maryanndiorioblog
Amazon Author Central: http://www.amazon.com/author/maryanndiorio
Facebook: http://www.Facebook.com/DrMaryAnnDiorio
Twitter: http://Twitter.com/@DrMaryAnnDiorio
Goodreads: http://www.goodreads.com/author/show/6592603
LinkedIn: http://www.linkedin.com/profile/view?id=45380421
Pinterest: http://www.pinterest.com/drmaryanndiorio/
Google+: http://plus.google.com/u/0/+DrMaryAnnDiorio
YouTube: http://www.youtube.com/user/drmaryanndiorio/