Hello and Happy Day! Welcome to My Online Home!
Here you will find riveting, page-turning fiction that entertains, inspires,
and transforms. The kind of fiction you deserve!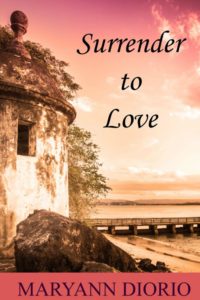 Join my Reader Team for fun, fellowship, and faith. As a token of appreciation for your subscription to my newsletter, I would like to give you a FREE copy of my popular, heart-warming novella, Surrender to Love: A Story of Second Chances.
A young widow and life coach discovers a second chance at love in enchanting San Juan, Puerto Rico.
Click here or on the cover image.

MaryAnn Diorio writes women's fiction from a small, quaint, Victorian town in southern New Jersey where neighbors still stop to chat while walking their dogs, houses still sport wide, wrap-around front porches, and the charming downtown still finds kids licking lollipops and old married folks holding hands. A true Jersey girl at heart, MaryAnn is a big fan of Jersey diners, Jersey tomatoes, and the Jersey shore.
Latest Releases . . . 
Click on the book cover to order.
he Captain and Mrs Vye – Book 1 in The Wives of Old Cape May Series
A middle-aged childless widow discovers that her late husband has left her destitute.      

Miracle at Madville
An angry young princess discovers
the greatest weapon of all.    

A Christmas Homecoming (Winner of the Silver Medal for E-Book Fiction in the 2015 Illumination Book Awards Contest.)
When Sonia Pettit's teenage daughter goes missing for seven long years, Sonia faces losing her mind, her family, and her faith.   
Upcoming Releases . . . 
______________________________________________

Amazon.com Required Disclosure:  MaryAnn Diorio Enterprises, LLC, is a participant in the Amazon Services LLC Associates Program, an affiliate advertising program designed to provide a means for sites to earn advertising fees by advertising and linking to Amazon.com.
               MaryAnn is also an affiliate of Apple Books, Barnes & Noble, and Rakuten Kobo.
_________________________________________________________
Copyright 2000-2023 by MaryAnn Diorio, PhD. All Rights Reserved.