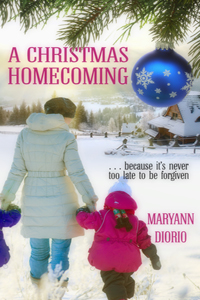 Seven Christmases have passed since Sonia Pettit last heard from her daughter Jody. Since Jody's departure, Sonia's world has been turned upside down. Her husband has died of a broken heart, and her son, bitter over his sister's destructive actions, has become rebellious.
Her greatest desire is to have her family together at Christmas, but after what Jody has put them all through, can Sonia truly forgive her daughter?
Jody Pettit O'Dair ran away to experience a life of adventure and excitement, but since her departure, her world has been turned upside down. She's been abandoned by the man she met and married, lost her job, and is unable to care for her two children. With nowhere else to turn, this prodigal daughter begins the long journey home and prays she will be welcomed after walking away so long ago.
Will Jody find forgiveness in the arms of her family as easily as she received it from God?
Order Now!
Endorsements
"A beautiful and heartwarming story of God's grace and forgiveness."
– ~ TCCors1127
"So much emotion packed into so few pages."
– ~ NHR "book crazy"
• "A powerful short story packed full of love, hope, heartbreak and a strong message on forgiveness."
– Jerron
"The only thing that disappointed me about this story was that it was too short."
– Ruth A. Hill
"If only all stories made me sit on the edge of my seat, unsure of the outcome, but desperate for a good conclusion for the characters!"
– Sarah E. Johnsom
"Family sorrow, love,faith, and forgiveness. Held my interest through out the book. Highly recommended. Order a copy today. I ordered it on kindle."
– Linda Bring
"A Christmas Homecoming is a poignant novella about God's gift of grace, forgiveness, healing, faith and redemption to a family that has been struggling through unfortunate life circumstances for the past seven years. Written in the third person narrative with alternating perspectives from a mother and a daughter, author MaryAnn Diorio weaves an inspirational tale of the beauty of God's grace and the power of forgiveness that brings a family back together, on the road to healing and becoming whole once again."
– Jersey Girl Book Reviews
"Heartbreak and healing in one tender story. . . A Christmas Homecoming is a cup of hot cocoa for the heart."
Disclosure of Material Connection: Some of the links in the page above are "affiliate links." This means if you click on the link and purchase the item, I will receive an affiliate commission. I am disclosing this in accordance with the Federal Trade Commission's
16 CFR, Part 255
: "Guides Concerning the Use of Endorsements and Testimonials in Advertising."