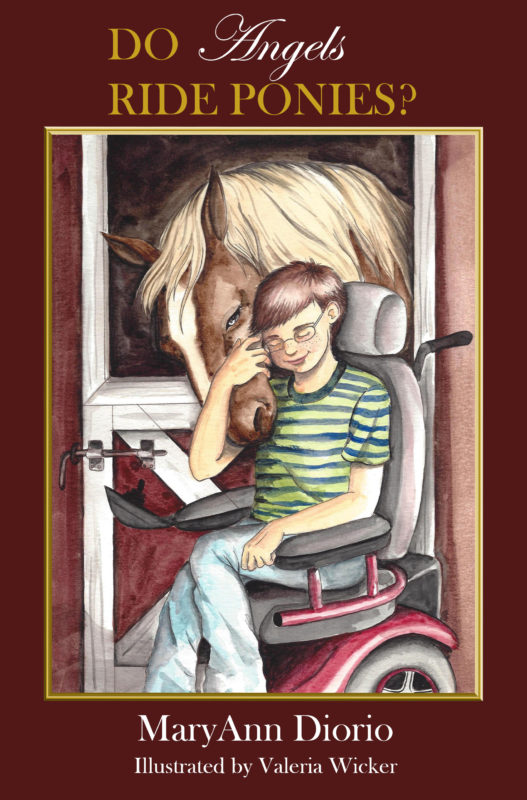 A handicapped boy discovers the power of faith to achieve the impossible.
A handicapped boy discovers the power of faith to achieve the impossible.
Order Now!
Endorsements
"This book communicates the type of values I want to pass on to my children. Fantastic!"
– Vicki Palaganas
"MaryAnn Diorio's 'Do Angels Ride Ponies?' is a heart-warming tale of Jeremiah, a young wheel-chair bound boy with cerebral palsy who dreams of riding a pony in heaven. When the gentle, old farmhand Jake suggests that anything is possible if a person believes, Jeremiah becomes determined to ride a pony way before he gets to Heaven. The story is beautiful, and I found myself emotionally touched by it. Tears filled my eyes at the ending. I also loved the message that this book sends, that anything is possible if we believe. I would recommend this book to anyone, from any walk of faith and any age. This book is filled with compassion, and the Biblical phrase, "Anything is possible if a person believes," is easily one of the most powerful and truthful statements of all time."
– Stefani Milanese, Talk Show Host
"What if the impossible were possible? That's the question Jeremiah Bentley faces when, in spite of being in a wheelchair, he desires to ride a pony. Everyone around him adamantly expresses that he will never be able to ride, but one man of faith, Jake the farmhand, inspires Jeremiah to hope and to try. He goes to the stable and tries to mount one of the horses, but fails. He feels that because he couldn't do it the first time, he'll never be able to. But Jake says that, even though he failed, it was good that he tried, because it meant he believed. He explains that the Bible tells us that "All things are possible to him who believes." So, can believing in something make it come true? Find out when one boy's determination takes him to a place where nothing seems impossible. I truly enjoyed this book and the message it conveys to the children who will read it. Do Angels Ride Ponies? not only teaches the truth of God's Word, but also the potential each one of us has when we believe and act on that truth. MaryAnn Diorio has created genuine characters and an authentic setting. I could really imagine being on that farm. And I can still hear the tires of Jeremiah's wheelchair crackling on the gravel on the grounds around his home. I believe this book will be enjoyed by all who read it in its targeted age group, and more!"
– Deborah Piccurelli, Author
"'Do Angels Ride Ponies?' is a touching story of 8-year-old Jeremiah, who has cerebral palsy and is confined to a wheelchair. Jeremiah wants to be 'free' like his 12 year-old brother, David, and dreams of riding his own pony-which he will name "Dream Boy." Feeling his only opportunity of ever riding a pony might be when he gets to Heaven, he plies his mother and then his father with the question "do angels ride ponies?." The responses from everyone, including his brother, are uncertainty and an admonishment to accept the fact that he will never be able to ride a pony. UNTIL: he is met with optimism from the family's farmhand, Jake - who tells him that what looks impossible isn't necessarily so, when a person believes it to be possible. This beautiful story is based on the Scripture verse: "anything is possible if a person believes," Mark 9:23 NLT - and contains lessons of hope, encouragement, and faith. While written for children, it is a book that will be enjoyed by all ages. Readers will smile, cheer Jeremiah on, and possibly shed a tear or two, as well. The book is accompanied by beautiful illustrations from Valeria Wicker. MaryAnn Diorio writes books for adults, as well as children. I loved this book - smiling, sympathizing with and supporting Jeremiah, crying, and experiencing joy - during its reading, and would love to read more books written by Mrs. Diorio."
– Bonnie L. Roof
"Beautifully written!"
– Mrs. K
Disclosure of Material Connection: Some of the links in the page above are "affiliate links." This means if you click on the link and purchase the item, I will receive an affiliate commission. I am disclosing this in accordance with the Federal Trade Commission's
16 CFR, Part 255
: "Guides Concerning the Use of Endorsements and Testimonials in Advertising."