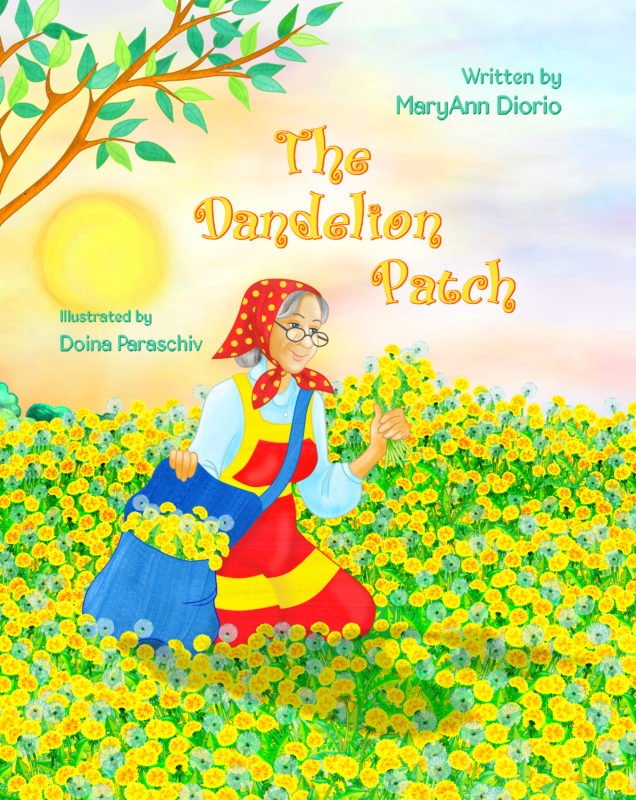 When Yolanda Riggins discovers that the government plans to build a new highway through her beloved dandelion patch, she rises up in protest and asserts her God-given right to private ownership of property. Will she succeed against all odds to save her dandelion patch? Will tact, truth, and tough love win the day for Yolanda and the children who love her? Read this delightful book to find out.
Order Now!
Endorsements
"What a delightful story. Yolanda Riggins was determined no one was going to mess with her dandelion patch. Her patch was her special place. She made lot of wonderful treats from the patch. She goes through many people to try to save it. Can she do it? I guess you will have to read it and find out. Great story for children ages 5-12. Very well illustrated. Loved all the bright colors."
– Diana Montgomery
"Although I usually review adult fiction, I have reviewed a couple non-fiction books and Bible studies lately, so am branching out to children's fiction today in The Dandelion Patch. MaryAnn Diorio has written a delightful book that older children can read for themselves, and is also a lovely book for a parent or grandparent to share with a younger reader. How do I know? Because I curled up on the lower bunk yesterday afternoon to read this story to my 5-year-old granddaughter Elinor, and we both loved it! The illustrations by Doina Paraschiv are very engaging with bright colors and realistic drawings. And the story will tug at your heart as you hope for The Dandelion Patch to be saved for all generations. Yolanda Riggins is called the Dandelion Lady since most of her foods are cooked from the dandelion patch right outside her yard, and she shares them with the children in her village–until surveyors and heavy equipment appear to tear out the dandelion patch. Yolanda emails the mayor and governor, and they both say the road has to be built. I hope you will order this book on Amazon or from the author at https://maryanndiorio.com/bookstore to see how the problem was solved. Also found through Barnes & Noble, Kobo, and Apple iBooks as well as through Ingram Distributors for local bookstores. And then, I hope you will find a child you love to snuggle up with and read this story together."
"Our United States government has been given the right, through the Fifth Amendment of our Constitution, to take a person's property but it is required that our government provide just compensation to the owner of the private property being taken. Often the private citizen doesn't want this but they give in to the demands. 'The Dandelion Patch' tells children that sometimes we must take a stand for what we believe in. Yolanda Riggins has been told that a new highway is being built through her beloved dandelion patch and she decides that this cannot happen! Yolanda has always used these dandelions to supply all of the children in her village with pies, cookies, candy, muffins, soup, salad and bread and the main ingredient is the dandelion plant. Yolanda also derives great pleasure from seeing the dandelions emerge and grow and she knows that the God who made the sun, moon and stars is the One responsible for the dandelion plant. No, Yolanda will not lose her dandelion patch to a highway and she sets out to stop this from happening! Author MaryAnn Diorio has written a children's book to explain eminent domain to young people and to show that sometimes it can be changed. Her book relates a lovely story that emphasizes to children that persistence does pay and they should never give in to something that they feel is wrong. Its twenty-two pages make it a length that many ages will enjoy reading and I believe they will love how the author repeats Yolanda's daily routine over and over. Non-readers should be drawn to the colorful illustrations and I plan to share this book with my three year old granddaughter. I was able to preview this book with a PDF copy and my thoughts are my own."
"My son and I enjoyed this story. It is a wonderful story with a true meaning . Yolanda believed with all her might that her Dandelion Patch would be saved. She had faith that through all the channels she went through she would get the final letter that she so needed. By believing in God and having the faith she did things worked out her way." My 10-year-old autistic son, who is a very visual learner said that Yolanda's dandelion patch story was very colorful and that all kids will love this story. MaryAnn Diorio has once again touched my heart and my son's too."
– Gee Dixon
"My grandson said this book needs 100 plus stars. We both loved the book and was glued to it from the first page. We had to see what Yolanda was going to do. I would recommend this book for all children."
– Dotty
"This is a unique subject for young children to learn about and the author implements it masterfully. The story is very cute and age appropriate, especially in its execution of dialogue and the characters. I've read other works by MaryAnn and she always hits the target in getting her message across simply and beautifully. Praises for this book and for MaryAnn Diorio!" - Deb Piccurelli, Author and Screenwriter
"The Dandelion Patch by MaryAnn Dioro is a remarkable book for children. This wonderfully executed treasure brings the reader into the world of Ms. Yolanda Riggins; a colorfully delightful woman who seeks only to please neighborhood children with baked dandelion delicacies grown in her dandelion patch. It is beautifully entertaining and will steal one's heart away, for this mild-mannered lady is content to please those in her surroundings. However, a threat looms heavily over her idyllic life and routine of caring for her dandelion patch and baking goodies for the children---the threat is Eminent Domain, and she has become a new victim in the path of burgeoning industrialism. This book teaches an important lesson: sometimes we must take a stand against social injustice but only via proper channels with quiet dignity in order to make our voices heard. Ms. Riggins contacts her governmental leaders: the Mayor, the Governor and finally the President via e-mail. She explains her concerns and begs them not to build a new highway through her dandelion patch. She bakes daily goodies for the workmen and tries to prevent them from digging up her land through gentle persuasion. Her actions spark the attention of the local police, newscasters and many towns people who hasten to support her cause. The President's grandmother had a similar dandelion patch, so he rules in favor of Ms. Riggins. This lovely children's book teaches us all the value of social conscience. We must always stand up for what we believe, but we must do so in a conciliatory manner in order to be heard. Justice is a value to be honored and treasured. This is a wonderful book that packs a punch." - Skye Caitlin, Former Professor of Writing
– Skye Caitlin
Disclosure of Material Connection: Some of the links in the page above are "affiliate links." This means if you click on the link and purchase the item, I will receive an affiliate commission. I am disclosing this in accordance with the Federal Trade Commission's
16 CFR, Part 255
: "Guides Concerning the Use of Endorsements and Testimonials in Advertising."