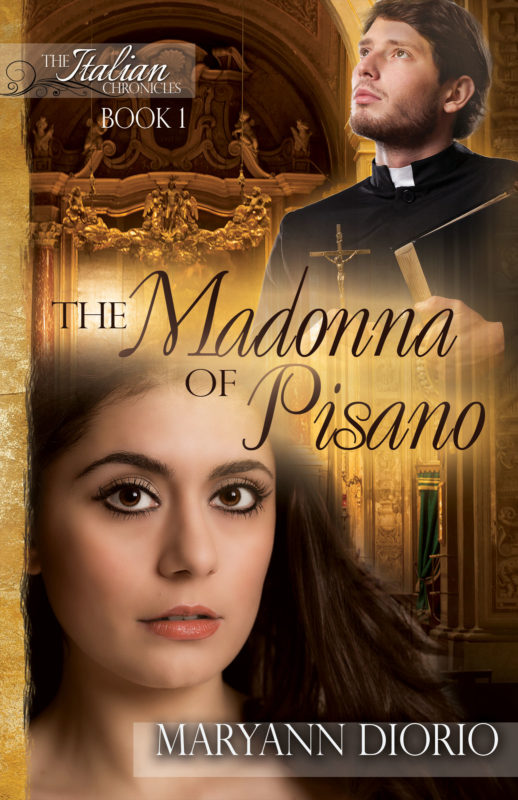 A young woman, a priest, and a secret that keeps them bitterly bound to each other . . .
Book 1 in the riveting, page-turning trilogy, The Italian Chronicles. 
Book 1: THE MADONNA OF PISANO
A young woman, a priest, and a secret that keeps them bitterly bound to each other….
Order Now!
About the Book
A young, 19th-century Sicilian woman, Maria Landro, has a bright future ahead of her. Engaged to be married to her childhood sweetheart, Carlo Mancini, Maria is suddenly blindsided by her pastor and former teacher, Don Franco Malbone, a ruthless cleric bent on fulfilling his own selfish ambitions. When he brutally turns her world upside down by raping her, resulting in the conception and birth of their illegitimate son Nico, Maria faces the cruel double standard of a village whose code of honor reviles her and her innocent child and forces them into seclusion while allowing Don Franco to continue in his hypocrisy.
In the depths of her profound suffering, Maria comes face to face with demons she never knew existed within her, demons she does not know how to handle. When, however, she meets Luca Tonetta, she discovers the courage to face her demons by embracing the truth that demons must bow to the love and forgiveness of Jesus Christ.
Meanwhile, Don Franco secretly wrestles with demons of his own. An only son forced into the priesthood by a demanding father, Don Franco sees the priesthood as nothing more than a means to be the somebody he's always wanted to be. When his sin nature emerges in full force, revealing his utter depravity and sending him reeling toward destruction, he must make the choice every human being must make: Will he choose his own way or God's way?
Endorsements
"Mary Ann, Thank you for writing this Trilogy treasure. I feel as if I have lived there for 24 hours. I told you I was an intemperate, obsessive glutton if I come upon a truly page-turner novel--and Madonna of Pisano was one of them. I was entirely captivated by your writing style and am now a loyal fan. So immersed in it that the world out there had to stop while I 'ate' the entire book from yesterday to today. I loved your characters, visualized them so well that I would recognize them easily if I ever met them. A Christian novel without being prissy or preachy yet faith came through clearly and naturally. Your plot was totally believable, not contrived. The way you segued between the chapters left the reader on the edge of anticipation, unable to take breaks or pause. I loved the descriptions of the venue in Sicily as they played on my senses--the sandstorm, the village fishmongers, the flora, the Mediterranean, the Bella Terra descriptions. The attention to detail of the Catholic rituals. I had all I could do not to start Book 2 immediately or else tomorrow would also disappear from the calendar without any work being done. (Still might pick up Book 2 as a night cap...)."
"If you want to be transported back in time to Sicily in the 1860's and be drawn into a young woman's plight in the culture of the time, then you must read Doctor MaryAnn Diorio's, The Madonna of Pisano, the story of betrayal, love, scheming, and finally forgiveness. The author's apt ability to portray the emotions of Maria, Luca, her love, and priest, Don Franco, are truly enthralling. Also, the author's skill in describing the landscapes, Mediterranean Sea, weather, sounds, and smells are truly captivating. I had to adjust my day to allow time to learn the outcome of this emotional drama. This book will captivate your heartstrings! "How to Live Forever" at the back of the book reflects MaryAnn's desire for the reader. Her book has been a blessing to me."
– Dwight H. Barker, Avid Reader
"Looking for a good Christian novel to delight your mind and refresh your soul? You have just found an unbelievable book you cannot put down! This compelling, mystery novel will fill your mind and soul with the need for Christian forgiveness in a hard-to-believe situation. May booksellers and book lovers alike discover a wonderful book to exceed all expectations!"
"Intense. Gripping. Emotive. Heartrending. And hauntingly beautiful describes 'The Madonna of Pisano' in a nutshell. Not my usual read, I found myself totally intrigued by the beautiful Italian setting and characters in the village of Pisano, Sicily. Inspired by a true story, this novel is a new twist on 'The Scarlet Letter'—guaranteed to break the reader's heart and put it back together again with the glue of forgiveness. Never have I encountered a more courageous heroine than Maria Lando, a beautiful young Italian woman, whose life was changed in an instant by a horrifying encounter. Mature and wise beyond her years, Maria doesn't have a victim's mentality nor does she let what happened to her define her. She's a fighter, loyal to her family, and a wonderful mother, always putting others before herself. Luca Tonetta is your perfect hero...a kind, strong, and godly man, but not infallible and he makes a few errors in his judgement of Maria that made me want to throttle him. Other than that I adored him! lol When I found out that this book is a continuing series with the same characters (although there is a satisfying HEA conclusion), I did something I NEVER do. I immediately went to Amazon and purchased the next two books in the series. I wasn't quite ready to let go of Maria, Luca, and all the other characters who played such a dramatic role in this faith-filled story of hope."
– Dian Flow
"Excellent characters, dramatic plot. Beautifully written, giving wonderful feeling for the setting in place and time. Emotionally intense situations, satisfying resolution. Among the two or three best novels I have read this year. Highly recommended."
"Beautiful, touching story of forgiveness and love - - I couldn't read quickly enough, wanting to know what would happen next. Now I am very eager to read the next stories in this series! MaryAnn Diorio has a style of writing that pulls me in - - her descriptions transported me to another time and another country, and I genuinely enjoyed this journey. Highly recommended - - FIVE STARS!!"
Disclosure of Material Connection: Some of the links in the page above are "affiliate links." This means if you click on the link and purchase the item, I will receive an affiliate commission. I am disclosing this in accordance with the Federal Trade Commission's
16 CFR, Part 255
: "Guides Concerning the Use of Endorsements and Testimonials in Advertising."