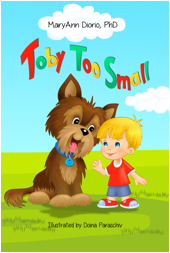 Toby Michaels is small. Too small to be of much good to anyone. lthough he tries and tries to prove himself, no one believes him. Toby starts doubting himself until one day, he discovers that it's not how big you are on the outside that matters; it's how big you are on the inside.
Order Now!
Endorsements
Gee Lucero Dixon 5.0 out of 5 starsNever Too Small...God made you just right. "This is a very cute story with a meaning that gives a child confidence no matter what size you are on the outside. It is okay to be different because you are also different on the inside. Tommy learns that he can do things even though he is small and proves himself when he helps a neighbor lady. He also worked for something he wanted just like a 'bigger' kid would do. Loved this story very much and so did my autistic son."
– Gee Dixon
Disclosure of Material Connection: Some of the links in the page above are "affiliate links." This means if you click on the link and purchase the item, I will receive an affiliate commission. I am disclosing this in accordance with the Federal Trade Commission's
16 CFR, Part 255
: "Guides Concerning the Use of Endorsements and Testimonials in Advertising."