Guard your heart above all else,
for it determines the course of your life." ~ Proverbs 4: 23
_________________________________________________
AN INVITATION TO YOU: To follow this blog via Facebook, click here. If you are not on
Facebook or would prefer to subscribe via a different venue, please check the sidebar
to the right for subscription options. Thank you!
__________________________________________________
What do you think of when you hear the word compromise? Some people think of "settling a dispute by mutual concession," as Dictionary.com defines the term. While this is certainly a good definition when trying to settle a conflict, the word compromise has another meaning as well: "accepting standards lower than desired." I would add "lower than commanded by God."

In this blog post, I will use this alternate definition of the word compromise to share my thoughts on how the Body of Christ, as a whole, is today living in compromise and what we can do about it.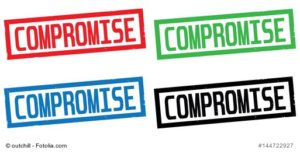 In His Holy Word, God has set forth standards of behavior for those of us who follow Jesus. Many in the Church today, however, are living below those standards, not only to their own detriment but to the detriment of the Church's witness for Christ. In other words, many Christians are living a life of compromise.
What are some of the ways we in the Church are compromising the cause of Christ? Let's ask ourselves some pointed questions to find out:
1–Am I living in sexual sin? For example, do I call myself a Christian yet I am living with my boyfriend or girlfriend? Am I having sex with someone else's spouse? Do I look at pornography on the Internet? Do I watch movies that dishonor God by drawing me away from Him? Do I read books that do the same? Do I watch TV programs that ridicule righteousness? Do I listen to music whose lyrics are suggestive?
2–Do I espouse beliefs explicitly contrary to God's Word? For example, do I support abortion, gay rights, same-sex marriage, and transgenderism?
3–Do I engage in practices that God clearly forbids? For example, do I read the daily horoscope, play the Ouija board, or dabble in other forms of the occult? Do I get high on drugs or alcohol?
4–Do I misuse the Bible to make it fit my own agenda? For example, do I emphasize the love of Christ in order to promote the view that God would not send anyone to Hell? Or do I twist the Word to mean that grace is a license to keep on sinning?
5–Do I question the absolute authority of Scripture, choosing to believe only those parts I agree with? For example, do I believe that there are many ways to Heaven? Do I believe there is no Hell? Do I believe that everyone will go to Heaven?

Either the Bible is all true or it's not true at all. We have no right to pick and choose what we want to believe from the Word of God. When we do, we are compromising the Word and putting ourselves in extreme danger. We are saying, in effect, that we know better than God. This is nothing short of idolatry!
6–Do I keep silent about horrible practices like human trafficking, poverty, violence, greed, and terrorism because I fear man more than God? Scripture tells us that the "fear of man brings a snare" (Proverbs 29: 25). In other words, fear of what others may think or say if and when we stand up for Jesus is the equivalent of making man our god. The fear of man is a deceptive trap that will cause us to fall into the hands of Satan. The fear of man is what is causing most nations in the world to buckle in the face of radical Islamic terrorism.
7–Do I commit "little sins," like telling white lies, stealing paper clips from my job, or taking money under the table in order to avoid paying taxes? What seems like a little sin is really a big sin because it stems from compromise. And compromise leads to spiritual death.
The Bible teaches that it's the little foxes that spoil the vine (Song of Solomon 2: 15). What we think are little things are really big things. It's the little sins that lead to the big sins–if sin can even be categorized as little and big. In God's eyes, sin is sin and abhorrent to Him.
So, what causes a Christian to compromise? Greg Laurie has said that "Compromise begins with leaving your first love for Jesus Christ…." This, in a nutshell, is the source of all compromise. When we leave our first love–Jesus Christ–we turn to other loves by default. First among these is the love of self. The love of self then leads to the love of sins that exalt the self and diminish the Lord in our lives.
In closing, I'd like to share a practical example of the harm compromise can wield. Recently, the Lord gave me the wonderful opportunity to tell a very kind Buddhist woman about Him. As I spoke to her about the love of Jesus, she interrupted me to share a very sad experience she had had at her job.
"The little things in life are the big things." ~ Dr. MaryAnn Diorio
She said that there are two Christians who work with her in her office. The Buddhist woman made it a point to tell me that these two Christians attend church services twice a week. "But," she said, "these two Christians are harsh and mean in their treatment of others at the office." From that, the Buddhist woman–who greatly values kindness–concluded that she had no reason to become a Christian. She was already kind in her treatment of others, so Christianity offered her nothing more. In fact, she did not at all want to become harsh and mean like the Christians in her office. So she did not want to hear anything more about Jesus.
The two compromising Christians in the Buddhist woman's office had not only defamed the cause of Christ by destroying their own witness for Him through their failure to walk in love, but they had also destroyed my witness for Christ toward this precious Buddhist woman.
Remember this, dear brother and sister in Christ: The world is watching us! How are you living your life? Are you living it in such a way that people will be drawn to Christ or away from Him? Are you lowering God's standards out of a desire to fit in with the crowd or out of fear of being ridiculed or persecuted? If so, I urge you to repent.
Compromise has no place in our lives nor in the Body of Christ. Let's get rid of it once and for all!
Now, it's YOUR turn: Have you been guilty of compromise? What did you do to change? Please leave your valuable comments in the fields below. Thanks!
TWEETABLE: "Are You a Compromising Christian?" by Dr. MaryAnn Diorio (CLICK TO TWEET)
TWEETABLE: "The little things in life are the big things." ~ Dr. MaryAnn Diorio (CLICK TO TWEET)
______________________________________________________
Copyright 2017 by MaryAnn Diorio, PhD, MFA. All Rights Reserved.

Sources cited:
"The Danger of Compromise" by Greg Laurie

Please check out three books I've written that will help you to stay close to Jesus:
The Daystar Devotional by MaryAnn Diorio, PhD, MFA
Are you looking for daily encouragement in your walk with Christ? The Daystar Devotional will provide just what you're looking for. Daily readings will give you fresh insight into Scripture verses that will inspire you, encourage you, and strengthen you as you face the challenges of life. A powerful tool for growing in your relationship with Christ.

Available in both print and e-book formats.
CLICK HERE to purchase your copy now.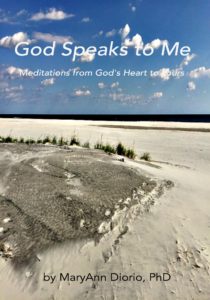 God Speaks to Me by MaryAnn Diorio, PhD, MFA
Do you ever wonder if God speaks to you? Well, He does. In this inspiring
book, Dr. MaryAnn Diorio records her two-way conversations with God. You will be blessed as you hear God's voice speaking directly to you as well.Available in both print and e-book formats.

CLICK HERE to purchase your copy now.
You Were Made for Greatness! by MaryAnn Diorio, PhD
A dynamic book that will help you overcome negative feelings about yourself and put you on the road to success in every area of your life. Using sound Biblical principles, nationally known author, life coach, and businesswoman, Dr. MaryAnn Diorio, deals with such life-changing topics as overcoming worry and fear, taking charge of your life, learning to accept yourself, and finding your purpose in life. YOU WERE MADE FOR GREATNESS! Offers practical advice which, if applied, guarantees success and will help you become all that God created you to be.
Available in e-book format.

CLICK HERE to purchase your copy now.
If you found this post helpful, please forward it to a friend or relative. Thank you!
Please check our archives in the right sidebar for older posts on a variety of topics. You may also search for a particular topic in the search box at the top right.
Some of our most popular posts:
—How to Recognize a Controlling Spirit
–Why Rage Is Raging in Our Land
For additional encouragement, check out my podcasts at the following links:
A Moment with MaryAnn – Podcasts on Living the Good Life
Winning with the Word Podcast Series
Write Your Heart Out! – Podcasts for Writers
NOTE: If you are struggling to know your purpose in life, I can help you! As a highly experienced Certified Life Coach, I will help you set priorities in line with your God-given purpose. For more information or to set up a phone appointment, please send me an email at drmaryann@maryanndiorio.com. You'll be taking a major step toward fulfilling your destiny!
Please tell your family and friends about this blog and please pass this post on to them. Thank you!
______________________________________________________________
Copyright 2001-2017 by Dr. Mary Ann Diorio. All Rights Reserved.
Matters of the Heart is a weekly blog that deals with the deepest issues of the human heart, the issues we all face but sometimes don't want to talk about. The heart is the programming center of our lives. What is programmed into our heart will affect every area of our lives. Learn how to discover what is in your heart and how to program your heart for success.
AN INVITATION TO YOU: To follow this blog via Facebook, click here. If you are not on Facebook or would prefer to subscribe via a different venue, please check the sidebar to the right for subscription options. Thank you!