Guard your heart above all else,
for it determines the course of your life." ~ Proverbs 4: 23
Are you an envious person? Has anyone ever asked you that question? Have you ever asked yourself that question?
As we examine the signs of envy, we may be surprised to learn that we all face tendencies to be envious. Indeed, envy is one of Satan's chief weapons in his attempt to thwart not only one's destiny but also to thwart the destiny of the Body of Christ.

So, what is envy?
In his 1828 Dictionary, Noah Webster defines envy as follows:
"Pain, uneasiness, mortification or discontent excited by the sight of another's superiority or success, accompanied with some degree of hatred or malignity, and often or usually with a desire or an effort to depreciate the person, and with pleasure in seeing him depressed. Envy springs from pride . . . [and is] mortified that another has obtained what one has a strong desire to possess."
Envy is an inappropriate, perverted, and misdirected response to our inherent desire for significance. All of us want our lives to have purpose. All of us want to be recognized and appreciated for who we are and what we do. But when the enemy tries to twist this natural desire through envy, the results are disastrous.
When we envy, we are actually expressing anger toward God. We are, in effect, complaining that God has treated another person better than He has treated us. This is a dangerous attitude that smacks of rebellion against God and His wisdom.
Moreover, envy indicates that we are putting our own agenda above God's agenda. As we mature in Christ, we realize that this life is all about Him. Indeed, we come to realize that everything in the entire universe is all about Him. We are simply human instruments designed to point to Him, to glorify Him, and to worship Him. Scripture says that Jesus is the Beginning and the End, implying, also, that He is everything in between.
So, to envy is to say that this life is about us more than it is about the Lord. Envy is narcissistic, selfish, and self-centered–the very opposite of love.
Envy is an inappropriate, perverted, and misdirected response to
our inherent desire for significance.
Characteristics of Envy
What are some of the characteristics of envy? Here are three of them:
1—Envy hides behind a mask of righteousness which is really self-righteousness. When Jesus healed a woman of a disfiguring back problem in the synagogue (Luke 13: 10-17), the ruler of the synagogue protested that Jesus had violated the Law by healing the woman on the Sabbath. In truth, the ruler was envious of Jesus' power and ability to capture the hearts of the people in a way that the ruler had not been able to do.
2–Envy seems to be gender-specific and most often occurs among peers: between brother and brother, between sister and sister, or between two employees doing similar jobs at the same place of employment. For example, it is far more common for a brother to envy his brother than for a brother to envy his sister. Likewise, it is much more common for a sister to envy her sister than for a sister to envy her brother. It is also much more common for an employee to envy another employee in the same place of employment rather than someone with the same type of job but at another location. In other words, people usually envy people on their same level of their family sphere, professional sphere, or social sphere.
This characteristic of envy is especially problematic when it is found in the Body of Christ. A pastor can be tempted to envy another pastor in his town. An elder in a church can be tempted to envy another elder in the same church. A congregant can be tempted to envy another congregant with a ministry gift he would like to have.
3–Envy is usually hidden in one's heart until a situation occurs that exposes the envy. One of the most common ways that envy is exposed is through the promotion of someone in one's family, professional, or social sphere. Usually we are not aware of envy in our own lives until someone in one of these spheres is promoted or honored in some way. Then envy rears its monstrous head.
How to Tell If You Are Envious?
How can we tell if we are envious? Here are a few questions to ask ourselves:
–Do I feel slighted, angry, or offended when one of my peers is promoted or honored? Does her promotion or honor make me feel diminished as a person?

–Do I feel slighted, angry, or offended at the person in authority over me for having promoted or honored someone other than me? Do I feel that a wrong decision was made?
–Do I wish harm upon the person who was promoted or honored instead of me? Do I speak negative things about him? Do I curse him or wish to inflict pain upon him, even physical pain?
If you answered yes to one or more of the above questions, then you are guilty of envy.

What To Do To Overcome Envy

As with every other temptation, we can overcome envy because our Lord promised to make a way of escape for us in the face of envy. The Word of God says this: "The temptations in your life are no different from what others experience. And God is faithful. He will not allow the temptation to be more than you can stand. When you are tempted, he will show you a way out so that you can endure." – 1 Corinthians 10: 13
When you are tempted to envy–and, at some point in your life, you surely will be–remember our Lord's encouraging words. At the first sign of envy, turn to Him. Then pray for and bless the person you are tempted to envy. You will discover that envy will flee and that the love of Christ will reign in its stead.
Now, it's YOUR turn: What do you do when you are tempted to envy?
TWEETABLE: "Are You an Envious Person?" by Dr. MaryAnn Diorio (CLICK TO TWEET)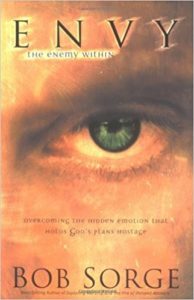 For an excellent resource on envy, read Bob Sorge's book titled Envy–The Enemy Within: Overcoming the Hidden Emotion That Holds God's Plan Hostage. Click here to order.
If you found this post helpful, please forward it to a friend. Thank you! Check our archives in the right sidebar for older posts on a variety of topics. You may also search for a particular topic in the search box at the top right. Some of our most popular posts
—Eight Signs of Spiritual Growth
—Sex and Soul Ties
—How to Recognize a Controlling Spirit
For additional encouragement, check out my podcasts at the following links:
A Moment with MaryAnn – Podcasts on Living the Good Life
Winning with the Word Podcast Series
Write Your Heart Out! – Podcasts for Writers
NOTE: If you are struggling to know your purpose in life, I can help you! As a highly experienced Certified Life Coach, I will help you set priorities in line with your God-given purpose. For more information or to set up a phone appointment, please send me an email at drmaryann@maryanndiorio.com. You'll be taking a major step toward fulfilling your destiny!
Please tell your family and friends about this blog and please pass this post on to them. Thank you!
______________________________________________________________
Copyright 2001-2017 by Dr. Mary Ann Diorio. All Rights Reserved.
Matters of the Heart is a weekly blog that deals with the deepest issues of the human heart, the issues we all face but sometimes don't want to talk about. The heart is the programming center of our lives. What is programmed into our heart will affect every area of our lives. Learn how to discover what is in your heart and how to program your heart for success.
AN INVITATION TO YOU: To follow this blog via Facebook, click here. If you are not on Facebook or would prefer to subscribe via a different venue, please check the sidebar to the right for subscription options. Thank you!