Guard your heart above all else,
for it determines the course of your life." ~ Proverbs 4: 23

PLEASE NOTE: I am sending this post early because it is time-sensitive.
The United States is gearing up for a major event that will occur on Monday, August 21, 2017: the Total Solar Eclipse that will traverse our country from the Northwest to the Southeast.
This is an event of major significance in that it is a warning from God calling us to repentance, both as individuals and as a nation. The eclipse will occur only over the United States and over its expanse, meaning this is a message specifically for America. So, we must take special heed!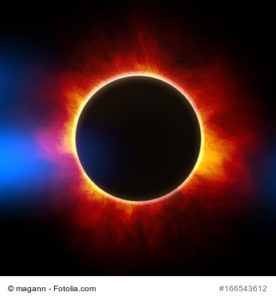 The Bible tells us that God speaks to us through the signs in the sky (Genesis 1: 14). The question is: Are we listening?
God issues these celestial warnings out of His infinite love for us. He is saying that if we don't repent, we will bring judgment and great suffering on ourselves because we have disobeyed His commands. (See the Book of Revelation).
Please take this warning to heart and warn your children and grandchildren. This is not something to take lightly and to brush off. Your eternal destiny and theirs are at stake.
Many Biblical scholars and other Christians believe that the Lord's return for His Church in an event called the Rapture is at hand, and that this eclipse is meant to prepare us for the Lord's return. Only those who have been born again will be removed from the earth and will escape the great Tribulation which will soon come upon the entire world with the rise of the AntiChrist. Those who have not accepted Christ as Savior and Lord will be left behind and will endure the Tribulation. This will be a seven-year period of horrific suffering and oppression such as the world has never seen.

You do NOT want to be left behind! Accept Jesus Christ now as your Savior and Lord and spend eternity in His Presence. Here is a simple prayer to be born again:
"Lord Jesus, I come to You now just as I am—broken, bruised, and empty inside. I've made a mess of my life, and I need You to fix it. Please forgive me of all of my sins. I accept You now as my personal Savior and as the Lord of my life. Thank You for dying for me so that I might live. As I give you my life, I trust that You will make of me all that You've created me to be. Amen."
If you sincerely prayed this prayer, you are now a child of God and a follower of Jesus Christ. Please write to me at drmaryann@maryanndiorioministries.com. I would like to send you a booklet to help you get started in your walk with Jesus.
Now, it's YOUR turn: Are you listening for God's voice as He speaks through His signs in the sky? Are you looking up for the imminent return of Jesus Christ for His Bride? How are you preparing for His return?
TWEETABLE: "SOLAR ECLIPSE: A WARNING FROM GOD" by Dr. MaryAnn Diorio (CLICK TO TWEET)
If you found this post helpful, please forward it to a friend. Thank you! Check our archives in the right sidebar for older posts on a variety of topics. You may also search for a particular topic in the search box at the top right. Some of our most popular posts
—Eight Signs of Spiritual Growth

—Sex and Soul Ties
—How to Recognize a Controlling Spirit
For additional encouragement, check out my podcasts at the following links:
A Moment with MaryAnn – Podcasts on Living the Good Life
Winning with the Word Podcast Series
Write Your Heart Out! – Podcasts for Writers
NOTE: If you are struggling to know your purpose in life, I can help you! As a highly experienced Certified Life Coach, I will help you set priorities in line with your God-given purpose. For more information or to set up a phone appointment, please send me an email at drmaryann@maryanndiorio.com. You'll be taking a major step toward fulfilling your destiny!
Please tell your family and friends about this blog and please pass this post on to them. Thank you!
______________________________________________________________
Copyright 2001-2017 by Dr. Mary Ann Diorio. All Rights Reserved.
Matters of the Heart is a weekly blog that deals with the deepest issues of the human heart, the issues we all face but sometimes don't want to talk about. The heart is the programming center of our lives. What is programmed into our heart will affect every area of our lives. Learn how to discover what is in your heart and how to program your heart for success.
AN INVITATION TO YOU: To follow this blog via Facebook, click here. If you are not on Facebook or would prefer to subscribe via a different venue, please check the sidebar to the right for subscription options. Thank you!