"Guard your heart above all else, for it determines
the course of your life." ~ Proverbs 4:23
_______________________________________
Are you aware that you have two sets of eyes?  You have your physical eyes and  your spiritual eyes, sometimes called the eyes of your heart. 
While your physical set of eyes is critically important to your maneuvering your physical life on earth, your spiritual set of eyes is far more important in that your spiritual eyes determine your success on earth and your destiny after you leave this earth. How you use your spiritual eyes will determine whether or not you fail or succeed in life.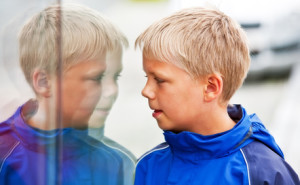 Photo Source: Fotolia.com File: #24767258 | Author: Miredi
 You may be thinking, I didn't even know I have spiritual eyes! 
Join the club. Most people are not aware they have spiritual eyes.  Everyone is born with spiritual eyes, but until you are born again in Jesus Christ, your spiritual eyes will remain blind. Check out 2 Corinthians 4:4: "Satan, who is the god of this world, has blinded the minds of those who don't believe. They are unable to see the glorious light of the Good News. They don't understand this message about the glory of Christ, who is the exact likeness of God" (emphasis mine).

Only after we are born again does Jesus give sight to our spiritual eyes.  In fact, He actually gives us a new set of eyes, eyes that can see into the spirit realm.  The spirit realm is reality; the physical realm is the physical manifestation of what we see in the spirit realm. 
Do you remember the story of Elisha's servant in 2 Kings 6? Elisha's servant panicked when he saw the city surrounded by the enemy.  Elisha remained calm because Elisha used his spiritual eyes to see into the spirit realm. And what did he see there? Angelic reinforcements complete with horses and chariots of fire surrounding the enemy on all sides!
Elisha had peace because he used his spiritual eyes; Elisha's servant was terrified, because he used only his physical eyes.
Are you using your spiritual eyes to see the truth of what God has provided for you in Christ? Or are you limiting your vision only to your physical eyes by focusing on your circumstances? 
Remember: you have double vision, but you also choose which set of eyes you will use to view your life.
Like the pane of glass in a storefront window, only a thin veil separates the physical realm from the spiritual realm.  As you use your spiritual eyes to look beyond that veil and into the realm of the spirit, you will see yourself as you truly are–redeemed by Jesus Christ, seated at His right hand, and more than a conquerer in Him Who loves you!
_______________________________
Available in Kindle and print versions.
You may leave a comment by clicking here. To receive these blog posts in your emailbox, please click here.

If you found this post helpful, please pass it on to someone who can benefit from reading it. Thank you!
If you have any questions, you may contact me as follows:
Email: drmaryann@maryanndiorio.com
Snail Mail: PO Box 1185, Merchantville, NJ 08109
Tel. 856-488-3580
________________________________
Copyright 2015 by Dr. MaryAnn Diorio. All Rights Reserved. This article may not be published or printed in any form whatsoever without the written permission of Dr. MaryAnn Diorio. You may contact her at maryann@maryanndiorio.com to request permission.
Photo Source: Fotolia.com: File: #61687178 | Author: sognolucido

Amazon.com Required Disclosure:  MaryAnn Diorio is a participant in the Amazon Services LLC Associates Program, an affiliate advertising program designed to provide a means for sites to earn advertising fees by advertising and linking to Amazon.com.
Dr. Diorio is a Certified Life Coach, a Certified Biblical Counselor, and a Certified Behavioral Consultant. She is also an award-winning, widely published author of fiction for children and adults. You may reach her at maryann@maryanndiorio.com  or via one of her social media venues below: