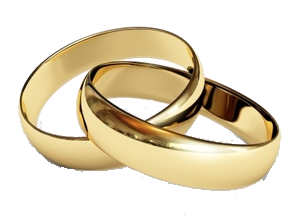 Last October, my husband and I celebrated 45 years of marriage. When we reached this wonderful milestone, many people–especially young people–asked us how we did it. Perhaps you, too, would like to know the answer to that question. So, here is our secret for our marital longevity. It can be summed up in one word: Jesus!
Lest you roll your eyes at the simplicity of my answer, hear me out. The key to my husband's and my many wonderful years of marriage is that each of us keeps Christ at the center of our personal lives and at the center of our marriage. Christ is the focal point around which our lives are built and around which our marriage is built. This is not to say that we have not had our challenges. We certainly have. But it is to say that every one of our challenges has been resolved at the foot of the Cross.
So, what is it about Jesus that makes for a life-long love? The answer is simple. Jesus is Love, and a marriage that has Jesus at its center is a marriage that has love at its center. But the love found in Jesus is not what most people understand as love. The love of Jesus is agape love, and only agape love can sustain a marriage over the long haul.
Aristotle (and, later, C.S. Lewis) described four types of love:  philia, storge, agape and eros.  Philia is described as brotherly love, the love one feels for a close friend. Philadelphia, the City of Brotherly Love, derives its name from this type of love.
Storge is familial love, the kind of love that exists between a parent and a child, and vice versa.
Eros is sexual love, the kind of love to be expressed only within the confines of marriage.
Agape love is unconditional love, the love that seeks the good of the beloved above its own good. Agape love is the kind of love God has for us.
Each of the four loves must be present in a marriage, but the only one of the four that sustains a marriage over the long haul is agape love. If agape love is missing, the other three types of love will eventually break down.
What is agape love? It is best described in I Corinthians 13:4-8:
It is patient.
It is kind.
It is never jealous or envious.
It is never boastful or proud.
It is never haughty, or selfish, or rude.
It does not demand its own way.
It is not irritable or touchy.
It does not hold grudges.
It will hardly even notice when others do it wrong.
It is never glad about in justice, but it rejoices when truth wins out.
It remains loyal no matter what the cost.
It always believes in the beloved.
It always expects the best of the beloved.
It always stands its ground in defending the beloved.
It never ends.
No human being can walk in agape love without Christ. When we accept Christ as our Savior and Lord, He comes to live within us. It is His life within us that then enables us to love with agape love, His kind of love. Over the 45 years of our marriage, my husband and I have learned to allow the love of Christ in us to flow through us and out of us into each other. This is the secret of our solid marriage. It is solid because it is built on the foundation of agape love, the love of Christ.
Have we ever failed to walk in this love? Many times. But when we do, we repent, pick ourselves up, and start over again. What we are discovering is that each day we commit to walking in Christ's love toward each other, walking in that love becomes easier and easier. The reason is that the more we yield to Christ's love in us, the more we take on His nature; the more we become like Him. And the better our marriage becomes.
Unfortunately, most marriages today are built on erotic love first and foremost. Such love has an escape plan. It says that if things go wrong (aka, if my needs aren't met), I can always get a divorce. In my husband's and my marriage, divorce has never been an option. We recognize that our marriage is a covenant, not a contract. It is an unbreakable commitment we made to each other in the presence of God, and we vowed before God to honor that commitment. A vow is a very serious thing. We break it at great peril.
Marriage is under serious attack today. The reason is that marriage was designed by God to reflect Christ's love for His Church. Satan does not want the world to see Christ's love for the Church as expressed through marriage. So Satan has waged an all-out war against marriage.
If you are married, remember that God has a great stake in your marriage. Give it to Him and let Him make it what He intends it to be. Then one day, you, too, will know the joy of celebrating many years of a wonderful marriage, forged in agape love, the only love that never fails.
Questions: 1) What is your secret for a successful marriage? 2) If you are not married, are you afraid to get married? 3) If so, why?  You may leave your comments by clicking here.  To receive these blog posts in your emailbox, please click here.

_____________________________________________________
Copyright 2015 by MaryAnn Diorio, PhD. All Rights Reserved.
Photo courtesy of Public Domain Clipart:
http://www.wpclipart.com/holiday/wedding/rings/shiny_rings.png.html