Guard your heart above all else,
for it determines the course of your life." ~ Proverbs 4: 23
The recent and sudden explosion of terrorism both in our country and around the world has incited unprecedented fear in the hearts of countless people. Where once we lived in relative peace, now we face the possibility of being killed just by shopping at our local mall or by opening our daily mail.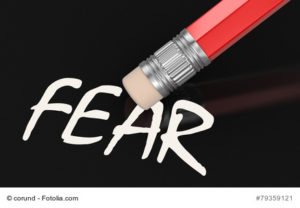 Where once we walked freely, now we walk with guarded steps. Where once we trusted our neighbor, now we look on him as a potential enemy. Perhaps for the first time in our lives, we have been forced, both as a nation and as individuals, to come face to face not only with our vulnerability but also with our mortality.
In the midst of this mélange of pregnability and peril, God commands us not to fear. Indeed, the command, "Fear not!" appears at least 111 times in the Holy Bible. Obviously, God wants to make sure we get the message. But how can one obey this command when everything around us incites us to fear?
First of all, let us remember that God never commands us to do something that is impossible for us to do. If He did, He would be unjust and we would have reason to complain. Therefore, if God commands us not to fear, then we are able to obey His command.
How? you may be asking. Perhaps this explanation will give you insight. Fear is an emotion, and emotions can be controlled by the will. Resisting fear boils down to making a decision to resist fear.
For instance, when fear tries to keep you from venturing beyond your four walls, venture anyway. When fear tries to keep you from taking a trip, take the trip anyway. When fear tries to keep you from flying, fly anyway.
While fear is an emotion, courage is a choice. Choices are made by the will. When fear attacks your emotions, your will can override the fear by a simple and determined choice to refuse to fear. Bottom line, we must decide whether fear will control us or whether we will control fear.
Confronting fear and taking action against it will cure fear. The Bible tells us that "God has not given us a spirit of fear but of power, of love, and of a sound mind" (2 Timothy 1:7). By this verse we know that fear does not come from God. If it doesn't come from God, then it comes from Satan.
The opposite of fear is love. The Bible tells us that perfect, or mature, love casts outs fear (I John 4:18). The person who has learned to love is the person who walks free of fear. When you face fear, ask yourself "What is the loving thing to do right now?" Choosing the path of love will always dispel fear because love is more powerful than fear.
If fear has been threatening to rob you of your joy of living, don't allow it to do so any longer. Face your fear and take the offensive against it. You will find that as you do the thing you fear, your fear will disappear.
Now, it's YOUR turn: Do you struggle with fear? If so, how do you deal with it?
If you found this post helpful, please forward it to a friend. Thank you! Check our archives in the right sidebar for older posts on a variety of topics. You may also search for a particular topic in the search box at the top right. Some of our most popular posts

—Sex and Soul Ties
—Are You Playing the Blame Game?
For additional encouragement, check out my podcasts at the following links:
A Moment with MaryAnn – Podcasts on Living the Good Life
Winning with the Word Podcast Series
Write Your Heart Out! – Podcasts for Writers
NOTE: If you are struggling to know your purpose in life, I can help you! As a highly experienced Certified Life Coach, I will help you set priorities in line with your God-given purpose. For more information or to set up a phone appointment, please send me an email at drmaryann@maryanndiorio.com. You'll be taking a major step toward fulfilling your destiny!
Please tell your family and friends about this blog and please pass this post on to them. Thank you!
______________________________________________________________
Matters of the Heart is a weekly blog that deals with the deepest issues of the human heart, the issues we all face but sometimes don't want to talk about. The heart is the programming center of our lives. What is programmed into our heart will affect every area of our lives. Learn how to discover what is in your heart and how to program your heart for success.
AN INVITATION TO YOU: To follow this blog via Facebook, click here. If you are not on Facebook or would prefer to subscribe via a different venue, please check the sidebar to the right for subscription options. Thank you!