"Guard your heart above all else, for it determines
the course of your life." ~ Proverbs 4:23
______________________________________
The key to your future–whether successful or not–is your thinking. 


Photo Source: Fotolia_69555306_XS

The thoughts you think lead you to success or to failure. Your thoughts literally frame your future.
The good news is that you have the power to choose your thoughts. Choose only those thoughts that reflect what you want your future to look like.
Choose thoughts of life, not death! (Deuteronomy 30:19). 
_____________________________________________
To help you choose thoughts of life, read my popular book, YOU WERE MADE FOR GREATNESS! To purchase, click here.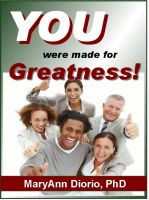 You may leave a comment by clicking here. To receive these blog posts in your emailbox, please click here.
If you found this post helpful, please pass it on to someone who can benefit from reading it. Thank you!
If you have any questions, you may contact me as follows:
Email: drmaryann@maryanndiorio.com
Snail Mail: MaryAnn Diorio Enterprises, LLC
PO Box 1185, Merchantville, NJ 08109
Tel. 856-488-3580
________________________________
Copyright 2015 by Dr. MaryAnn Diorio. All Rights Reserved. This article may not be published or printed in any form whatsoever without the written permission of Dr. MaryAnn Diorio. You may contact her at drmaryann@maryanndiorio.com to request permission.
Photo Source:File: Photo Source: Fotolia_69555306_XSAmazon.com
Required Disclosure: MaryAnn Diorio is a participant in the Amazon Services LLC Associates Program, an affiliate advertising program designed to provide a means for sites to earn advertising fees by advertising and linking to Amazon.com.
Dr. Diorio is a Certified Life Coach, a Certified Biblical Counselor, and a Certified Behavioral Consultant. She is also an award-winning, widely published author of fiction for children and adults. You may reach her at maryann@maryanndiorio.com or via one of her social media venues below:
Website: www.maryanndiorio.com
Blog (Matters of the Heart): http://www.networkedblogs.com/blog/maryanndiorioblog
Blog (Gabriel Girls): http://www.networkedblogs.com/blog/gabriel-girls
Amazon Author Central: http://www.amazon.com/author/maryanndiorio
Facebook: http://www.Facebook.com/DrMaryAnnDiorio
Twitter: http://Twitter.com/@DrMaryAnnDiorio
Goodreads: http://www.goodreads.com/author/show/6592603
LinkedIn: http://www.linkedin.com/profile/view?id=45380421
Pinterest: http://www.pinterest.com/drmaryanndiorio/
Google+: http://plus.google.com/u/0/+DrMaryAnnDiorio
YouTube: http://www.youtube.com/user/drmaryanndiorio/
Disclaimer: This site uses cookies. Your continued use of this site constitutes your consent to our use of cookies.