GOD'S PRESENTS OR GOD'S PRESENCE?

 "Guard your heart above all else, for it determines
the course of your life." ~ Proverbs 4:23
________________________________________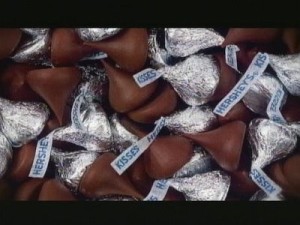 Do you have a nickname?  Mine is "Nonna Chocolate." 🙂 You see, whenever I visit my grandchildren, I arrive with ten Hershey chocolate kisses in my pocket, two for each grandchild. 
As soon as I arrive at my daughter's house, my grandchildren run up to me and eagerly ask, "Nonna, do you have chocolate?" 
My daughter gently corrects them and says, "Say hello to Nonna first and then ask her for the chocolates."  My daughter is trying to teach her children to honor my presence first and my gifts of chocolate second.
My grandchildren's reaction to me reminds me of my reaction to the Lord.  How often have I approached Him asking first for His presents while ignoring His Presence?  Too often, I must confess.  And yet, our Lord, like me, would appreciate being acknowledged first by His children for Who is He, not for what He can give us.
I must admit that when my grandchildren are happy to see me because I have chocolates to give them, I wonder if they would be just as happy to see me if I came bearing no chocolate gifts. Our Heavenly Father feels the same way. After all, He is a Person and has feelings just as we do.  Are we not made in His image?
So, the next time you are tempted to run to God only when you want or need something, stop and ask yourself, "What message am I sending to my Father in Heaven?  Am I hurting His feelings by seeking only His hand and not His face?" 
If you really want to make Abba Father happy, spend time with Him just worshiping Him and praising Him, without asking for a single thing in return. I guarantee you that your heart will fill with joy to overflowiing as you witness the joy on His face.
God's Presence is to be valued far, far more than His presents.  Seek His Presence first and foremost, and you will have everything you could ever want or need.
Even chocolate! 🙂
If you would like to learn how to overcome fear, check out my book YOU WERE MADE FOR GREATNESS!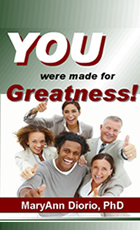 You may leave a comment by clicking here To receive these blog posts in your emailbox, please click here.

If you found this post helpful, please pass it on to someone who can benefit from reading it. Thank you!
If you have any questions, you may contact me as follows:
Email: drmaryann@maryanndiorio.com
Snail Mail: PO Box 1185, Merchantville, NJ 08109
Tel. 856-488-3580
_______________________________________________________________
Copyright 2015 by Dr. MaryAnn Diorio. All Rights Reserved. This article may not be published or printed in any form whatsoever without the written permission of Dr. MaryAnn Diorio. You may contact her at maryann@maryanndiorio.com to request permission.
Photo Source: http://www.blog.peacemagazine.com/wp-content/uploads/2010/11/Hershey_Kisses.jpg

Amazon.com Required Disclosure:  MaryAnn Diorio is a participant in the Amazon Services LLC Associates Program, an affiliate advertising program designed to provide a means for sites to earn advertising fees by advertising and linking to Amazon.com.
Dr. Diorio is a Certified Life Coach, a Certified Biblical Counselor, and a Certified Behavioral Consultant. She is also an award-winning, widely published author of fiction for children and adults. You may reach her at maryann@maryanndiorio.com  or via one of her social media venues below: