"Guard your heart above all else,
for it determines the course of your life." ~ Proverbs 4: 23
MARYANN'S NOTE: At Holy Spirit's direction, I wil be posting a few personal experience stories over the next few weeks. These experiences happened to me over the past several years and reveal God's supernatural presence and power in our lives. I trust that these stories will bless you, encourage you, and reveal to you how much God loves you and is involved in your life as well.
________________________________________________________________
WHEN GOD GOT PERSONAL
by MaryAnn Diorio, PhD, MFA
"She looks pale," the pediatrician said as he examined my two-month-old daughter. "I want to run some blood tests on her."
The year was 1977. The month was November. My husband, our firstborn daughter Lia, and I had recently celebrated the joyous arrival of our second child. All seemed well in our world.
At the doctor's words, my heart clutched. "What do you think is the problem?"
His eyes reflected concern. "I'm not sure just yet. Let's wait to see what the blood tests show."
I swallowed hard and nodded. I don't know what's happening, Lord, but whatever it is, I will trust You.
I had been a follower of Jesus Christ for seven years. During that time, I had gotten to know Jesus through reading His Word, through prayer, and through fellowship with other believers. But I didn't want only to know Jesus vicariously through the experiences of others. I wanted to sense His pulse. To see Him in action.
To feel His heartbeat.
As I read the Gospels, I noticed that people experienced Jesus. They had life-changing encounters with Him that affected their lives in personal ways. Encounters that touched them physically, emotionally, and psychologically. Encounters that changed the course of their lives.
I wanted to be a character in the Gospels. I wanted to be able to say that Jesus was not only the Savior of the world but that He was the Savior of my world.
The pediatrician turned toward me. "I'm ordering a test at the children's hospital in the city. You will not be able to feed Gina for twelve hours prior to the test since it requires that she be fasting."
My heart sank. My baby nursed every two hours. To deprive her of food for an entire twelve hours seemed impossible.
I mumbled a thank you and left the doctor's office with my baby cradled in my arms and with both of us cradled in the arms of Jesus.
On the drive home, I cried out to God in anguish. "Lord, I can't bear the thought of my Gina screaming in hunger throughout the night. You have to do something!"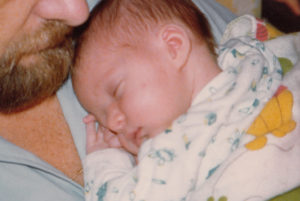 The test was scheduled for a couple of days later. The night before the test, Gina fell asleep at 7:00pm. For the first time in her young life, she slept all through the night!
But not only did she sleep all through the night, she was also still asleep when my husband and I put her in the car to go to the hospital. She slept during the entire one-hour trip to the hospital. She went into the test asleep, and she awakened only after the test was over at 9:00am. Fourteen hours of straight sleep! And fourteen hours with no food. At that point, I had a hungry baby on my hands.
My heart overflowed with thanksgiving as I gave glory to God for this miracle.
My husband and I returned home with our baby to await the test results. When they arrived shortly thereafter, they revealed the presence of an incurable lymph gland disease with a prognosis of a life span that would most likely not exceed nine years.
Fear clamped its sharp claws around my mind and whispered its ugly lies. "Your daughter is going to die."
Braced with the Word of God, I attacked that spirit of fear with the vengeance of an angry mama bear protecting her cub from danger. "Oh, no, Satan!" My words shot through the air. "You are a liar and the father of lies. My God says that my Gina was healed by the stripes of Jesus. And what He says is true. So I silence you, foul spirit of fear, in the Name of Jesus."
As my circumstantial world spun in a violent downward spiral, my spirit resisted and soared to grab hold of God's promise of healing. I could not let my baby die. I would not let my baby die. In His Word, God said she was redeemed from the curse. I could stake my child's life on that truth.
In obedience to our Lord's command in Mark 16 to lay hands on the sick, and in accordance with His promise in the same chapter that if I did so, the sick would recover, my husband and I laid hands on our precious baby daughter and commanded the sickness to leave her body.
A pole shift occurred in the spirit realm as my Gina's life shifted to a new axis, the axis of Truth. I fully expected her to be healed. The thought of her not being healed had no permission to enter my mind.
A few days after laying hands on my baby, I sat in my family room worshipping the Lord while Gina slept in her cradle beside me. As I worshipped and thanked Jesus for healing my baby, I felt compelled to turn on the television. I recognized the Holy Spirit's prompting and obeyed it.
At the very instant I turned on the TV, Dr. Pat Robertson of the 700 Club was praying. He looked up at the camera and said, "There is a baby in the TV viewing audience with a lymph gland disorder, and God is healing her now." Instantly, a sensation of warm oil poured over me, covering the top of my head and flowing down over my entire body. I jumped out of my chair and shouted, "That's my Gina! That's my Gina!"
I called my husband. A physician himself, he wisely advised that we obtain medical confirmation
of Gina's healing. When I took her back to the pediatrician, he ran repeat tests and could find no sign whatsoever of disease. The word of knowledge Dr. Robertson had brought forth proved true. My Gina was healed!
And I had experienced Jesus in a tangible, personal way. He had shown me His heart.
And His heart was to heal.
Today, my Gina is a beautiful, healthy 39-year-old young woman serving the Lord with all of her heart. She is a living testimony to God's healing power and to the truth of His Word.
Most of all, she is a living testimony to the God Who proved to me that He wants to bring salvation not only to the entire world, but especially to my personal world.
________________________________________
Copyright 2015-2017 by MaryAnn Diorio, PhD. All Rights Reserved.
If you found this post helpful, please forward it to a friend. Thank you! Check our archives in the right sidebar for older posts on a variety of topics. You may also search for a particular topic in the search box at the top right. Some of our most popular posts are:
—Victim or Victor: Which One Are You?
—How to Conquer Stinkin' Thinkin'


For additional encouragement, check out my podcasts at the following links:
A Moment with MaryAnn – Podcasts on Living the Good Life
Winning with the Word Podcast Series
Write Your Heart Out! – Podcasts for Writers
NOTE: If you are struggling to know your purpose in life, I can help you! As a highly experienced Certified Life Coach, I will help you set priorities in line with your God-given purpose. For more information or to set up a phone appointment, please send me an email at drmaryann@maryanndiorio.com. You will be taking a major step toward fulfilling your destiny!
Please tell your family and friends about this blog and please pass this post on to them. Thank you!
_______________________________________________________________
To help you learn about your true identity in Christ, I wrote YOU WERE MADE FOR GREATNESS!. This book will reveal to you the power and authority you have to bring about effective change in your life through Jesus Christ. Get your copy now!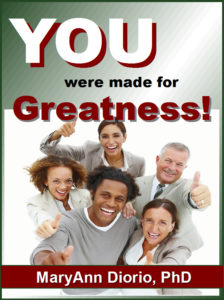 YOU WERE MADE FOR GREATNESS! by Dr. MaryAnn Diorio
Kindle
Matters of the Heart is a weekly blog that deals with the deepest issues of the human heart, the issues we all face but sometimes don't want to talk about. The heart is the programming center of our lives. What is programmed into our heart will affect every area of our lives. Learn how to discover what is in your heart and how to program your heart for success.
AN INVITATION TO YOU: To follow this blog via Facebook, click here. If you are not on Facebook or would prefer to subscribe via a different venue, please check the sidebar to the right for subscription options. Thank you!
____________________________________________
Join my Team and get a free copy of my ebook on balancing your life.
____________________________________________
________________________________
Copyright 2000-2017 by Dr. MaryAnn Diorio. All Rights Reserved. This article may not be published or printed in any form whatsoever without the written permission of Dr. MaryAnn Diorio. You may contact her at drmaryann@maryanndiorio.com to request permission.
Amazon.com Required Disclosure: MaryAnn Diorio is a participant in the Amazon Services LLC Associates Program, an affiliate advertising program designed to provide a means for sites to earn advertising fees by advertising and linking to Amazon.com.
Disclaimer: This site uses cookies. Your continued use of this site constitutes your consent to our use of cookies.