"Guard your heart above all else, for it determines
the course of your life." ~ Proverbs 4:23
"Matters of the Heart" is a weekly blog that deals with the deepest issues of the human heart, the issues we all face but sometimes don't want to talk about.
The heart is the programming center of our lives. What is programmed into our heart will affect every area of our lives. Learn how to examine your heart
and how to program your heart for success.
AN INVITATION TO YOU: To follow this blog, click here.
____________________________________________________
ROOTS. We need them to grow. Where our roots are planted will determine how well we will grow.
Only roots planted in the love of God will flourish. Paul writes in Ephesians 3: 17, "Your roots will grow down into God's love and keep you strong."
Are your roots anchored in God's love? If not, why not? Has shame or sorrow or sin kept you from sinking your roots deep into God's love? If so, let God help you push through that pain, for there is freedom on the other side.
Growth begins in the roots. How are your roots? Sink them deep into God's love, and you will know abundant life!
I pray in Paul's words for you today that God "from His glorious, unlimited resources…will empower you with inner strength through His Spirit. Then Christ will make His home in your hearts as you trust in Him. Your roots will grow down into God's love and keep you strong. And may you have the power to understand, as all God's people should, how wide, how long, how high, and how deep His love is. May you experience the love of Christ, though it is too great to understand fully. Then you will be made complete with all the fullness of life and power that come from God" (Ephesians 3: 16-19 NLT).
Now, it's YOUR turn: How do you sink your roots into God's love? Please leave your valued comment in the box below.
TWEETABLE: "How Are Your Roots?" by Dr. MaryAnn Diorio (CLICK TO TWEET).
To be sure you don't miss any of my future blog posts, you may wish to subscribe to Matters of the Heart at http://eepurl.com/dwLYEn
____________________________________________
____________________________________________
NEW YOU-TUBE SERIES: Check out my new You-Tube series, YOU WERE MADE FOR GREATNESS!, based on my popular book by the same title.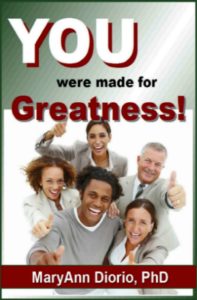 God designed you for greatness in Him. Discover the authority and power you have as a Christ-Follower! Get your copy of YOU WERE MADE FOR GREATNESS!
____________________________________________________________________
The Italian Chronicles Trilogy is now available in its entirety. Will Maria Landro Tonetta allow God to turn the horrific sorrows of her life into great joy? Read this page-turning series to find out! Makes a great gift for any occasion!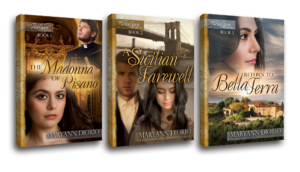 "How to Recognize a Controlling Spirit"
Please check our archives in the right sidebar for older posts on a variety of topics. You may also search for a particular topic in the search box at the top right.
For additional encouragement, check out my podcasts at the following links:
___________________________________________
Copyright 2018 by Dr. MaryAnn Diorio. All Rights Reserved. This article may not be published or printed in any form whatsoever without the written permission of Dr. MaryAnn Diorio. You may contact her at info@maryanndiorio.com to request permission.
Amazon.com Required Disclosure: MaryAnn Diorio is a participant in the Amazon Services LLC Associates Program, an affiliate advertising program designed to provide a means for sites to earn advertising fees by advertising and linking to Amazon.com.
Disclaimer: This site uses cookies. Your continued use of this site constitutes your consent to our use of cookies.