"Guard your heart above all else, for it determines
the course of your life." ~ Proverbs 4:23
Are you new to this blog? If so, what is the Matters of the Heart blog and why will it bless you to read it?
Matters of the Heart is a weekly blog that deals with the deepest issues of the human heart, the issues we all face but sometimes don't want to talk about. The heart is the programming center of our lives. What is programmed into our heart will affect every area of our lives. Learn how to discover what is in your heart and how to program your heart for success.
AN INVITATION TO YOU: To follow this blog via Facebook, click here. If you are not on Facebook or would prefer to subscribe via a different venue, please check the sidebar to the right for subscription options. Thank you!
_______________________________________________________________

Before my children left the nest, I used to tell myself (and others) that I didn't expect to feel "empty" when they finally left because I had a full life with my husband, my writing ministry, and my friends and family. Although I would certainly miss having my girls around, I could manage well not having them around. Besides, I felt confident that I had prepared them well to be wise, discerning, and valuable contributors to society. I knew they knew God and that, with His help, they could manage their own lives with confidence and success.
Well, pride comes before a fall, and I fell. Really hard. After my children left home to establish their own lives, I fell into a depression from which I found it difficult to extricate myself. In fact, my soul filled with such sorrow at not having my children around that I began to wonder if something was seriously wrong with me.
As I sought the Lord and searched for answers to the reason I felt as I did, Holy Spirit taught me a few things about how to deal with the sorrow of loneliness. I offer you what He taught me in the hope that it may help you, too, if you are experiencing loneliness, especially during this Christmas season:

Photo Source: Fotolia.com #83794545 Copyright Photographee.eu.
1) Recognize that loneliness is a form of grief. And grief results from a sense of loss. When my children left home, I experienced great loss. The loss of their presence; the loss of their laughter; the loss of their companionship. I had convinced myself that this would never happen to me, but it did. Part of the pain of the sorrow I felt was the fact that I had presumed I would not experience such sorrow. Notice I said "presumed". My expectation had been a presumptuous expectation, also known as pride.
2) Recognize that loneliness is a symptom of separation from human contact. That said, the cure for loneliness is human contact. While our loneliness may stem from lack of contact with particular persons, we can assuage loneliness by focusing on bringing joy to others who cross our path. As we take our eyes off ourselves and put them on others, loneliness turns to joy. As I applied this principle by reaching out to others, I found that my loneliness lifted.
3) Be gentle on yourself during periods of loneliness, but do not indulge in self-pity. While I did not feel sorry for myself, I was hard on myself for feeling lonely at my children's departure. I did not understand that fulfillment in my professional life did not necessarily translate to fulfillment in my personal life. Being a mother has been one of the greatest joys of my life. So, why shouldn't I feel sad when that responsiblity wound down? Why shouldn't I feel lonely when my children left home forever to build their own lives? I did not understand that my feelings were normal for the situation and that, with time, I would adjust to my new life. And adjust I did. Now I enjoy the quiet times of refreshing that enable me to spend much more time with the Lord in worship and prayer and much more time writing stories for His glory.
"He who has God will never be lonely."
4) Share your feelings of loneliness with someone you trust. Keeping the sorrow of your loneliness a secret will only worsen the loneliness. When we carry our burdens alone, they seem heavier than they truly are. But when we share them with a trusted family member or friend, the burden greatly lessens. As I shared my loneliness with trusted members of the Body of Christ, they prayed for me and spoke words of encouragement to me that played a major role in delivering me from the sorrow of loneliness.
5) Worship the Lord continually. Scripture commands us to put on the garment of praise for the spirit of heaviness. As I spent more time worshipping God and simply being in His Presence, my loneliness lifted.
As I look back on that time of sadness in my life, I realize that God was teaching me a powerful lesson. He was teaching me that I was never truly lonely at all because He was always with me.
And He is always with you, too. He will be your comfort. He will be your peace. And He will take away your loneliness by filling you with Himself. He who has God will never be lonely.
Today I have adjusted to my new situation. Moreover, I get to see my precious daughters far more frequently than I thought I would. God blessed me by moving my husband and me to the same area where our first-born daughter lives with her husband and our five grandchildren. Our second-born daughter lives only about 30 minutes away, and we get to see her often as well.
Your loneliness may not be related to empty nest syndrome. You may be lonely because of the recent death of your spouse, a child, a parent, or a dear friend. You may be lonely because your son or daughter was deployed, or you've just moved to a new state and don't know anyone, or your family has disowned you. Whatever the reason, God knows.
And God cares!
Just as He promised, God has turned my loneliness and sorrow into great joy. And He will do the same for you.
Now, it's YOUR turn: Have you been secretly lonely? How have you handled your loneliness? Please leave a comment in the box below.
TWEETABLES:
"How to Get Free of the Secret Sorrow of Loneliness" by Dr. MaryAnn Diorio (CLICK TO TWEET).
"He who has God will never be lonely." ~ Dr. MaryAnn Diorio (CLICK TO TWEET).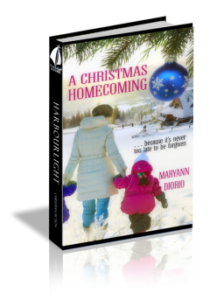 For a heartwarming, compelling Christmas story on the power of forgiveness, you may wish to read my novella titled A Christmas Homecoming. It is available in electronic format for your Kindle, Nook, or iPad.
To view the beautiful book trailer of A Christmas Homecoming, click here.
To purchase a copy of A Christmas Homecoming, click here.
Last, but not least, may you forge happy memories this Christmas season as the power of forgiveness sets you free!
Copyright 2012-2016 by MaryAnn Diorio, PhD, MFA. All Rights Reserved. This article may not be reproduced without the written permission of Dr. MaryAnn Diorio. You may reach her at maryann@maryanndiorio.com.
If you found this post helpful, please forward it to a friend. Thank you! You may also be interested in reading the following recent posts:
—Deck the Soul with Boughs of Forgiveness
—Why Getting Offended Is Dangerous
—Don't Let Satan Play Your Pipes!
Older, but very popular posts, include:
—How to Recognize a Contolling Spirit
—Seven Keys to Successful Parenting
Check our archives in the right sidebar for older posts on a variety of topics. You may also search for a particular topic in the search box at the top right. Some of our most popular posts are:
AN INVITATION TO YOU: To follow this blog if you are on Facebook, click here. If you are not on Facebook or if you prefer to subscribe via another venue, you may do so by using any one of the other subscription options listed under the Networked Blog section in the sidebar on my website: www.maryanndiorio.com/blog. Thank you!