"Guard your heart above all else, for it determines
the course of your life." ~ Proverbs 4:23
"Matters of the Heart" is a weekly blog that deals with the deepest issues of the human heart, the issues we all face but sometimes don't want to talk about. The heart is the programming center of our lives. What is programmed into our heart will affect every area of our lives. Learn how to examine your heart and how to program your heart for success.
AN INVITATION TO YOU: To follow this blog, click here.
____________________________________________________
PRIDE. How do we know if we're guilty of it. By its very nature, pride does not see itself. So, let's ask ourselves these seven questions to determine if there is pride in our lives. And if there is, let's repent and drive it out in the Name of Jesus: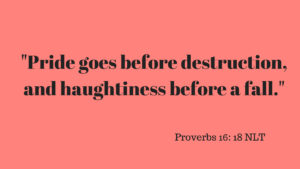 1–Is there strife in my life? "Where there is strife, there is pride" (Proverbs 13: 10a). Strife is always the fruit of pride. Indeed, there can be no strife unless pride enters first. As we eliminate pride from our lives, we will eliminate strife as well.
2–Is there fear or worry in my life? Fear and worry reveal my toxic reliance on myself instead of on God. Fear and worry reveal that I want control because I think I can handle things better than God. This is pride.
3–Do I worry about what people think of me? The Bible says that people-pleasers cannot serve God because they are more concerned about what others think of them than about what God thinks of them: "If pleasing people were my goal, I would not be Christ's servant" (Galatians 1: 10). Whenever we elevate man above God, we are guilty of pride.
4–Do I have an "entitlement mentality"? Do I think that the world owes me something? Do I think I deserve to have this or that? The truth is we deserve nothing but Hell were it not for our Lord and Savior Jesus Christ. An entitlement mentality is a clear sign of pride.
5–Do I think I"m better than someone else? Pride exalts itself and diminishes others. The Bible says this: "Don't be selfish; don't try to impress others. Be humble, thinking of others as better than yourselves" (Philippians 2: 3).

6–Am I a hypocrite? In other words, do I act one way at home and another way in public? "But they do all their deeds to be noticed by men…." (Matthew 23: 5). This, again is pride.
7–Do I resist submitting to God-given authority? Do I buck my husband, my boss, my pastor, my parents? Do I refuse to submit to them or do I give them a hard time? Let's remember this word of the Lord: "Rebellion is as the sin of witchcraft" (1 Samuel 15: 23).
Every day I must examine myself for signs of pride. It is an insidious sin and the one that got Adam and Eve expelled from the Garden of Eden. They questioned God's integrity, deeming that they knew better than God. To question God's integrity is pride–plain and simple.
My Prayer for Us Today: "May God reveal to us any areas of pride in our lives, and may He give us the grace to renounce it once and for all."
Now, it's YOUR turn: Do you struggle with pride? If so, how do you overcome it? Please leave your valued comment in the box below.

TWEETABLE: "HOW TO RECOGNIZE PRIDE IN YOUR LIFE" by Dr. MaryAnn Diorio (CLICK TO TWEET).

To be sure you don't miss any of my future blog posts, you may wish to subscribe to Matters of the Heart. CLICK HERE.
____________________________________________
____________________________________________
Check out my You-Tube series, YOU WERE MADE FOR GREATNESS!, based on my popular book by the same title.
____________________________________________________________________
Learn how Don Franco overcame pride in The Italian Chronicles Trilogy.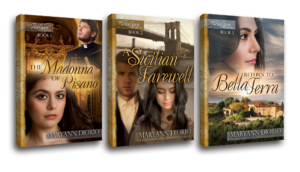 For additional encouragement, check out my podcasts at the following links:
___________________________________________
Copyright 2018 by Dr. MaryAnn Diorio. All Rights Reserved. This article may not be published or printed in any form whatsoever without the written permission of Dr. MaryAnn Diorio. You may contact her at info@maryanndiorio.com to request permission.
Amazon.com Required Disclosure: MaryAnn Diorio is a participant in the Amazon Services LLC Associates Program, an affiliate advertising program designed to provide a means for sites to earn advertising fees by advertising and linking to Amazon.com.
Disclaimer: This site uses cookies. Your continued use of this site constitutes your consent to our use of cookies.