Guard your heart above all else,
for it determines the course of your life." ~ Proverbs 4: 23
For everything God has created, Satan has a counterfeit. One such original creation of God is the practice of meditation. Its counterfeit is found in the New Age Movement's practice of meditation.
What is meditation? The word meditation comes from a Latin word meaning to ruminate, to chew over. When one meditates, one chews over a word or a passage of words in order to digest intellectually and ingest spiritually its meaning and application in one's life.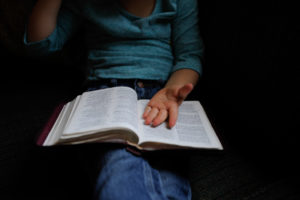 Scripture points clearly to meditation as a command of God and a chief tool of success in life. Consider Joshua 1: 8: "This book of the law shall not depart from your mouth, but you shall meditate on it day and night, so that you may be careful to do according to all that is written in it; for then you will make your way prosperous, and then you will have success."
Meditating on God's Word is essential to our growth as disciples of Christ. For this reason, Satan has attempted to corrupt the practice of meditation through its usurpation by the New Age Movement. He has endeavored to place the focus of meditation on the self instead of on God. Such usurpation has intimidated Christians and rendered them reluctant to employ the practice of meditation at all. Also, whereas New Age meditation involves emptying the mind of everything, Biblical meditation involves filling the mind with the Word of God.
In a search to find a photo to accompany this post, I used the search term "meditation". Every result was a rendering of the New Age practice of meditation–particularly photos of people in various yoga positions. Not a single result of my search rendered the Christian practice of meditation.
That tells me it's time for the Body of Christ to take back meditation!
So, how does a Christ-Follower practice meditation? Let me share what I've learned:
1–Believe that the practice of meditation comes from God and is commanded by God. (See Joshua 1: 8; Psalm 119: 97; Psalm 104: 34).
2–Enter God's Presence in the Name of Jesus. Invite Holy Spirit's Presence to fill you anew and afresh.

3–Choose a verse or a short passage from Scripture and read it several times to understand its general meaning. I recommend you start with a single verse until you develop the habit of meditation. I still prefer single verses since I've discovered that one verse can contain a wealth of hidden meaning that Holy Spirit reveals only as I meditate on that verse.
4–Next, break down the verse into segments. For example, let's use Philippians 4:13 as an illustration: "I can do all things through Christ Who strengthens me." When I meditate on this verse, I break it down into three parts:
1) I can do all things
2) through Christ
3) Who strengthens me.
"This book of the law shall not depart from your mouth, but you shall meditate on it day and night…." – Joshua 1: 8
5-Recite each part aloud, putting the emphasis on a different word each time. For example:
1) I can do all things through Christ Who strengthens me.
2) I can do all things through Christ Who strengthens me.
3) I can do all things through Christ Who strengthens me.
As you emphasize a different word and think about that word, Holy Spirit will reveal precious, hidden truths to you about the emphasized word and about the verse as a whole.
6-Repeat this process with the rest of the verse or passage. As you do, you will not only be meditating on the verse, you will also be allowing it to take root deep within your spirit.
7-Memorize the verse or passage. Memorization is usually the direct result of meditation. As you meditate on the verse, you will find yourself memorizing the verse as well. Meditation and memorization are spiritual twins that will help you immensely to become more like Jesus.
Remember this: The focus of Biblical meditation is the Word of God. It and it alone must be our final authority. As you faithfully meditate on God's Word, you will notice that your life is improving. You will begin to experience more and more the abundant life that Jesus Christ died to give you.
And that, my friend, is true success!
Now, it's YOUR turn: What suggestions would you offer regarding how to meditate on God's Word? Please comment in the box below.
TWEETABLE: "Taking Back Meditation" by Dr. MaryAnn Diorio (CLICK TO TWEET)
RESOURCES TO HELP YOU MEDITATE ON GOD'S WORD:
Please check out two books I've written that will help you to meditate on God's Word:
The Daystar Devotional by MaryAnn Diorio, PhD, MFA
Are you looking for daily encouragement in your walk with Christ? The Daystar Devotional will provide just what you're looking for. Daily readings will give you fresh insight into Scripture verses that will inspire you, encourage you, and strengthen you as you face the challenges of life. A powerful tool for growing in your relationship with Christ.

Available in both print and e-book formats.
CLICK HERE to purchase your copy now.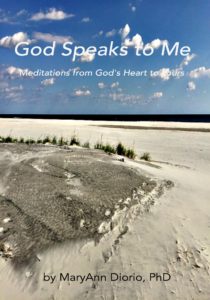 God Speaks to Me by MaryAnn Diorio, PhD, MFA
Available in both print and e-book formats.
CLICK HERE to purchase your copy now
If you found this post helpful, please forward it to a friend. Thank you! Check our archives in the right sidebar for older posts on a variety of topics. You may also search for a particular topic in the search box at the top right. Some of our most popular posts
—Eight Signs of Spiritual Growth
—Sex and Soul Ties
—How to Recognize a Controlling Spirit
For additional encouragement, check out my podcasts at the following links:
A Moment with MaryAnn – Podcasts on Living the Good Life
Winning with the Word Podcast Series
Write Your Heart Out! – Podcasts for Writers
NOTE: If you are struggling to know your purpose in life, I can help you! As a highly experienced Certified Life Coach, I will help you set priorities in line with your God-given purpose. For more information or to set up a phone appointment, please send me an email at drmaryann@maryanndiorio.com. You'll be taking a major step toward fulfilling your destiny!
Please tell your family and friends about this blog and please pass this post on to them. Thank you!
______________________________________________________________
Copyright 2001-2017 by Dr. Mary Ann Diorio. All Rights Reserved. Photo Source: FreelyPhotos.com.
Matters of the Heart is a weekly blog that deals with the deepest issues of the human heart, the issues we all face but sometimes don't want to talk about. The heart is the programming center of our lives. What is programmed into our heart will affect every area of our lives. Learn how to discover what is in your heart and how to program your heart for success.
AN INVITATION TO YOU: To follow this blog via Facebook, click here. If you are not on Facebook or would prefer to subscribe via a different venue, please check the sidebar to the right for subscription options. Thank you!