"Guard your heart above all else, for it determines
the course of your life." ~ Proverbs 4:23
_______________________________________
One of my favorite TV shows in the late sixties and early seventies was Mission Impossible.  Every show opened up with roughly the same following words:
"Good evening, Mr. Phelps. Your mission, should you choose to accept it, is  . . . .  As always, should you or any of your I.M. (Impossible Mission) Force be caught or killed, the Secretary will disavow any knowledge of your actions. This tape will self-destruct in five seconds. Good luck." (parenthesis mine)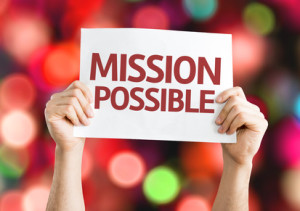 Photo Source: Fotolia.com – File: #76121094 | Author: gustavofrazao
For the next sixty minutes, my husband and I would sit on the edge of our seats as Mr. Phelps overcame obstacle after obstacle and nearly got himself killed several times while accomplishing his mission.  Other than the fact that the verb "self-destruct" annoyed me because the correct verb is "self-destroy," I loved the show.
And, of course, Mr. Phelps always accomplished his mission.  Why? Because he had no choice but to accomplish it.  If he didn't, the series would end. 🙂 
On a serious note, Mr Phelps always accomplished his mission because he had the help of a great team.
As followers of Yeshua, we, too, have a mission. That mission is to love. And, although at times it may seem so, our mission to love is not an impossible one.  Like Mr. Phelps, we will encounter obstacles in accomplishing our mission, but we have the help of the greatest team in the universe: the Holy Trinity.
When Jesus gave us the command to love, He knew we would not be able to love in our own strength.  Indeed, the only way we can truly love others with agape love, the God-kind of love, is to allow Jesus to love through us.  There is no other way. 
As a born-again believer, you have Christ living inside you.  You are, as it were, a container for Christ.  Your job is to allow Him to pour Himself out of you into the person who needs to be loved with His love. You also have the power of the Holy Spirit to enable you to love.  And, of course, you have the compassion of the Father to inspire you to love.
Your heart was made to love, but sin got in the way.  Now that you are a new creature in Christ, sin no longer has to get in the way of your loving.  Your mission to love is possible.
And, best of all, when you love, Jesus will never disavow any knowledge of your actions, nor will your mission of love ever self-destroy. On the contrary, Jesus will acknowledge your loving actions before the Father, and your mission of love will continue forever in Heaven.
It doesn't get any better than that. 🙂
_______________________________
Available in Kindle and print versions.
You may leave a comment by clicking here. To receive these blog posts in your emailbox, please click here.

If you found this post helpful, please pass it on to someone who can benefit from reading it. Thank you!
If you have any questions, you may contact me as follows:
Email: drmaryann@maryanndiorio.com
Snail Mail: PO Box 1185, Merchantville, NJ 08109
Tel. 856-488-3580
________________________________
Copyright 2015 by Dr. MaryAnn Diorio. All Rights Reserved. This article may not be published or printed in any form whatsoever without the written permission of Dr. MaryAnn Diorio. You may contact her at maryann@maryanndiorio.com to request permission.
Source Cited: https://en.wikiquote.org/wiki/Mission:_Impossible
Photo Source: Fotolia.com – File: #76121094 | Author: gustavofrazao
Amazon.com Required Disclosure:  MaryAnn Diorio is a participant in the Amazon Services LLC Associates Program, an affiliate advertising program designed to provide a means for sites to earn advertising fees by advertising and linking to Amazon.com.
Dr. Diorio is a Certified Life Coach, a Certified Biblical Counselor, and a Certified Behavioral Consultant. She is also an award-winning, widely published author of fiction for children and adults. You may reach her at maryann@maryanndiorio.com  or via one of her social media venues below: