"Guard your heart above all else,
for it determines the course of your life." ~ Proverbs 4: 23
Are you a stinkin' thinker? I used to be. Until, that is, I learned that stinkin' thinkin' got me nothing except misery, poor relationships, and failure.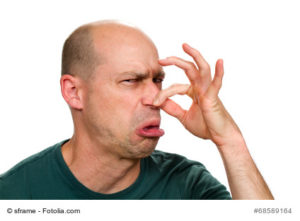 So, what did I do to change? Let me share three Scripture verses that pulled me out of the pit of stinkin' thinkin' and put me on the path to happiness, great relationships, and success. As I obeyed these Scripture verses and applied them to my life, they changed me from a negative person to a positive one. They can do the same for you!
Scripture Verse #1: Philippians 4: 8 NLT – "Fix your thoughts on what is true, and honorable, and right, and pure, and lovely, and admirable. Think about things that are excellent and worthy of praise."

Easier said than done. But doable, indeed! God never gives us a command without also giving us the ability to obey it. As I set my will and my mind to obey this commandment, I began to realize how much my thoughts were fixed on the opposite: the false, the dishonorable, the wrong, the unholy, the ugly, and the least to be admired. I certainly was not thinking of things that were excellent and worthy of praise. No wonder I wasn't experiencing the abundant life Jesus died to give me.
Scripture Verse #2: 2 Corinthians 10: 5 NIV – "We demolish arguments and every pretension that sets itself up against the knowledge of God, and we take captive every thought to make it obedient to Christ."

What are "arguments and every pretension that sets itself up against the knowledge of God?" Simply put, they are the lies that the devil throws at us every day. Those lies come in the form of negative thoughts.
Have you ever tried to lasso a negative thought? It resists capture worse than a bucking bronco. Lassoing (or capturing) a negative thought takes a determined and concerted effort on our part. First, we must monitor our thoughts. Then we must lasso those that disagree with God's Word. Lassoing our thoughts is difficult enough, let alone capturing them. But once we have captured them, we can't hold on to our prisoners. We must give those captured thoughts to Jesus in prayer.
One of the best lessons I learned about monitoring and lassoing my thoughts came from the three-year-old son of a friend of mine. My friend walked into her living room one day and discovered her little guy staring out the window in deep thought.
"Matt," she asked, "what are you thinking about?"
He turned from the window and looked at her. Then, in a pensive voice that defied his three-years of age, he said, "I'm thinking about what I'm thinking about."
Profound? No question! This little boy, at a very young age, had learned the importance of monitoring this thoughts.
Are you monitoring your thoughts? Do you think about what you're thinking about? If not, start now. Doing so will vastly improve your life.
"Whatever things are true, noble, pure, right, lovely, admirable,
excellent, and praiseworthy, think on these things." – Philippians 4: 8

Scripture Verse #3: Romans 12: 2 NLT – "Don't copy the behavior and customs of this world, but let God transform you into a new person by changing the way you think. Then you will learn to know God's will for you, which is good and pleasing and perfect."

Talk about an amazing promise! Let's break it down. First, God tells us not to copy the behavior and customs of this world. This means that the world's way of doing things will lead to destruction. Then God tells us that He wants to change us into new people. God is in the business of making things new. Would you like some newness in your life?
So, how does God change us into new people? By changing the way we think. Success in life is all in the way we think. As we saturate ourselves with God's Word, we will discover how He thinks. Then, as we change our thinking to align with His thinking, we will reap a great reward. What is that reward?
Let's look at the end of the verse to find out. There God says that as we allow Him to change our thinking to conform to His thinking, we will then–and only then–experience what God's will is for us. Then, and only then, will we experience the wonderful relationship He wants us to have with Him. Then, and only then, will we experience the abundant life Jesus died to give us.
Isn't obeying these three Scripture verses worth it?
Most people don't know that whenever I take one of those temperament tests, I always test out dominant for melancholic. This means that I have a natural tendency to veer toward the negative in my thinking. So I have to keep constant guard over my thought life. By God's grace, I have trained myself not only to monitor my thoughts but also to lasso them and give them to Jesus. By changing my thinking to agree with His thinking, I have developed a supernatural tendency to veer toward the positive.
If I, a melancholic by nature, can do it, so can you! 🙂
Now, it's YOUR turn: Are you a stinkin' thinker? If so, what have you done to turn your thinking around? Please leave your response in the Comment Box below. Thank you!
TWEETABLE: "How to Conquer Stinkin' Thinkin'" by Dr. MaryAnn Diorio (Click to Tweet)

Check out my 6-minute podcast on this week's topic below: How to Conquer Stinkin' Thinkin'

If you found this post helpful, please forward it to a friend. Thank you! Check our archives in the right sidebar for older posts on a variety of topics. You may also search for a particular topic in the search box at the top right. Some of our most popular posts are:
—Are You in Bondage to Your Baggage?

—Are You Playing the Blame Game?
For additional encouragement, check out my podcasts at the following links:
A Moment with MaryAnn – Podcasts on Living the Good Life
Winning with the Word Podcast Series
Write Your Heart Out! – Podcasts for Writers
NOTE: If you are struggling to know your purpose in life, I can help you! As a highly experienced Certified Life Coach, I will help you set priorities in line with your God-given purpose. For more information or to set up a phone appointment, please send me an email at drmaryann@maryanndiorio.com. You'll be taking a major step toward fulfilling your destiny!
Please tell your family and friends about this blog and please pass this post on to them. Thank you!
_______________________________________________________________
To help you learn about your true identity in Christ, I wrote YOU WERE MADE FOR GREATNESS!. This book will reveal to you the power and authority you have to bring about effective change in your life through Jesus Christ. Get your copy now!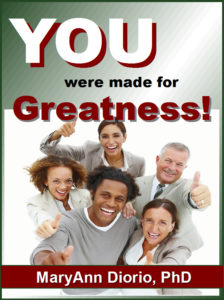 Learn about your power and authority in the Kingdom of God! Discover who you truly are in Jesus Christ!
YOU WERE MADE FOR GREATNESS! by Dr. MaryAnn Diorio
Kindle
Matters of the Heart is a weekly blog that deals with the deepest issues of the human heart, the issues we all face but sometimes don't want to talk about. The heart is the programming center of our lives. What is programmed into our heart will affect every area of our lives. Learn how to discover what is in your heart and how to program your heart for success.
AN INVITATION TO YOU: To follow this blog via Facebook, click here. If you are not on Facebook or would prefer to subscribe via a different venue, please check the sidebar to the right for subscription options. Thank you!
____________________________________________
Join my Team and get a free copy of my ebook on balancing your life.
________________________________________________________
Copyright 2000-2017 by Dr. MaryAnn Diorio. All Rights Reserved. This article may not be published or printed in any form whatsoever without the written permission of Dr. MaryAnn Diorio. You may contact her at drmaryann@maryanndiorio.com to request permission.
Amazon.com Required Disclosure: MaryAnn Diorio is a participant in the Amazon Services LLC Associates Program, an affiliate advertising program designed to provide a means for sites to earn advertising fees by advertising and linking to Amazon.com.
Disclaimer: This site uses cookies. Your continued use of this site constitutes your consent to our use of cookies.