Guard your heart above all else,
for it determines the course of your life." ~ Proverbs 4: 23
During his famous Olivet Discourse, Jesus gave us a powerful and sobering warning: "The one who stands firm to the end will be saved" (Matthew 24: 13).
What does it mean to stand firm to the end? And how can we be sure we do?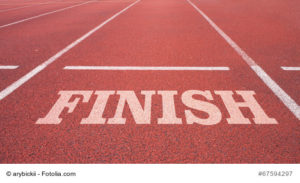 If you are paying attention at all to what is happening in our world, you will agree that it is NOT business as usual. Instead, insanity besets us on all sides. Insanity in our thinking. Insanity in our behavior. Insanity in our beliefs. To the follower of Christ, this insanity should not come as a surprise. Rather, it should come as a reminder that the time is short before the return of our Lord.
There is no question we are in the last days. But do you know that the last days, or end times, actually began with the outpouring of the Holy Spirit and the conception of the Church at Pentecost? Since then until now, we have been living in the last days. Despite scoffers who taunt that Christ hasn't come yet so why should we think He's coming at all, Scripture tells us that a day with the Lord is like a thousand years and a thousand years like a day (2 Peter 3: 8). So, according to Scriptural interpretation, we could say that only two days have passed since the Lord's prophecies about what would happen in the latter days of earth as we know it.
Jesus warned us that as the time of the end draws closer and closer, the signs of the end would accelerate and converge. Here are His own words in response to the disciples' questions, as recorded in Matthew 24: 3-14:
"As Jesus was sitting on the Mount of Olives, the disciples came to him privately. 'Tell us,' they said, 'when will this happen, and what will be the sign of your coming and of the end of the age?'
Jesus answered: 'Watch out that no one deceives you. For many will come in my name, claiming, 'I am the Messiah,' and will deceive many. You will hear of wars and rumors of wars, but see to it that you are not alarmed. Such things must happen, but the end is still to come. Nation will rise against nation, and kingdom against kingdom. There will be famines and earthquakes in various places. All these are the beginning of birth pains.Then you will be handed over to be persecuted and put to death, and you will be hated by all nations because of me. At that time many will turn away from the faith and will betray and hate each other, and many false prophets will appear and deceive many people. Because of the increase of wickedness, the love of most will grow cold, but the one who stands firm to the end will be saved. And this gospel of the kingdom will be preached in the whole world as a testimony to all nations, and then the end will come.'"
Although these signs have been occurring since the conception of the Church, they are now increasing in frequency and intensity. Moreover, they are occurring simultaneously–a phenomenon called convergence.
SIGNS OF THE END

What are these signs of the end times?

–Unusual natural phenomena. Earthquakes are increasing in frequency and intensity (Yellowstone National Park, Cascadia Subduction Zone, New Madrid Fault, Italy, Greece, South America, among others). Volcanic eruptions are becoming more frequent and intense (Mt. Aetna, Vesuvius). Unusually violent storms and floods (tsunamis in Asia, increasingly severe hurricanes). The heavens are shaking as meteors fall toward earth and nearly miss striking it. Signs are occurring in the Heavens through which God is speaking to a world that isn't listening (Blood Moons, Solar Eclipses, and the upcoming September 23, 2017 sign).
–False Messiahs. People who claim to be Jesus Christ (Alan John Miller, Moses Hlongwane and Phetole Selepe in Africa, Jett Simmons).

–Growing Apostasy (falling away from truth). This is occurring in alarming proportions among those who call themselves Christians. Many pastors are preaching a distorted, unbalanced, "warm and fuzzy" Gospel that focuses only on the love and grace of God and not on sin, repentance, and uncompromised obedience to the Word.
–Increasing tolerance and acceptance of sin and all of its perversions (adultery, fornication, pornography, pedophilia, homosexuality, transgenderism, bestiality). Lawlessness is rampant as people become more and more self-centered, more and more rebellious, more and more depraved. We have only to turn on the news or even look out our windows to see this happening now all around us.
–Increasing Ridicule and hatred toward Christians. Christians and Christianity are being increasingly ridiculed, maligned, and condemned. Hatred and intolerance toward Christians is multiplying geometrically.
–Increasing persecution of Christians (Verbal attacks; legal attacks; physical attacks: beheading, murdering, and torture of Christians). Have you been hated recently for being a Christian? Have you been arrested? Persecuted? Do you know of any brothers and sisters in Christ who have been killed for following Jesus? If none of this has happened to you yet, it will. It is only a matter of time.
A few years ago, a Christian writers' organization I directed was denied the use of a meeting room in a public library because our organization was "religious." When finally confronted by a Christian attorney hired by the writers' organization, the library backed down, claiming that it had given us the wrong information. The truth was that the library had not expected to be confronted by our Christian group and backed down out of fear of adverse publicity.
Today, however, persecution is even more blatant and more brazen. Are you ready to handle it? Have you asked yourself what you would do when persecuted? Not if, but when, for you will surely be persecuted.
Have you asked yourself if you would stand firm in the face of death simply because you follow Christ? This is not far-fetched. Just look at our brothers and sisters who have been beheaded and tortured unto death in foreign countries simply because they loved and followed Jesus.
This could happen to us, too. We think that because we live in the United States, we are immune to persecution. This is a dangerous mindset that could cost us not only our lives but also our eternal salvation.
So, I urge you, dear brothers and sisters in Christ, stand firm to the end, no matter what. But in order to do so, you will have to keep yourself strong day by day by fervent fellowship with our Lord. Spend time in His Presence. Read, study, and obey His Word. Pray without ceasing. Fulfill the Great Commission to preach the Gospel wherever you go, healing the sick, casting out demons, raising the dead.
Most of all, love! Love God! Love one another! Love your enemies! Bless those who persecute you, for thereby you may snatch precious souls out of the hands of Satan.
One day, when all is said and done, we long to stand before our Lord and hear Him say, "Well done, My good and faithful servant. Enter into the joy I have prepared for you!"
But we will hear these words of His only if we endure to the end!
Now, it's YOUR turn: Have you been persecuted for following Jesus Christ? If so, how? How did you handle the persecution?


TWEETABLE: "Will You Endure to the End?" by Dr. MaryAnn Diorio (CLICK TO TWEET)
If you found this post helpful, please forward it to a friend. Thank you! Check our archives in the right sidebar for older posts on a variety of topics. You may also search for a particular topic in the search box at the top right. Some of our most popular posts
—How to Recognize a Controlling Spirit

—Sex and Soul Ties
—Are You Playing the Blame Game?
For additional encouragement, check out my podcasts at the following links:
A Moment with MaryAnn – Podcasts on Living the Good Life
Winning with the Word Podcast Series
Write Your Heart Out! – Podcasts for Writers
NOTE: If you are struggling to know your purpose in life, I can help you! As a highly experienced Certified Life Coach, I will help you set priorities in line with your God-given purpose. For more information or to set up a phone appointment, please send me an email at drmaryann@maryanndiorio.com. You'll be taking a major step toward fulfilling your destiny!
Please tell your family and friends about this blog and please pass this post on to them. Thank you!
______________________________________________________________
Matters of the Heart is a weekly blog that deals with the deepest issues of the human heart, the issues we all face but sometimes don't want to talk about. The heart is the programming center of our lives. What is programmed into our heart will affect every area of our lives. Learn how to discover what is in your heart and how to program your heart for success.
AN INVITATION TO YOU: To follow this blog via Facebook, click here. If you are not on Facebook or would prefer to subscribe via a different venue, please check the sidebar to the right for subscription options. Thank you!