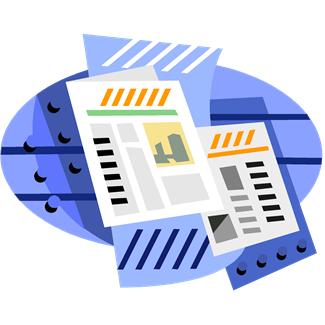 Do you like reading author newsletters? If so, you may wish to consider publishing one for your own writing.
What is an author newsletter?  It is a publication that updates your readers on your latest publications, your speaking engagements, and other topics of interest to your fiction fans.
If you have decided to publish an author newsletter, consider these points:
1) How often should you publish?  This depends on your time, your productivity, and your readership.  Many authors publish their newsletter once a month; others, quarterly; still others, twice a year. Determine what plan works for you and then work your plan.
2) How can I build my mailing list? In my experience, the best way to build one's mailing list is through the old-fashioned "word of mouth" method. People who read your work will want to learn more about you as a person. They will then tell their family and friends about you.  Another way to build your mailing list is to solidify your web presence so that readers become aware of you and your fiction. 
3) What kind of content should I put into my newsletter?  While you should certainly include information about your latest publications, include also some personal content about you and your family. Readers want to know there is a real person behind those books. Let them see that human side of you. After all, writing fiction is as much about building relationships as it is about selling books.  Perhaps even more so.
Do you publish an author newsletter?  If so, please tell us about it.  How often do you publish? What do you include in your newsletter? What single piece of advice would you give our readers who want to publish their own author newsletter?
__________________________________
Photo Source: Microsoft Clipart