"Guard your heart above all else, for it determines
the course of your life." ~ Proverbs 4:23
________________________________________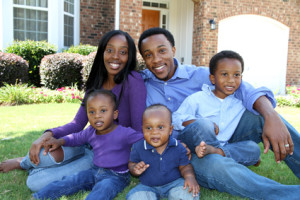 All of us who have children want to be good parents. To help us, God has given us principles which I call The Ten Commandments for Raising Responsible Children. As you implement these principles, you will be nurturing a relationship with your children that will help them to grow into responsible adults.
1. Expect the best from your children (Philippians 4:8). Children will live up to your level of expectation regarding their character. For example, if you expect your child to end up in jail, he probably will. If, on the other hand, you expect your child to become a responsible adult, most likely he will.
Expectations are powerful influences. Make sure you have positive expectations for your child's character development and express those expectations to him frequently. Let me emphasize that I am referring to expectations for character development, not for career choices. We must not, for instance, expect our child necessarily to follow in our footsteps as far as his life work is concerned.
2. Trust your children (Philemon 1:8-17). This principle is closely related to the previous principle of expectation. If your children sense that you trust them, they will usually live up to that trust. If, on the other hand, they sense that you do not trust them, they will often behave accordingly.
3. Respect your children (Matthew 7:12). I cringe every time I hear parents verbally abuse their children with devastating comments such as, "You're bad!" or "You can't do anything right!" Some parents treat their children like objects rather than people. But children are little people and deserve our respect.
When children were brought to Jesus, His disciples became annoyed and wanted to shoo them away: "And they took to him little children, so that he might put his hands on them: and the disciples said sharp words to them. And when Jesus saw it, he was angry, and said to them, 'Let the little children come to me, and do not keep them away; for of such is the kingdom of God…' "(Mark 10: 13-14 BBE). This passage clearly reveals the great value that Christ places on children. We must do likewise.
4. Love your children unconditionally (1 Corinthians 13:4-8). Far too often, parents give or withhold love based on their children's behavior or performance. Some parents even tell their children that God does not love them when they misbehave. This is a lie and can cause serious, life-long problems.
God's love for us is not based on our behavior or our performance. There is absolutely nothing we can do to earn God's love. He loves us just because we exist. Parents should love their children the same way.
5. Spend time alone with each of your children (Genesis 49:28). Children require both quality AND quantity time. When you give your children your time, you affirm their worth to you. You also forge bonds of love that will last a lifetime.
6. Pray daily for and with your children (1 Thessalonians 5:17). Praying for your children is a means of exercising your protective authority over them and of bringing to pass God's will for their lives. Praying with your children teaches them the importance of worshipping God and looking to Him to supply every need.
7. Teach your children God's Word (Deuteronomy 6:6-9; Ephesians 6:4). Just as we would be considered negligent parents were we to deprive our children of physical food, so does God consider us negligent parents when we deprive our children of spiritual food.
8. Discipline your children in love (Proverbs 13:24; 19:18). Contrary to some modern thought, children are not born into the world inherently good (Romans 3:23). Like everyone else, they have inherited Adam's sin nature and, unless trained otherwise, they will automatically respond to life in sinful ways. It is our duty as parents to train our children to respond to life according to God's Word.
9. Live a Godly life before your children (Matthew 5:16). Example is the best teacher. Our children learn far more from how we live than from what we say. To raise responsible children, make your conduct and your words agree.
10. Enjoy your children (Psalm 127:3). Psalm 127:3 describes children as a reward from the Lord. A reward is a source of joy and blessing. If you perceive your children as a burden rather than a blessing, you will miss out on the joys of parenting.
Don't wait until it's too late to enjoy your children. Enjoy them now. Look at life from their viewpoint. Like me, you may discover that your children will teach you some of life's greatest lessons. 
You may leave a comment by clicking here. To receive these blog posts in your emailbox, please click here.

If you found this post helpful, please pass it on to someone who can benefit from reading it. Thank you!
To learn more about growing up in Christ, get your copy of Dr. MaryAnn's popular ebook, You Were Made for Greatness! 
_____________________________________
Copyright 2015 by Dr. MaryAnn Diorio. All Rights Reserved. This article may not be published or printed in any form whatsoever without the written permission of Dr. MaryAnn Diorio. You may contact her at maryann@maryanndiorio.com to request permission.
Photo Source: www.Fotolia.com. Copyright @Rob.
Dr. Diorio is a Certified Life Coach, a Certified Biblical Counselor, and a Certified Behavioral Consultant. She is also an award-winning, widely published author of fiction for children and adults. You may reach her at maryann@maryanndiorio.com  or via one of her social media venues below:
Amazon Author Central: www.amazon.com/author/maryanndiorio
Facebook: www.Facebook.com/DrMaryAnnDiorio
MeWe: https://mewe.com/i/maryann.diorio
Twitter: www.Twitter.com/DrMaryAnnDiorio
LinkedIn: https://www.linkedin.com/profile/view?id=45380421
Pinterest: www.Pinterest.com/DrMaryAnnDiorio
Google+: www.Google.com/+DrMaryAnnDiorio
YouTube: https://www.youtube.com/user/drmaryanndiorio/