"Guard your heart above all else,
for it determines the course of your life." ~ Proverbs 4: 23

MARYANN'S NOTE: At Holy Spirit's direction, I have been posting a few personal experience stories over the past few weeks. These experiences happened to me personally and reveal God's supernatural presence and power in our lives. Today's post is the last of the series. I trust that these stories have encouraged you, inspired you, and revealed to you how much God loves you and is involved with your life as well.
________________________________________________________________
The young woman rushed toward me, a smile on her face and a joy in her eyes that I had never seen in anyone's eyes before.
"Have you accepted Jesus as your personal Savior and Lord?"
My muscles tensed at her jolting question. It was not one I had expected to hear at a Friday night party sponsored by Campus Crusade for Christ at a major Eastern university.
I furrowed my brows. "Excuse me? I don't understand what you mean."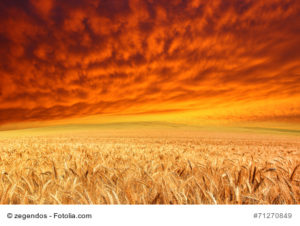 She smiled and repeated her question, her face radiant with a joy that, I could tell, was not of this world. "Have you accepted Jesus as your personal Savior and Lord?"
"I'm sorry," I replied. "I am____________." And I gave her my lifelong religious affiliation.
My past did not deter her. "A personal relationship with Jesus Christ is for everyone, even for someone of your religious background."
She was earnest and passionate. Unwavering in her zeal and, even more so, in her conviction.
"I'm sorry," I said again. "I respect your beliefs, but this is not for me."
Her smile faded just barely, but the joy in her eyes never did.
Her name was Margo. She was kind, gracious, and polite. We parted on friendly terms. As she walked away, the look of love in her eyes remained indelibly seared in my soul. Little did I know then that it would hover before me and bless me for the rest of my life.
Now, 45 years later, I can still remember that look of love in Margo's eyes. A look that Inow understand was Christ in her bidding me come to Him. Now, 45 years later, I am certain she prayed incessantly for me.
Why am I certain? Because two years after my encounter with Margo at that university party, I overcame my fear of questioning my old belief system, and I accepted Jesus Christ as my personal Savior and Lord. And, in the 45 years since, I have had the great honor and privilege of leading countless people to a similar, personal relationship with Jesus Christ. Now, 45 years later, I understand what was going on in the spirit realm that night at the university party.
Tragic how fear can keep us from truth. Tragic how ingrained beliefs can so imprison us that we are afraid to question them. Tragic how religion can keep us from relationship!
Margo knew this. She saw it in me when I did not see it in myself.
When I did not want to see it in myself.
And so, she shared the truth in love. Not theology. Not intellectual arguments.
But a Person.
She shared Jesus Christ in her by allowing Him to flow through her into my life. And even though, to my deep regret, I did not accept Him that first time He presented Himself to me through that precious young woman, His infinite mercy profoundly touched me and left its indelible mark on my soul.
Jesus understood my fear of renouncing what I had been taught from childhood and had always believed. But He did not allow that fear to persist in my life. He pursued me with His love.
As did Margo with her prayers.
For 45 years, I have searched for her. I want so much to tell her that I did finally come to Christ and that, because of her boldness in sharing the Gospel with me, countless others have come to Christ. I want her to know that her witness was not in vain, that the seed she planted has borne much fruit.
I may never find Margo this side of Heaven. But one day, whether here on earth or on the other side, I will thank her personally for sharing Christ with me. Until then, I will continue to pay tribute to the love of Christ in her by imitating her boldness and sharing Christ wherever and whenever I can.
And, until then, I will continue to encourage others that no witness for Christ is in vain. For He promises us this: "My word, which comes from my mouth, is like the rain and snow. It will not come back to me without results. It will accomplish whatever I want and achieve whatever I send it to do" (Isaiah 55:11 GOD'S WORD® Translation).
Only God knows where the seeds we plant will sprout and bear fruit. That is His concern, not ours. Ours is to do His bidding, to be a Margo to that one who is too afraid to let go of status quo beliefs and move into truth.
That one who, like me, was ripe for harvest but just didn't know it.
___________________________________________________________________________________________
Copyright 2015-2017. All Rights Reserved. This article originally appeard in Book Fun Magazine on September 22, 2015.
If you found this post helpful, please forward it to a friend. Thank you! Check our archives in the right sidebar for older posts on a variety of topics. You may also search for a particular topic in the search box at the top right. Some of our most popular posts are:
—Victim or Victor: Which One Are You?
—How to Conquer Stinkin' Thinkin'


For additional encouragement, check out my podcasts at the following links:
A Moment with MaryAnn – Podcasts on Living the Good Life
Winning with the Word Podcast Series
Write Your Heart Out! – Podcasts for Writers
NOTE: If you are struggling to know your purpose in life, I can help you! As a highly experienced Certified Life Coach, I will help you set priorities in line with your God-given purpose. For more information or to set up a phone appointment, please send me an email at drmaryann@maryanndiorio.com. You will be taking a major step toward fulfilling your destiny!
Please tell your family and friends about this blog and please pass this post on to them. Thank you!
_______________________________________________________________
To help you learn about your true identity in Christ, I wrote YOU WERE MADE FOR GREATNESS!. This book will reveal to you the power and authority you have to bring about effective change in your life through Jesus Christ. Get your copy now!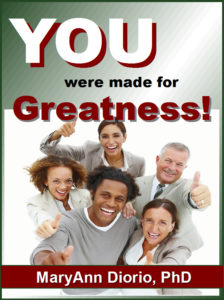 YOU WERE MADE FOR GREATNESS! by Dr. MaryAnn Diorio
Kindle
Matters of the Heart is a weekly blog that deals with the deepest issues of the human heart, the issues we all face but sometimes don't want to talk about. The heart is the programming center of our lives. What is programmed into our heart will affect every area of our lives. Learn how to discover what is in your heart and how to program your heart for success.
AN INVITATION TO YOU: To follow this blog via Facebook, click here. If you are not on Facebook or would prefer to subscribe via a different venue, please check the sidebar to the right for subscription options. Thank you!
____________________________________________
Join my Team and get a free copy of my ebook on balancing your life.
____________________________________________
________________________________
Copyright 2000-2017 by Dr. MaryAnn Diorio. All Rights Reserved. This article may not be published or printed in any form whatsoever without the written permission of Dr. MaryAnn Diorio. You may contact her at drmaryann@maryanndiorio.com to request permission.
Amazon.com Required Disclosure: MaryAnn Diorio is a participant in the Amazon Services LLC Associates Program, an affiliate advertising program designed to provide a means for sites to earn advertising fees by advertising and linking to Amazon.com.
Disclaimer: This site uses cookies. Your continued use of this site constitutes your consent to our use of cookies.