"Guard your heart above all else, for it determines
the course of your life." ~ Proverbs 4:23
______________________________________
AN INVITATION TO YOU: To follow this blog via Facebook, click here. If you are not on Facebook or would prefer to subscribe via a different venue, please check the sidebar to the right for subscription options. Thank you!
_______________________________________________________________
Are you addicted? When we think of addiction, we usually think of drugs, alcohol, cigarettes, gambling, pornography, or sex.  While these are certainly serious addictions, there are others we tend readily to overlook or dismiss, deeming them innocuous: like an addiction to food, coffee, a relationship, a computer screen, a career, a sport, or a workout regimen, to name a few. Spiritually speaking, these addictions can be just as serious and just as much a hindrance to a wholesome relationship with God.

What is an addiction? Simply put, an addiction is looking to someone or something other than God to meet our needs.
How can we recognize an addiction in ourselves? Simple: Ask yourself this question: When I'm under stress, where do I go first to get relief? If your answer is anyone or anything other than God, you are in bondage to an addiction.
So, what can we do to overcome an addiction? Here are three steps to consider:
Admit we need help. No matter how much we think we can overcome an addiction through sheer will power, we cannot. To think we can is foolhardy and a sign that we are being deceived. The first step in overcoming an addiction is to admit the addiction to ourselves and then to someone we trust. Keeping our addiction a secret will give it continued power in our life. Exposing our addiction to the light by sharing it with someone we trust will break its power over our life.
Recognize that we are totally dependent on God. We can do nothing without His help. We cannot even take our next breath without His help. So, to think we can beat an addiction without God's help is a lie. In a culture that idolizes self-reliance, total dependence on God goes against the grain. But only total dependence on God will break us free from total dependence on our addiction.
Choose to be accountable. No matter how much we think so, we will never overcome an addiction alone. We need the support of others who will hold us accountable, who will pray for us, and who will encourage us when we are being tempted. We need someone whom we can call when the temptation to cave in is severe. We need someone who will speak the truth to us in love and help us get up when we fall.
The Word of God says that we can do all things through Christ Who gives us strength (Philippians 4: 13). This includes conquering stubborn addictions. The Word of God also says that we are more than conquerors through Christ Who loves us (Romans 8: 37).
Conquering addictions is not easy, but it is absolutely possible. Purpose in your heart now to allow Jesus to set you free from all addictions. Co-operate with Him by obeying what He tells you to do. Be encouraged by His great promise to you: So if the Son sets you free, you will be free indeed (John 8: 36).

TWEETABLES:
"An addiction is looking to someone or something other than God to meet our needs." ~ Dr. MaryAnn Diorio (CLICK TO TWEET)
"How to Conquer a Stubborn Addiction" by Dr. MaryAnn Diorio (CLICK TO TWEET)
AN INVITATION TO YOU: To follow this blog if you are on Facebook, click here.  If you are not on Facebook or if you prefer to subscribe via another venue, you may do so by using any one of the other subscription options listed under the Networked Blog section in the sidebar on my website: www.maryanndiorio.com/blog.  Thank you!

If you found this post helpful, please forward it to a friend. Thank you!
____________________________________________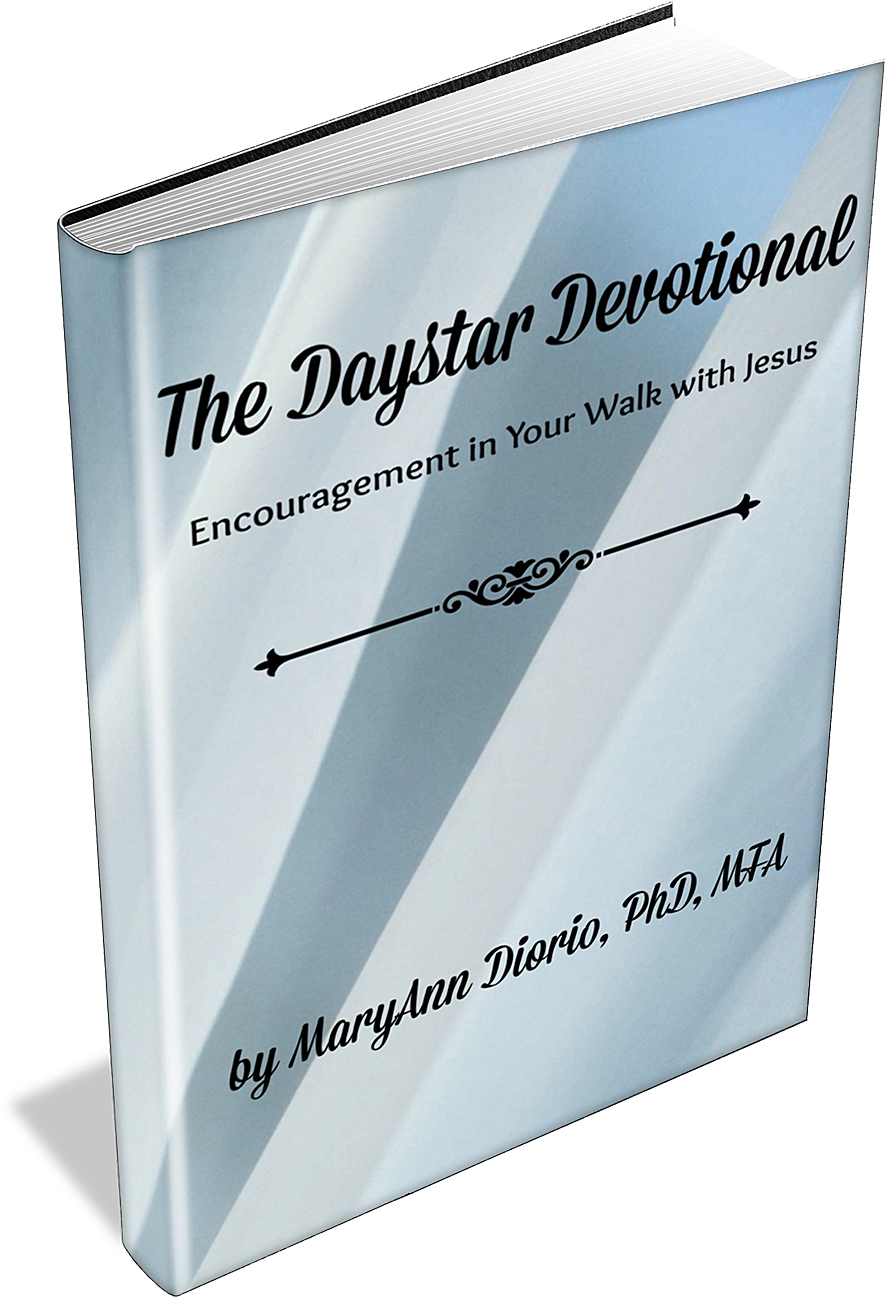 The Daystar Devotional is a compilation of weekly devotionals I wrote for almost six years. At popular reader request, I have compiled these devotionals into a single volume for your convenience. I trust this book will encourage you in your walk with Jesus.
Available on Amazon for only $3.99. To purchase your copy, click here.
____________________________________________
____________________________________________