"Guard your heart above all else, for it determines
the course of your life." ~ Proverbs 4:23
________________________________________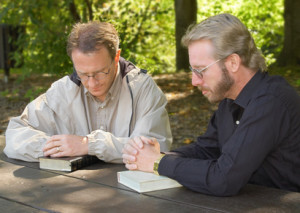 Recently, my spiritual mentor went home to Heaven. I had just visited her in the hospital two weeks before and was able to pray with her.  Her death evoked both sorrow and joy within my soul.  Sorrow at losing a dear friend and spiritual mother.  Joy at knowing that she is now with her beloved Jesus.
These precious words graced her obituary:  "She served the Lord till the very end."
And, indeed, she did. Through trial after trial, she remained faithful to God.  Now she is reaping the eternal rewards of her faithfulness.
But not only did she remain faithful to God, she taught me how to do the same. As she discipled me, I grew in wisdom, discernment, and understanding.I grew in love for God and love for others.
How did my spiritual mentor accomplish this? She always pointed me to Jesus, the Author and the Finisher of our faith. The Beginning and the End of all life. The One in Who we live and move and have our being.
My mentor's influence on my life was transformational. For this reason, I encourage every believer to find a spiritual mentor. Why? Because we all need someone more spiritually mature than we are to help us grow and to hold us accountable.  Someone who will take us under his or her wing and make sure we are walking the straight and narrow. 
What qualities should you look for in a spiritual mentor?  Here are a few I consider very important:
1) A spiritual mentor should have an intimate and vibrant relationship with Jesus Christ. He or she should be a solid, mature Christian who knows the Word of God and lives it consistently.
2) A spiritual mentor should be a person who is free from the spirit of control.  A spiritual mentor offers advice when asked but does not make your decisions for you. The purpose of a spiritual mentor is to encourage and help strengthen you, not to control you.
3) A spiritual mentor should demonstrate the fruit of the Holy Spirit in his or her life: love, joy, peace, patience, kindness, goodness, gentleness, faithfulness, and self-control (Galatians 5:22).
4) A spiritual mentor has had life experiences that will benefit the one being mentored. He or she sees life from an eternal perspective and can help you do so as well

5) A spiritual mentor is willing to give of his or her time to assist in the spiritual growth of a fellow believer. Spiritual mentoring takes time and sacrifice. It takes dying to oneself for the good of another.
If you are struggling in your Christian walk, or if you simply want someone to walk alongside you during the journey, find a spiritual mentor. Here are some ways to do so:
1-Pray that Holy Spirit will lead you to the spiritual mentor of His choice for you.
2-Ask your pastor to recommend a spiritual mentor within your church.  Men should mentor men; women should mentor women. It is not wise for a man to mentor a woman or vice versa, for obvious reasons.
3-Meet with a potential spiritual mentor to determine if you feel comfortable with that person. You will be sharing sensitive personal issues as you grow in the Lord, so you both must feel comfortable being transparent with each other.
The right spiritual mentor for you is a great gift from God. He or she will help you to grow in the Lord in ways you would not have been able to do on your own.  My spiritual mentor did that for me. Now that she has left this earth, it's time for me to find a new spiritual mentor.
I encourage you to do so, too.  You will be making one of the wisest investments of your life, an investment whose ramifications will affect not only your life but the lives of all those in your circle of influence.
Remember: We are never too big to grow bigger in Christ.
To help you grow in Christ, you may wish to obtain a copy of my ebook, You Were Made for Greatness!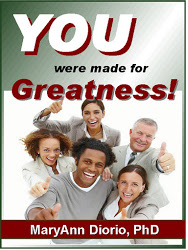 You may leave a comment by clicking here. To receive these blog posts in your emailbox, please click here.

If you found this post helpful, please pass it on to someone who can benefit from reading it. Thank you!
If you have any questions, you may contact me as follows:
Email: drmaryann@maryanndiorio.com
Snail Mail: PO Box 1185, Merchantville, NJ 08109
Tel. 609-364-6902
_____________________________________
Copyright 2015 by Dr. MaryAnn Diorio. All Rights Reserved. This article may not be published or printed in any form whatsoever without the written permission of Dr. MaryAnn Diorio. You may contact her at maryann@maryanndiorio.com to request permission.
Photo Source: Fotolia.com
Dr. Diorio is a Certified Life Coach, a Certified Biblical Counselor, and a Certified Behavioral Consultant. She is also an award-winning, widely published author of fiction for children and adults. You may reach her at maryann@maryanndiorio.com  or via one of her social media venues below:
Amazon Author Central: www.amazon.com/author/maryanndiorio
Facebook: www.Facebook.com/DrMaryAnnDiorio
MeWe: https://mewe.com/i/maryann.diorio
Twitter: www.Twitter.com/DrMaryAnnDiorio
LinkedIn: https://www.linkedin.com/profile/view?id=45380421
Pinterest: www.Pinterest.com/DrMaryAnnDiorio
Google+: www.Google.com/+DrMaryAnnDiorio
YouTube: https://www.youtube.com/user/drmaryanndiorio/