"Guard your heart above all else, for it determines
the course of your life." ~ Proverbs 4:23
_______________________________________
You just got home from a rough day at work. Just as you walk in the door, your spouse screams at you for being late, your youngest child is crying because her cat ran away, and your cell phone starts ringing. The only one who seems happy to see you is your dog.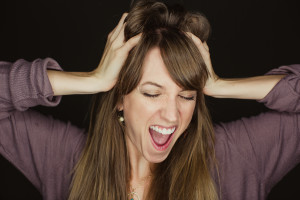 Photo by Shaun Menary. Lightstock.com Photo ID: 99422
By this time, you want to turn around and leave for some remote, uninhabited island in the middle of the Pacific, taking only your dog with you. Only there, you conclude, can you be free from the stress that has you on the brink of a nervous breakdown.
Perhaps at no other time in history have human beings been so bombarded with such potentially stress-producing situations. Stress causes our brains to go on overload, our bodies to suffer, and our hearts to wither. But is there any way out of what seems like an endless treadmill of turmoil?
Yes, there is! As always, the way out is found in the Bible, God's manual for man. God never intended for us to live in stress. In fact, God's will is that we live in continual peace. But how, you ask, can I live in peace when, whichever way I turn, I'm bombarded with problems, conflicts, and tension?
Good question! You see, peace has nothing to do with our external circumstances. Peace, on the other hand, has everything to do with our internal circumstances. What do I mean by that? I mean the state or condition of the inner core of our being, also called our heart.
"Peace has nothing to do with our external circumstances. Peace has everything to do with our internal circumstances."

Just think of the eye of a hurricane. While horrendous winds are raging all around it, the eye of a hurricane is quiet and peaceful. The same can be true of our hearts. In the midst of the worst kinds of crises, our hearts can be at perfect peace.
So how do we achieve this perfect peace on the inside? The Bible gives us the answer in Isaiah 26:3: "You (God) will keep him in perfect peace whose mind is stayed on You." Perfect peace comes from keeping our minds focused on God. When we do, we draw wisdom and strength from Him to deal with whatever problem we are facing.
Using the word "stress" as an acronym, let's take a look at some practical steps we can take to develop inner peace:
1. Stay (fix) your mind on God. Keep Him continually in the center of your thoughts. You do this by talking with Him frequently during the day, by reading the Bible, and by praying.
2. Trust God. He is absolutely trustworthy and will never let you down.
3. Refuse to worry. Worry will always rob you of your peace. Jesus said, "Peace I leave with you, My peace I give to you; not as the world gives do I give to you. Let not your heart be troubled, neither let it be afraid" (John 14:27).
4. Establish your heart on God. This means build your life on God. Go to Him at the first sign of stress. Vent your frustrations on Him. He can handle it.
5. Sort out your priorities. We often get stressed out because we're doing too much. Once when I was feeling particularly frazzled, I cried out to God in frustration. "Lord," I said, "I just don't have enough time to do everything I have to do!" Lovingly He replied, "You always have enough time to do what I have called you to do." I realized then that I was doing some things that He had not called me to do, even though they were good things.
6. See life from God's perspective. God's perspective is eternal. He sees the big picture. We should do the same. When we do, those little irritations of daily life fade into insignificance.
So no matter what you're facing today, remember that it's temporary. As you focus on God, He'll get you through every situation, no matter how serious. And as you focus on Him, you'll have peace in the midst of every storm.
Guaranteed! 🙂
_______________________________
Available in Kindle and print versions.
You may leave a comment by clicking here. To receive these blog posts in your emailbox, please click here.

If you found this post helpful, please pass it on to someone who can benefit from reading it. Thank you!
If you have any questions, you may contact me as follows:
Email: drmaryann@maryanndiorio.com
Snail Mail: PO Box 1185, Merchantville, NJ 08109
Tel. 856-488-3580
________________________________
Copyright 2015 by Dr. MaryAnn Diorio. All Rights Reserved. This article may not be published or printed in any form whatsoever without the written permission of Dr. MaryAnn Diorio. You may contact her at maryann@maryanndiorio.com to request permission.
Photo by Shaun Menary. Lightstock.com Photo ID: 99422
Amazon.com Required Disclosure:  MaryAnn Diorio is a participant in the Amazon Services LLC Associates Program, an affiliate advertising program designed to provide a means for sites to earn advertising fees by advertising and linking to Amazon.com.
Dr. Diorio is a Certified Life Coach, a Certified Biblical Counselor, and a Certified Behavioral Consultant. She is also an award-winning, widely published author of fiction for children and adults. You may reach her at maryann@maryanndiorio.com  or via one of her social media venues below: