"Guard your heart above all else, for it determines
the course of your life." ~ Proverbs 4:23
_______________________________________
If you're like me, you've been through periods of your life when it seemed as though God were deaf. Of course, He is not deaf, so the reason we sometimes don't hear from Him must be something else.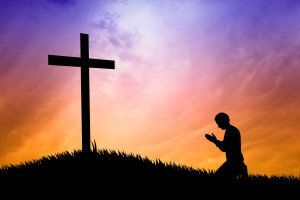 Photo Source: Fotolia.com File: #61687178 | Author: sognolucido
Please allow me to offer you three reasons that I have discovered for unanswered prayer. As I addressed each of these reasons, I discovered that my prayer life made a turn around and I began to see results.
I am a results-oriented person.  I want what I do to bear fruit.  I don't like spinning my wheels.
And my guess is that you don't either. 🙂
So, here are the three reasons I've discovered for unanswered prayer:
1) Praying for something that is not specifically promised to us by God in His word.  God has given us thousands of promises in His Word.  Each of these promises represents what God wants for us and what Jesus died to give us. When we pray based on these promises, we can rest assured that God hears our prayer. Why? Because He cannot contradict Himself nor what He has promised.
For example, if I pray for healing, I can pray with confidence that God hears me because He says in Psalm 103:3 that He heals all my diseases.  Not some, but ALL.  So when I pray based on that promise, I can rest assured that God hears my prayer.
The opposite is also true. If I pray for something that God specifically forbids in His Word, He will not hear my prayer. Years ago, a woman began praying to marry a prominent evangelist. The only problem was, he was already married. So she prayed that his wife would die. There was no way God was going to hear this woman's prayer because it contradicted His Word about marriage and about having murderous thoughts toward others. 
So, when you pray, be sure that what you are asking for is something God has promised you. The only way to know this is to study His Word. If what you are praying for–like whether or not to move to Atlanta–is not specifically stated in His Word, then stand on His promise in Psalm 32:8 that "He will instruct you and teach you the way to go."
Many of God's promises cover general situations, so use those promises as your foundation for praying when there is no specific promise for your situation.
2) Praying based on grace alone, and not faith.  This kind of prayer leans on God's grace alone in that the person praying sits back and waits for God to act.  An example would be a person who needs a job and asks God for one but does not pound the pavements looking for a job. Instead, he expects God to drop a job in his lap. This won't happen. God expects us to cooperate with Him by trusting in His grace and then by taking some action to prove our trust in His grace.

3) Praying based on faith alone, and not grace.  This kind of prayer leans on my personal efforts alone in that, once I pray, I think it's entirely up to me to get that prayer answered.  This is a legalistic, "works" mentality prayer, and it won't go anywhere. It will not get a hearing from God.

For example, I may need healing, so I ask God to heal me but then I keep thinking that my healing will take place some time in the future. I also make sure that I'm doing everything right—eating right, exercising right, acting right, praying enough, reading my Bible enough, fasting enough–and on, and on, and on.  If I don't see the answer to my prayer, I start feeling condemned and wondering where I've missed it.
Yes, I've been there. Done that.  This process is all wrong.  It's backwards and won't get an answer to prayer.
Why not? Because both God's grace and my faith are required to receive answers to my prayers.
So, let's get practical.  How do I get my prayers answered?
The process is really very simple.  So simple, in fact, that we can easily miss it.
 1) Believe that God wants you to have what He has promised you. He paid a big enough price to give it to you by sending His Son Jesus to die for you so that you could experience the fulfillment of those promises in your life.
2) Realize that whatever God has promised you in His Word is already yours. If you don't see it present in your life, the reason is that you have not reached out into the spirit realm with your faith to bring it from the spirit realm into your physical realm.  God is not holding back on you. You are holding back on yourself.
3) Realize that your faith does not move God to act.  God acted 2000 years ago on Calvary.  Your faith simply reaches out to grab hold of what God did on that old rugged Cross.  As Jesus hung dying on that Cross, He said, "It is finished."  He meant that what He came to do was done.  There's nothing more for Him to do, but there still is something for us to do.  Our part is to reach out and take what Jesus gave us on Calvary.
Just as we received the new birth by reaching out to Jesus and accepting His gift of forgiveness and eternal life, so do we receive everything else God has promised us.  In the same exact way–by reaching out and accepting His gift of every promise He died to give us.
It's as simple as that!
_______________________________
Available in Kindle and print versions.
You may leave a comment by clicking here. To receive these blog posts in your emailbox, please click here.

If you found this post helpful, please pass it on to someone who can benefit from reading it. Thank you!
If you have any questions, you may contact me as follows:
Email: drmaryann@maryanndiorio.com
Snail Mail: PO Box 1185, Merchantville, NJ 08109
Tel. 856-488-3580
________________________________
Copyright 2015 by Dr. MaryAnn Diorio. All Rights Reserved. This article may not be published or printed in any form whatsoever without the written permission of Dr. MaryAnn Diorio. You may contact her at maryann@maryanndiorio.com to request permission.
Photo Source: Fotolia.com: File: #61687178 | Author: sognolucido

Amazon.com Required Disclosure:  MaryAnn Diorio is a participant in the Amazon Services LLC Associates Program, an affiliate advertising program designed to provide a means for sites to earn advertising fees by advertising and linking to Amazon.com.
Dr. Diorio is a Certified Life Coach, a Certified Biblical Counselor, and a Certified Behavioral Consultant. She is also an award-winning, widely published author of fiction for children and adults. You may reach her at maryann@maryanndiorio.com  or via one of her social media venues below: