"Guard your heart above all else,
for it determines the course of your life." ~ Proverbs 4: 23
Saints of God, it's time to PUSH!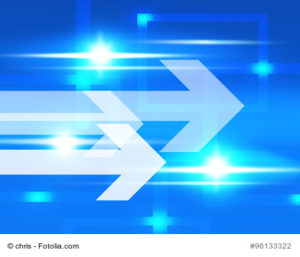 I can hear you now. "What is she talking about?"
I'm talking about birthing the Kingdom of God in the earth and your role in it.
Some of you reading this have physically birthed a child. You know that there is a critical moment, when the contractions are most intense, that you have to push to launch your baby into the world.
Well, Jesus has begun to birth the Kingdom of God. The contractions are getting more and more intense. So intense, in fact, that it's time for His followers to push.
We see this increasing intensity in what is going on in the world around us: rampant lawlessness, scoffing of the Bible and Christianity, intense vitriol in the news media, hateful division among our leaders, inhumane brutality, the love of pleasure, widespread greed, the rising apostate Church. We also see the imminent birth of the Kingdom in the increasing talk about peace and safety among world leaders. All of these things point to the soon return of Jesus Christ and the subsequent birth of His Kingdom.
Let's look at what the Word says about our times:
2 Peter 3:3-4, TLB. "First, I want to remind you that in the last days there will come scoffers who will do every wrong they can think of, and laugh at the truth. This will be their line of argument: 'So Jesus promised to come back, did He? Then where is He? He'll never come! Why, as far back as anyone can remember everything has remained exactly as it was since the first day of creation.'"
2 Timothy 3:1-5, NIV. "But mark this: There will be terrible times in the last days. People will be lovers of themselves, lovers of money, boastful, proud, abusive, disobedient to their parents, ungrateful, unholy, without love, unforgiving, slanderous, without self-control, brutal, not lovers of the good, treacherous, rash, conceited, lovers of pleasure rather than lovers of God—having a form of godliness but denying its power. Have nothing to do with them."
I Thessalonians 5:2-3, NIV. "For you know very well that the day of the Lord will come like a thief in the night. While people are saying, 'Peace and safety,' destruction will come on them suddenly, as labor pains on a pregnant woman, and they will not escape."
As Christ-Followers, we have been called to prepare the way for the Lord's return. As we await Him, we are to remain occupied (Luke 19: 13). This means we are to be in the process of enforcing His Kingdom wherever He places us, of taking back the territory the enemy has stolen from us, and of occupying that territory until the return of King Jesus. This is what the famous words of the Lord's Prayer–Thy Kingdom come, Thy will be done on earth as it is in Heaven–mean. As bearers of His Light, our job is to push back the darkness so that the Light of Christ can displace it.
So, how do we push back the darkness? I would suggest three ways:
1-Push through the Problem. Understand that Satan hates you because you carry the Light of Christ within you. So, Satan will do whatever he can to prevent the Light of Christ that you carry from driving out the darkness in your circle of influence. He will place problem after problem in your path. He will put obstacle after obstacle in front of you as you advance. But Satan cannot win unless we give up. And that is exactly what he wants us to do. So, whatever problem you are facing, push through it. Scripture says, "Submit yourselves therefore to God. Resist the devil, and he will flee from you." (James 4: 7)
2-Push through the Price. No price is too high to pay for advancing the Kingdom of God. If we refuse to advance because of the price–whether that price be a relationship, a career, or a personal ambition–then we are not worthy of being called a Christ-Follower.
3-Push through the Pride. Yes, pride. Too many who call themselves Christians–especially in the western Church–are so self-absorbed that they are virtually clueless to the signs of the times. They are more concerned with their own personal agendas than the agenda of the Father. Yet, our Lord called us to watch and to be prepared for His return. Listen to what He said:

Matthew 24:42-44, TLB. "So be prepared, for you don't know what day your Lord is coming. Just as a man can prevent trouble from thieves by keeping watch for them, so you can avoid trouble by always being ready for My unannounced return."
Saints of God, are you prepared to push? Are you prepared to usher in the return of Christ? Are you prepared to meet the Lord in the air at the time of the Rapture?
As one of the Lord's many watchmen on the wall, I urge you to take your place in the army of God that is pushing forward to drive out the darkness. Use the power and authority Christ has given you as one of His Followers and help usher in the return of our Savior and Lord!
Nothing is more important!
Now, it's YOUR turn: Are you advancing the Kingdom of God in your sphere of influence? Please leave your response in the Comment Box below. Thank you!
TWEETABLE: "Now Is the Time to Push!" by Dr. MaryAnn Diorio (Click to Tweet)

If you found this post helpful, please forward it to a friend. Thank you! Check our archives in the right sidebar for older posts on a variety of topics. You may also search for a particular topic in the search box at the top right. Some of our most popular posts are:
—Are You Playing the Blame Game?
For additional encouragement, check out my podcasts at the following links:
A Moment with MaryAnn – Podcasts on Living the Good Life
Winning with the Word Podcast Series
Write Your Heart Out! – Podcasts for Writers
NOTE: If you are struggling to know your purpose in life, I can help you! As a highly experienced Certified Life Coach, I will help you set priorities in line with your God-given purpose. For more information or to set up a phone appointment, please send me an email at drmaryann@maryanndiorio.com. You'll be taking a major step toward fulfilling your destiny!
Please tell your family and friends about this blog and please pass this post on to them. Thank you!
_______________________________________________________________
To help you learn about your true identity in Christ, I wrote YOU WERE MADE FOR GREATNESS!. This book will reveal to you the power and authority you have to bring about effective change in your life through Jesus Christ. Get your copy now!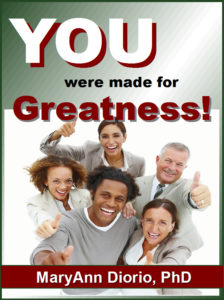 Learn about your power and authority in the Kingdom of God! Discover who you truly are in Jesus Christ!
YOU WERE MADE FOR GREATNESS! by Dr. MaryAnn Diorio
Kindle
Matters of the Heart is a weekly blog that deals with the deepest issues of the human heart, the issues we all face but sometimes don't want to talk about. The heart is the programming center of our lives. What is programmed into our heart will affect every area of our lives. Learn how to discover what is in your heart and how to program your heart for success.
AN INVITATION TO YOU: To follow this blog via Facebook, click here. If you are not on Facebook or would prefer to subscribe via a different venue, please check the sidebar to the right for subscription options. Thank you!
____________________________________________
____________________________________________